Starving polar bear stuck in Russian industrial city 'barely able to move' after walking hundreds of miles
Only second time in 40 years polar bear has been seen in city of Norilsk
Harry Cockburn
Tuesday 18 June 2019 18:47 Comments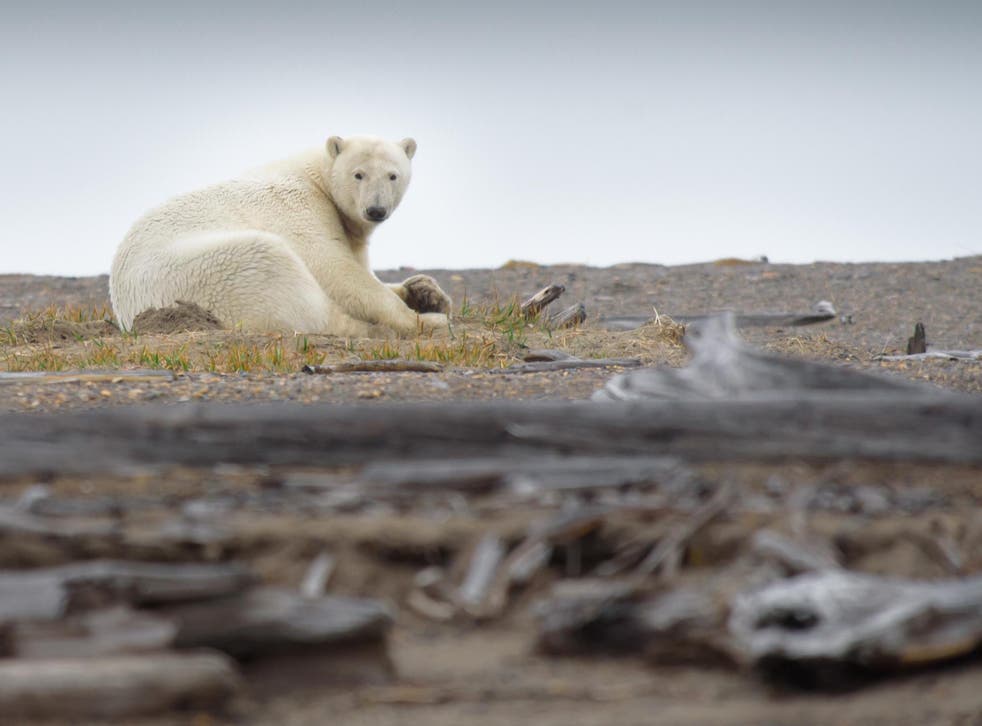 An emaciated polar bear which may have travelled 1,500km from the Arctic Ocean, has arrived in an industrial northern Russian town, creating an issue for the authorities.
According to the Siberian Times, the bear is believed to have crossed the Taymyr Peninsula to reach the industrial city of Norilsk.
Photographs of the bear show it crossing roads full of traffic in front of bewildered drivers, and lying down on a frosty patch of grass.
Irina Yarinskaya, a photographer for the Zapolyarnaya Pravda newspaper, photographed the bear as it looked for food in the city.
"He is seriously hunger-bitten, he is hardly able to blink and keep his eyes open, almost unable to walk," Ms Yarinskaya said.
Glacier collapse shows climate impact

Show all 20
"He was lying for a long time, having a rest, then he crossed the road and entered the industrial zone.
"He went towards the gravel and sand factory first, then he crossed one more road and headed to a dump."
Norilsk lies some 500km from the open shore but locals have said the bear had walked much further to reach the city, crossing the vast Taymyr Peninsula.
Oleg Krashevsky – who specialises in tours to the remote Putorana plateau, south of the Taymyr peninsula said: "I don't understand how the bear could have walked such distance, across Taymyr and not come across anyone. He must have encountered many hunters."
The police and local emergency services have reportedly examined the animal from a distance, but due to laws protecting the endangered species, a decision from central government in Moscow is required to decide whether the bear should be sedated and returned to the Arctic coast – or alternatively sent to a zoo.
Anatoly Nikolaychyuk, head of Taymyr department of state hunting control, told the Siberian Times: "We got as close as twenty metres, and the animal didn't react to the noise of the car.
"We decided not to go out of the car – after all polar bears can jump up to six metres high. He looks quite healthy, of an average body built."
He said this was just the second time in over 40 years a polar bear has been seen in the city.
Last time a hungry and aggressive female polar bear reached outskirts of Norilsk in 1977, "it had to be shot because it posed a danger to residents", Mr Nikolaychyuk said.
Polar bears depend on Arctic sea ice for hunting, and it has recently been discovered the ice harbours an essential algae – making up as much as 70 per cent of some bears' diets.
But sea ice has been shrinking faster and faster in recent decades, leaving the bears hungry – particularly during the summer months when there is little for them to eat.
According to the National Snow and Ice Data Centre, 2019 has the seventh-lowest sea ice cover in the Arctic since they began collecting data 40 years ago.
Register for free to continue reading
Registration is a free and easy way to support our truly independent journalism
By registering, you will also enjoy limited access to Premium articles, exclusive newsletters, commenting, and virtual events with our leading journalists
Already have an account? sign in
Join our new commenting forum
Join thought-provoking conversations, follow other Independent readers and see their replies