Polar bears more vulnerable to starvation due to climate change, according to new study
Declining sea ice is making it harder for the Arctic predators to hunt seals, resulting in rapid weight loss
Josh Gabbatiss
Science Correspondent
Friday 02 February 2018 17:31 Comments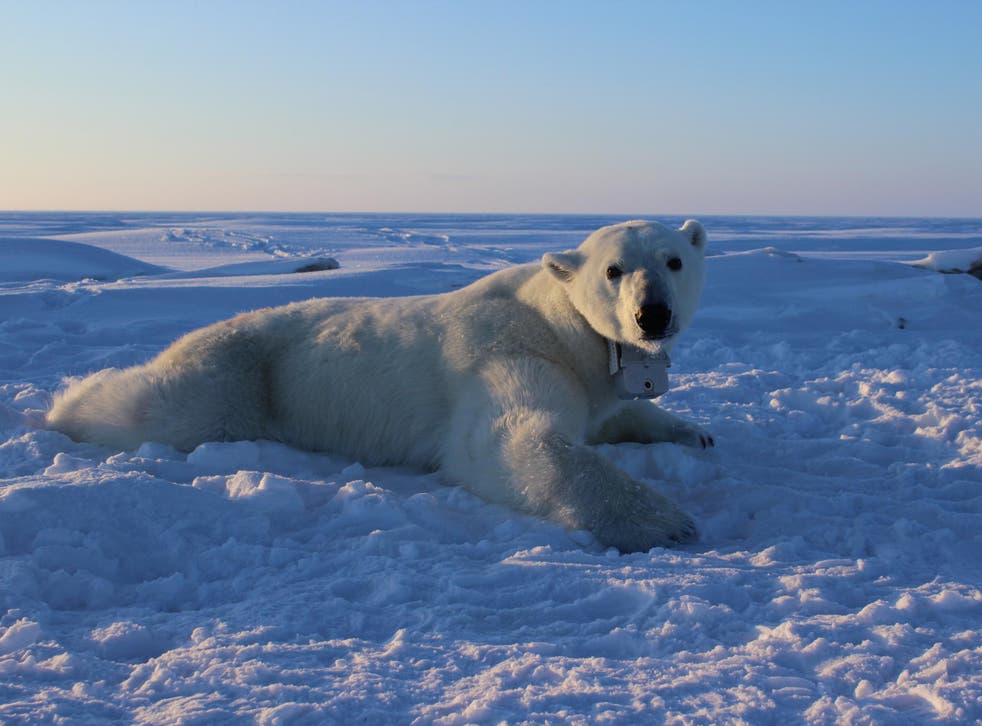 Polar bears are starving and scientists believe that shrinking sea ice caused by climate change is to blame.
Scientists monitoring the creatures activity in the Arctic found they have far higher energy demands than previously thought. Underfed bears were losing 1 per cent of their body mass every day.
But as their hunting grounds melt away, their chances of catching the seals they need to sustain themselves, diminish.
Arctic sea ice is getting thinner every year, and there have been significant losses in the overall area covered by ice, according to the latest data.
"We've been documenting declines in polar bear survival rates, body condition and population numbers over the past decade," said Anthony Pagano, a PhD candidate at the University of California, Santa Cruz, who led the new study.
"This study identifies the mechanisms that are driving those declines by looking at the actual energy needs of polar bears and how often they're able to catch seals."
The results were published in the journal Science.
In the Beaufort Sea, where the study was undertaken, previous monitoring has identified a 40 per cent decline in polar bear numbers from 2001 to 2010.
Mr Pagano and his collaborators monitored the behaviour, hunting success and metabolic rates of bears as they hunted on the sea ice in the spring.
Documentary makers film starving polar bear in iceless land
They used tracking collars attached to the bears to record their activity, and analysed their blood and urine and the beginning and end of an eight to 11 day period to determine changes in metabolic rates.
Analysis of the bears' metabolism revealed they required at least one seal every 10 days to satisfy their dietary needs, but many of the bears were unable to capture enough.
This resulted in plummeting weight in four of the nine bears studied.
Though polar bears are known to live a "feast or famine" lifestyle, in which their weight fluctuates considerably, the creatures should have been gaining weight during the period studied, rather than losing it.
"This was at the start of the period from April through July when polar bears catch most of their prey and put on most of the body fat they need to sustain them throughout the year," said Mr Pagano.
As global temperatures rise and the sea ice melts, polar bears must travel ever greater distances to find food, meaning they have to burn more calories.
The scientists warned that changes to the polar bears' environment may make it impossible for them to meet their high energy demands, resulting in a rapid decline in their numbers.
US President Donald Trump recently claimed in an interview that polar ice caps were at a "record level", in remarks that have been dismissed by senior representatives from the climate science community.
Nasa has estimated that September sea ice levels are declining at a rate of 13 per cent per decade, with potentially devastating consequences on polar ecosystems.
The new study came in the wake of a video captured by filmmakers in Canada showing an emaciated polar bear scavenging for food from bins.
"When scientists say bears are going extinct, I want people to realise what it looks like. Bears are going to starve to death," said photographer Paul Nicklen, a member of the crew who observed the bear. "This is what a starving bear looks like."
Dr Megan Owen, a researcher at the San Diego Zoo Institute for Conservation Research who participated in the study, added: "The rapid pace at which sea ice losses are mounting means that we must work together to develop a science-based understanding how polar bears will be impacted by climate change."
Register for free to continue reading
Registration is a free and easy way to support our truly independent journalism
By registering, you will also enjoy limited access to Premium articles, exclusive newsletters, commenting, and virtual events with our leading journalists
Already have an account? sign in
Join our new commenting forum
Join thought-provoking conversations, follow other Independent readers and see their replies