Polluting firms likely to lose almost half of their value due to climate change policies, UN-backed report says
Companies are 'underpricing' impact of transition to low-carbon future
Harry Cockburn
Monday 09 December 2019 14:41 Comments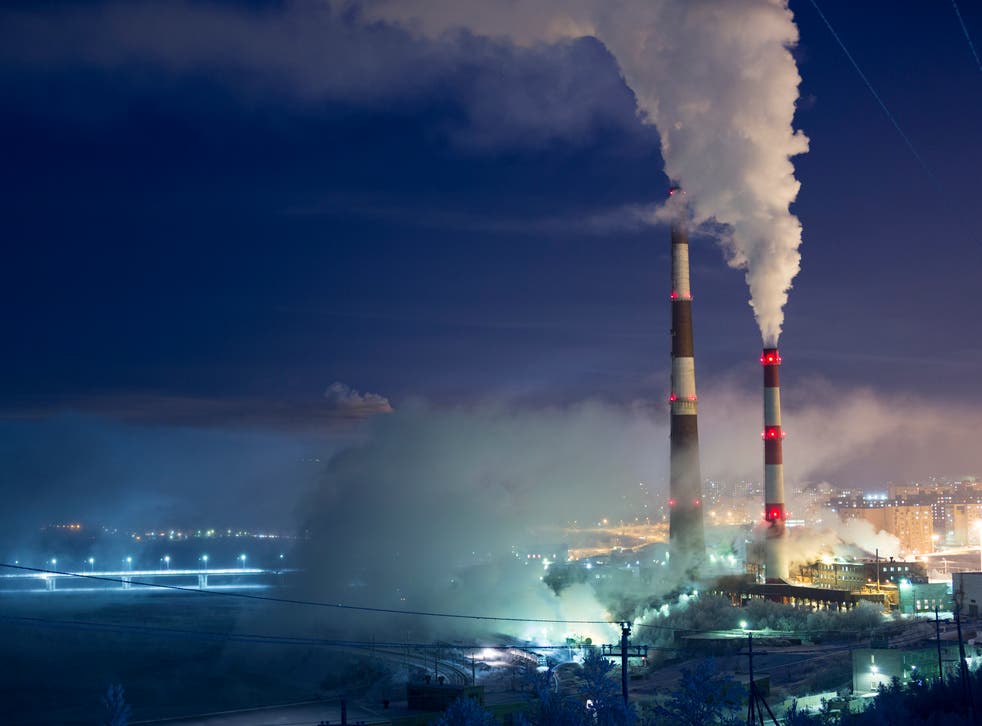 Policies to tackle the climate crisis will ultimately result in massive changes to the value of companies, with the biggest polluters hardest hit and the greenest companies boosted, a UN-backed report has warned.
The 100 most carbon intensive companies were said to be on course to lose 43 per cent of their value, totalling $1.4 trillion (£1 trillion), while the 100 best performers would gain 33 per cent of their value, equivalent to $0.7 trillion in just five years.
The forecast, by the UN-backed Principles for Responsible Investment (PRI) investor network, and Vivid Economics consultancy, also says car manufacturers with the highest level of investment in electric vehicles could see their value increase by 108 per cent.
In the energy sector, coal companies are expected to almost halve in value, while, energy providers with the strongest strategies for implementing renewables could see their valuation double.
Those energy firms slow on the uptake can expect to see bottom lines suffer as a result, with laggards on course to see a fall in value of two-thirds (66 per cent) by 2025.
Climate change: Decade's defining issue in pictures

Show all 20
Firms with large investments in beef cattle are also expected to lose value, while those investing in meat substitutes are said to be on course for gains.
The report warns that major beef producers could see almost half their value lost due to dwindling markets and legal exposure to lawsuits over environmental impacts including deforestation.
The PRI said the policies believed to have the greatest financial impact are:
Bans on internal combustion engines by 2035 which lead to demand contraction in fossil fuels, impacting prices and margins 

Carbon pricing and significant carbon costs from climate policy adding crippling cost for higher emitters 

Switch to ULEVs (Ultra Low Emission Vehicles) – impacting on automobiles with a knock-on impact for green minerals demand creation

93 per cent of total power generation coming from low carbon sources by 2050 – driving disruption of utilities sector

Zero deforestation policies by 2030 that crack down on commodity supply chains
Fiona Reynolds, chief executive of the PRI, said: "This analysis underscores the extent to which markets are under-pricing climate transition risk. One in five of the world's most valuable companies are impacted by at least 10 per cent in either direction. While the headline market-level effects of an abrupt policy response to climate change may appear manageable, this masks a much more complex and significant story, with some huge winners and losers emerging between sectors and within them.
"The winners in automakers and lower carbon utilities could see their valuations more than double, while the losers are set to see their values fall by a third or significantly more. That is why we are calling on investors to get real on climate policy risk."
Register for free to continue reading
Registration is a free and easy way to support our truly independent journalism
By registering, you will also enjoy limited access to Premium articles, exclusive newsletters, commenting, and virtual events with our leading journalists
Already have an account? sign in
Join our new commenting forum
Join thought-provoking conversations, follow other Independent readers and see their replies