Pret and Paul offer discount to customers who bring their own coffee cup
Exclusive: Starting from Monday both companies will be offering discounts in a move designed to encourage customers to be more environmentally conscious 
Zlata Rodionova
Monday 10 April 2017 11:39 Comments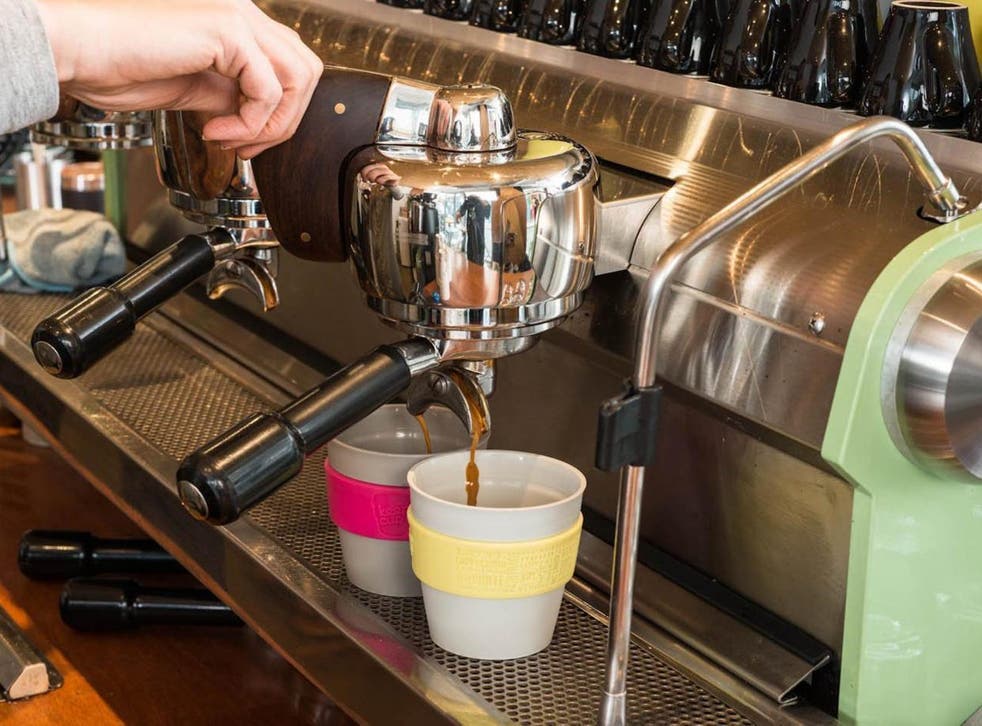 French bakery group Paul and sandwich chain Pret a Manger will begin offering discounts to customers bringing in their own reusable cups, yielding to pressure from environmental groups concerned about the mountains of cardboard waste generated in the UK each year.
Starting from Monday, Paul will introducing its new Paul Cares policy – providing customers with a 10p discount for every re-usable cup used when ordering any hot drink at its 35 outlets across the UK. Paul-branded cups will also be made available at stores for £3.50 in a move designed to encourage customers to be more environmentally conscious while also saving money.
Chief executive of Paul UK Jean-Michel Orieux said: "Paul Cares is our way of lightening the environmental footprint of all we welcome through our doors."
On the same day, Pret a Manger, is launching a trial in all of its more than 200 Greater London shops, offering a 25p discount on all hot drinks to customers who bring a reusable cups. The initiative will run until the end of the month.
A spokesperson for Pret told The Independent said that after the trial, the group will "review how the 25p incentive has been received by customers and assess what kind of impact it could make if we were to roll it out further".
Britain's coffee addiction is creating an estimated 25,000 tons of waste with 2.5 billion disposable coffee cups used in the UK each year.
A study from Cardiff University commissioned by the coffee roaster Bewley's, released in March, estimated that charging coffee drinkers for every disposable cup they use could cut the number thrown away in the UK by up to 300 million every year.
Significantly, the research also found that although a 25p charge on disposable cups increased the use of them, a discount on those same cups – which is a policy currently used by Starbucks and Costa – had no impact on their usage.
Most of the cups used by major coffee chains are not recyclable due to the polyethylene used in their production, a material that cannot be separated out in a standard recycling mill.
Chris Stemman, executive director of the British Coffee Association, told The Independent: "Re-usable cups are important in reducing the impact of disposable paper cups on the environment but they do only represent one of the many solutions being looked at by the coffee industry."
"New paper cup innovations are being developed, as are new waste and recycling processes. The industry is fully committed to solving this issue and our focus is on finding long-term, fully sustainable, solutions."
An investigation by consumer group Ask the Q last year showed that only a few coffee shops sell reusable cups in-store, which undermines efforts to encourage customers with discounts.
Ask the Q founder Anya Hart Dyke told said: "I would urge Pret to ensure that its discount trial runs for months rather than weeks as it will take time for customers to notice the new policy and for them to get round to regularly taking advantage of it by investing in a reusable cup and making a habit of carrying it with them on their daily commute.
"More creative solutions from companies seeking to support customers to reduce the mountains of packaging waste generated every day, would also be welcome."
10 photographs to show to anyone who doesn't believe in climate change

Show all 10
Earlier this month, a scheme to boost disposable coffee cup recycling was launched in the City of London in an attempt to prevent 5 million cups a year from the Square Mile ending up in landfill. More than 100 retailers and 30 organisations started offering recycling facilities as part of the City of London's Square Mile Challenge.
Last year, the Liberal Democrats called for the introduction of a 5p charge on disposable coffee cups to cut usage. The party was also behind the introduction of the plastic bag charge, which has cut the number of plastic bags used significantly.
Register for free to continue reading
Registration is a free and easy way to support our truly independent journalism
By registering, you will also enjoy limited access to Premium articles, exclusive newsletters, commenting, and virtual events with our leading journalists
Already have an account? sign in
Join our new commenting forum
Join thought-provoking conversations, follow other Independent readers and see their replies