Prince William attacks China over 'ignorant craving' for ivory
Researchers warn that ivory poachers are killing elephants faster than they are being born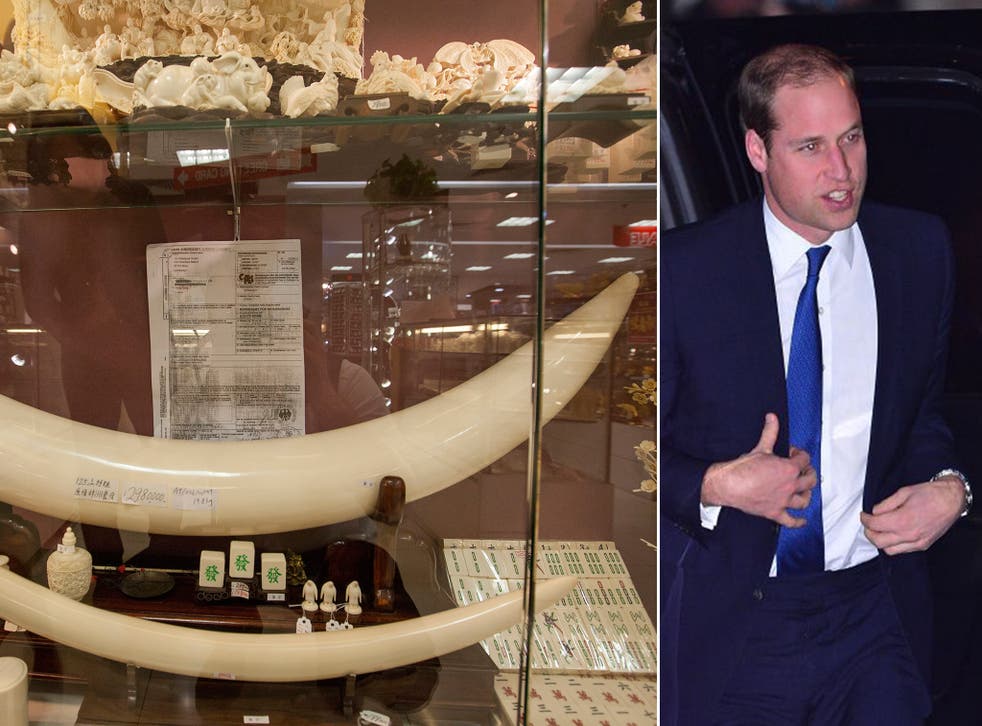 Prince William is to launch a fierce attack on China's ivory industry and the "ignorant craving" for supposed cures and trinkets, saying this is fuelling the slaughter of elephants and other animals by poachers.
Speaking at the World Bank International Corruption Hunters Alliance Conference in Washington on Monday, the Duke of Cambridge will describe the illegal wildlife trade as "one of the most insidious forms of corruption and criminality in the world today".
And, potentially risking a diplomatic spat with Beijing, he will point out that the wholesale price of ivory in China has risen from about £3.20 a kilogram to about £1,350 a kilogram in 25 years.
This, he will argue, has led to an increase in poaching.
According to excerpts of his speech released in advance, Prince William, who is due to go to China early next year, will say: "Some endangered species are now literally worth more than their weight in gold.
"Traffickers are taking advantage of globalisation, hiding within the huge flows of goods across borders and exploiting technology - from helicopters and precision weapons to the borderless market of the internet.
"Together they loot our planet, to feed mankind's ignorant craving for pets, trinkets, cures and ornaments derived from the world's vanishing and irreplaceable species."
In August, researchers warned ivory poachers were killing elephants faster than they are being born. A study conducted by Colorado State University academics suggested up to 100,000 elephants were killed between 2010 and 2012. They found that Africa lost an average of seven per cent of its entire elephant population each year, while births added just five per cent a year.
That prompted conservationists to warn that elephants could be extinct within two decades.
Rhinos are also at risk from the surge in poaching. In South Africa, just 13 rhinos were killed by poachers in 2007; last year more than 600 were killed. There are also now just 3,200 tigers left in the wild following the loss of 97 per cent of the global population over the last century.
Prince William will point out that the slaughter of African wildlife is damaging the economies of the countries where they are found.
"It is wrong that children growing up in countries vulnerable to wildlife crime are losing their birthright in order to fuel the greed of international criminals, and that those children will face greater hardship and insecurity as this crime traps them in poverty," he will say.
A report published last month found an elephant was worth 76 times more alive than dead. Ivory from one elephant sells on the black market for about £13,500, while a live animal generates about £1m through tourism, the David Sheldrick Wildlife Trust found.
Prince William will add: "Wildlife crime goes to the heart of our security. It recognizes neither national borders nor national interests. It distorts economic development, undermines the rule of law and exacerbates sources of conflict.
"Our collective goal must be to reduce the wildlife trade by making it harder: denying traffickers access to transportation, putting up barriers to their illegal activities, and holding people accountable for their actions.
"Those who look the other way, or spend the illicit proceeds of these crimes, must be held to account."
Join our new commenting forum
Join thought-provoking conversations, follow other Independent readers and see their replies