Protesters buy land to thwart third runway
Battle over Heathrow expansion has a new front: a field in nearby Sipson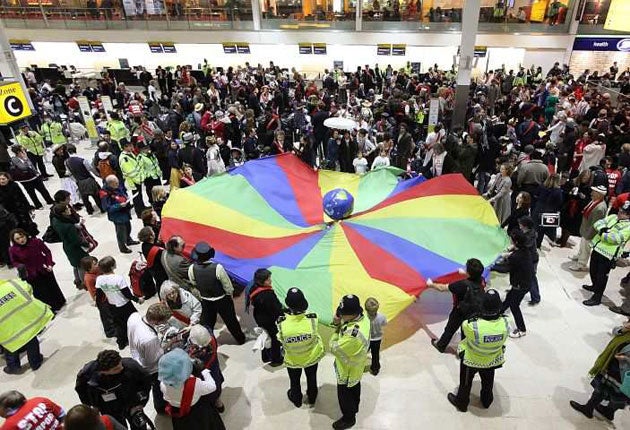 Green campaigners opened a surprise new front yesterday in the increasingly heated row over a third runway for Heathrow airport – by announcing they had brought land in the middle of the runway site and would not give it up.
A Greenpeace-led coalition of environmentalists, showbusiness figures, scientists and politicians said they had bought a field north of the airport, to be known as Airplot, which would act as a focus for resistance to the runway.
The actress Emma Thompson has joined the comedian Alistair McGowan, the Conservative Party green adviser Zac Goldsmith and Greenpeace director John Sauven in signing the deeds for the site, near the village of Sipson, where 700 homes will be demolished if the runway goes ahead. Others who have signed up to be "beneficial owners" and have their name on the deeds include the local Labour MP John McDonnell, Conservative front bench spokeswoman Justine Greening, Liberal Democrat MP Susan Kramer and Royal Society Research Fellow Dr Simon Lewis, a well-known climate scientist.
The campaigners say the land, which would be needed for the runway to be built, will never be willingly given up to BAA, the airport owners and sponsors of the third runway project.
Although it could, in theory, be purchased compulsorily, the activists' control of the field means that the legal battle to do that would be significantly more complex, and that a major civil disobedience struggle – people versus bulldozers – would be on the cards. The disclosure of its purchase – for £20,000 – came during a day when public argument for and against the £9bn new runway, expected to be given the go-ahead by the Government perhaps as early as this week, reached new heights of antagonism. Airline chiefs joined business leaders and trade unionists, all members of the Future Heathrow group, in calling for the runway to be built, saying it could create 65,000 jobs. The group says Heathrow is full with its two existing runways operating at 99 per cent capacity, while its European competitors have four runways or more.
But the Liberal Democrat MP Susan Kramer said: "Pushing ahead with Heathrow expansion will show up ministers' warm words on the environment to be no more than hot air."
Gordon Brown came under pressure from his own party last night not to rush a decision over the third runway. Four Labour backbenchers have been promised a meeting with the Prime Minister to discuss their concerns after challenging him during a weekly meeting of Labour MPs.
It is thought the meeting could delay an announcement until next week. Martin Salter, the MP for Reading West who has led the protests of Labour rebels on the issue, said: "The longer the decision takes, the better."
Join our commenting forum
Join thought-provoking conversations, follow other Independent readers and see their replies