Rainforest wildlife havens on brink of collapse
Outside destruction is threatening lush reserves designed to protect world's richest biodiversity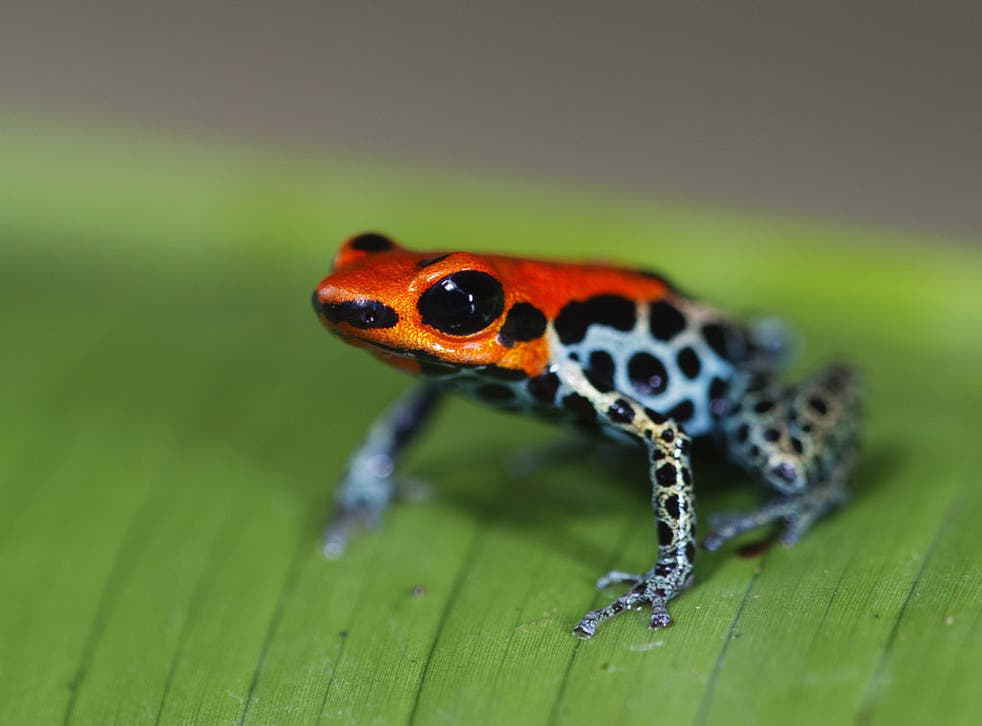 The health of protected tropical forests and their rich wildlife, from exotic frogs and freshwater fish to tigers and forest elephants, is on the brink of collapse, researchers have warned.
Wildlife havens set up to protect tropical forest species have suffered badly as a result of the huge deforestation and habitat destruction going on around them, a large international study concluded.
The rich biodiversity of the tropical rainforests has seen a significant decline over the past 20 or 30 years and the wildlife reserves designed to protect them have not been immune to the decimation, the scientists found.
The study, the biggest of its kind, took five years to analyse ecological data from 36 different tropical countries with protected reserves. It found that about half of the reserves are suffering significantly because of what is happening on their perimeters.
"These reserves are like arks for biodiversity, but some of the arks are in danger of sinking even though they are at best hope to sustain tropical forests and their amazing biodiversity," said Professor Bill Laurance of the James Cook University in Cairns, Australia.
"Tropical forests are the biologically richest real estate on the planet and they're rapidly falling before the bulldozer and chainsaw. Protected areas are quickly becoming the final refuges for many species and ecosystems and we need to know if they're going to do their job of preserving tropical nature," Professor Laurance said.
More than 200 scientists were involved in the study, published in the journal Nature. They estimated changes in the abundance of more than 30 major groups of tropical species over the past 20 to 30 years. "These included dominant predators such as tigers and jaguars, larger-bodied mammals like elephants and tapirs, primates, freshwater fish, old-growth trees, exotic animals and exotic plants, among various others," Professor Laurance said. "We found that around half of the protected areas are suffering, in that they are showing evidence of a marked decline in reserve health. The other half of reserves are doing respectably well, generally limiting key threats such as deforestation, fires and logging while largely conserving their biodiversity. Among the suffering reserves, it's striking how sweeping the declines in biodiversity tend to be. It's not just one or a few groups but whole suites of forest-dependent species that are declining," he said.
Even though about half of the protected wildlife havens in tropical forests have done a good job, the vast majority of them have experienced rapid and dramatic changes to their surrounding forests.
"It's flat-out scary how fast many tropical environments are disappearing or declining. In the last 20 to 30 years, 85 per cent of our reserves lost some or much of their surrounding forest, but only 2 per cent gained any surrounding forests," Dr Laurance said. "The highly specialised rainforest biodiversity in many protected areas is facing profound threats as their surrounding lands are being hit by a tidal wave of logging, fires and intensive human land-use," he said.
Register for free to continue reading
Registration is a free and easy way to support our truly independent journalism
By registering, you will also enjoy limited access to Premium articles, exclusive newsletters, commenting, and virtual events with our leading journalists
Already have an account? sign in
Register for free to continue reading
Registration is a free and easy way to support our truly independent journalism
By registering, you will also enjoy limited access to Premium articles, exclusive newsletters, commenting, and virtual events with our leading journalists
Already have an account? sign in
Join our new commenting forum
Join thought-provoking conversations, follow other Independent readers and see their replies