Wildlife conservation board member poses with leopard he shot dead
Randgold boss Mark Bristow featured in annual catalogues promoting African trophy hunting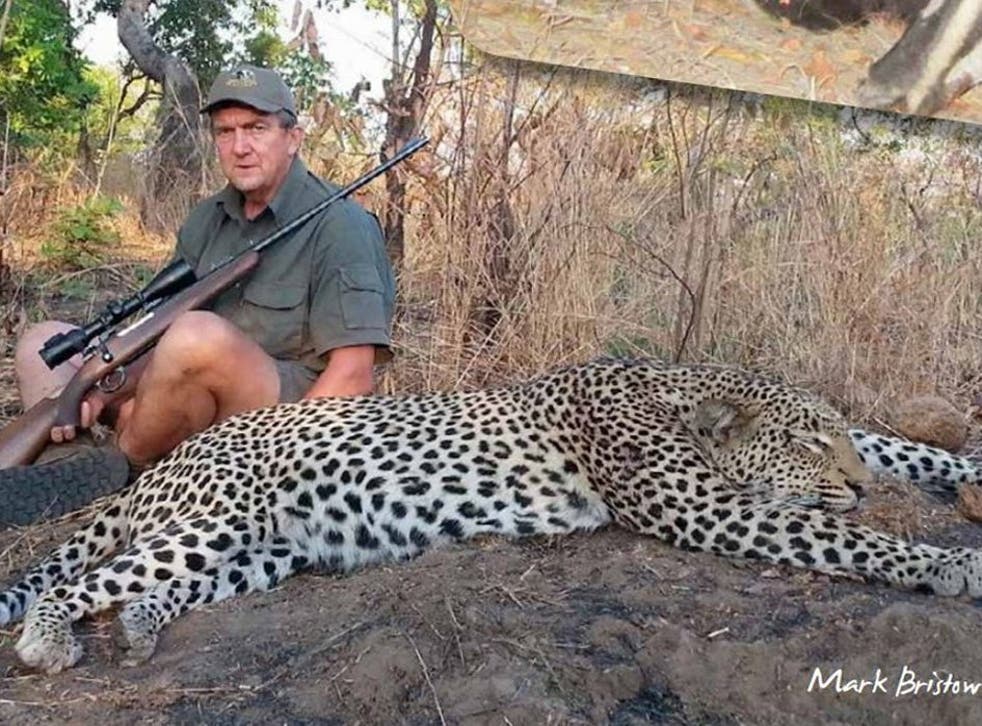 A multimillionaire mining company boss and wildlife conservation board member has been photographed with the bodies of numerous animals he has shot dead while on hunting trips in Africa.
Mark Bristow, Randgold's chief executive, is the FTSE 100's longest serving chief executive. Last week, his £5bn London-listed mining company Randgold, which he founded in 1995, was bought by Canada's Barrick Gold in a deal that will put Mr Bristow in charge of the world's largest gold miner by market capitalisation.
The emergence of the photographs, highlighted by the Financial Times, comes amid growing debate over developing countries' use of legal big game hunting to pay for conservation programmes.
The picture of 59-year-old Mr Bristow with the leopard was featured in the 2014 newsletter and on the website of Hunters & Guides Africa, a South Africa-based big game tour operator.
On big game tours between 2005 and 2014, photos also showed him posing with the carcasses of antelope, gazelle, lion, buffalo, zebra and a hippo.
Randgold has its main gold mining operation in Mali and has several connections to wildlife conservation projects, to which it donates funds.
In 2016, Mr Bristow's company began a partnership with the Mali elephant project and the firm has given about half a million US dollars towards elephant conservation efforts since 2014.
Several photographs published by Hunters & Guides show Mr Bristow posing with elephants he has shot dead.
Leopards and African elephants are listed as vulnerable by the International Union for Conservation of Nature.
Randgold also gives financial support to Panthera, the global big cat protection society, which last year appointed Mr Bristow to its Preservation Council.
Other members of the council include singer Shania Twain, former Patagonia chief executive Kris Tompkins and the BBC's Kate Silverton.
Where not to visit if you love animals

Show all 9
Randgold​​ has defended Mr Bristow's hunting, telling The Telegraph: "Legal, well-regulated hunting can and does deliver benefits for both wildlife conservation and the livelihoods of indigenous communities living with wildlife.
"Led by Mark Bristow, Randgold Resources has invested in a wide range of biodiversity programmes in its host countries ... and is bringing together conservation professionals and scientists to develop a tailored method for the mining industry in Africa to restore the continent's biodiversity."
Join our new commenting forum
Join thought-provoking conversations, follow other Independent readers and see their replies