Rare birds killed off after migration north sees them face freezing temperatures back in UK
Remains of 8 malnourished stone curlews recently back from Africa and Spain found in Norfolk, Suffolk and Wiltshire
Charlotte Philby
Wednesday 10 April 2013 18:34 Comments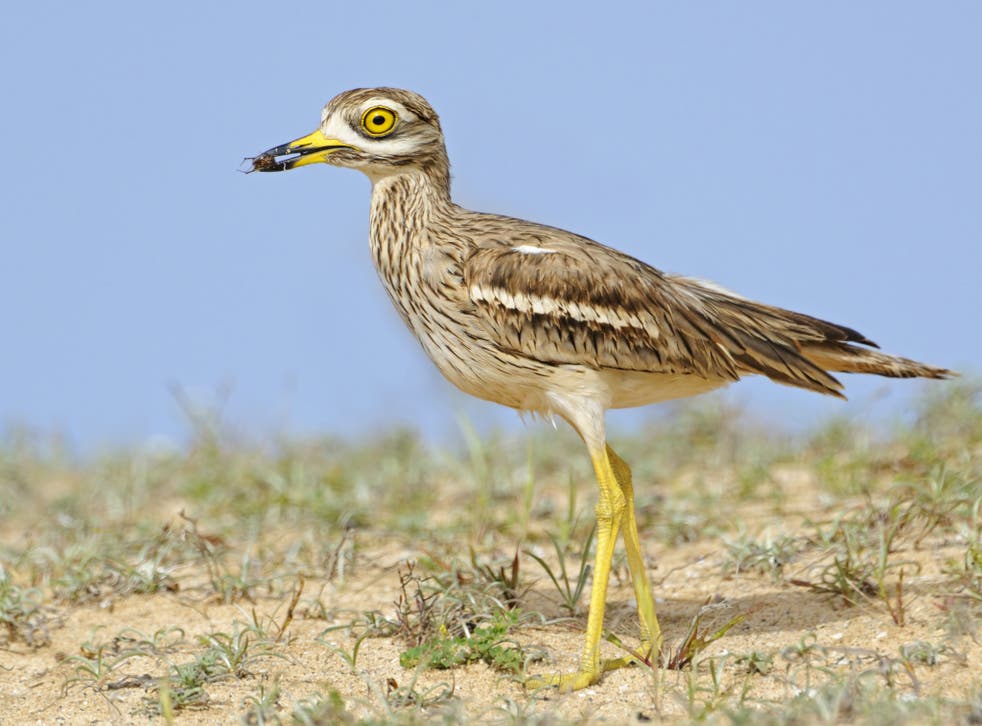 Rare birds have fallen victim to Britain's prolonged cold weather with the bodies of several breeds found dead across the country.
The remains of eight malnourished stone curlews – one of the UK's most threatened birds, recently returned from their wintering grounds in Africa and Spain – were discovered in fields in Norfolk, Suffolk and Wiltshire in the past few days, the RSPB has reported.
The malnourished creatures, which weighed around 300g each compared to a healthy weight of 450g, are believed to have died after struggling to find enough food to survive following their annual migration to the UK.
A number of puffins and other seabirds including razorbills and guillemots were found dead off the coast of Scotland and North East England two weeks ago as a result of continuous freezing conditions and stormy seas making it hard to find food.
There have also been reports of short-eared owls and barn owls found dead after cold weather hindered their ability to hunt.
The late onset of spring has meant a lack of activity usual for this time of year. An influx of migrant birds should be returning to British shores to breed and build nests, but conservationists have noted very little activity. There has been a much lower number of sightings of chiffchaffs, willow warblers and blackcaps than is usual for this time of year, which is worrying given last year's poor breeding season.
A number of birds have been confused by lower than normal temperatures. Winter migrants like waxwings, fieldfares and redwings are still present in large numbers across the countryside, showing little sign of preparing to head north. Starling murmurations – traditionally a winter evening spectacle – were recorded as late as the Easter weekend in areas including Swindon and Aberystwyth Pier.
RSPB conservation director Martin Harper said: "I can't remember a spring like this – nature has really been tested by a prolonged period of very cold weather.
"We should be hearing the sound of chiffchaffs calling from the trees – a classic sign that spring is here – but that isn't the case. Some may have stalled on their migration route, while for others the severe lack of insect food available means they are conserving what little energy they have.
"The discovery of eight stone curlews is a stark reminder of how fragile this species is. This amounts to around one per cent of the total UK population of these birds but the total number of deaths is likely to be higher. Many of these birds are only here because of the dedication of farmers who have been creating safe habitats for them in key areas."
Where's my dinner? What the birds are missing out on
Stone-curlews generally feed on invertebrates found in short-grazed semi-natural grassland or in areas within 1 km of their nest site.
Puffins and razorbills feed on small fish including sand eels, herring, hake and capelin. During winter they also eat crustaceans.
Short-eared and barn owls thrive on small mammals like shrews, voles, rats, and mice. They also eat large insects, and occasionally smaller birds.
Chiffchaffs like willow warblers consume insects such as midges and other flies. They will also eat berries and fruit in autumn.
Register for free to continue reading
Registration is a free and easy way to support our truly independent journalism
By registering, you will also enjoy limited access to Premium articles, exclusive newsletters, commenting, and virtual events with our leading journalists
Already have an account? sign in
Join our new commenting forum
Join thought-provoking conversations, follow other Independent readers and see their replies