Rare shark birth photographed for the first time
The picture was taken during a research dive in the Philippines in 2013
Nick Kirkpatrick
Wednesday 14 January 2015 01:47 Comments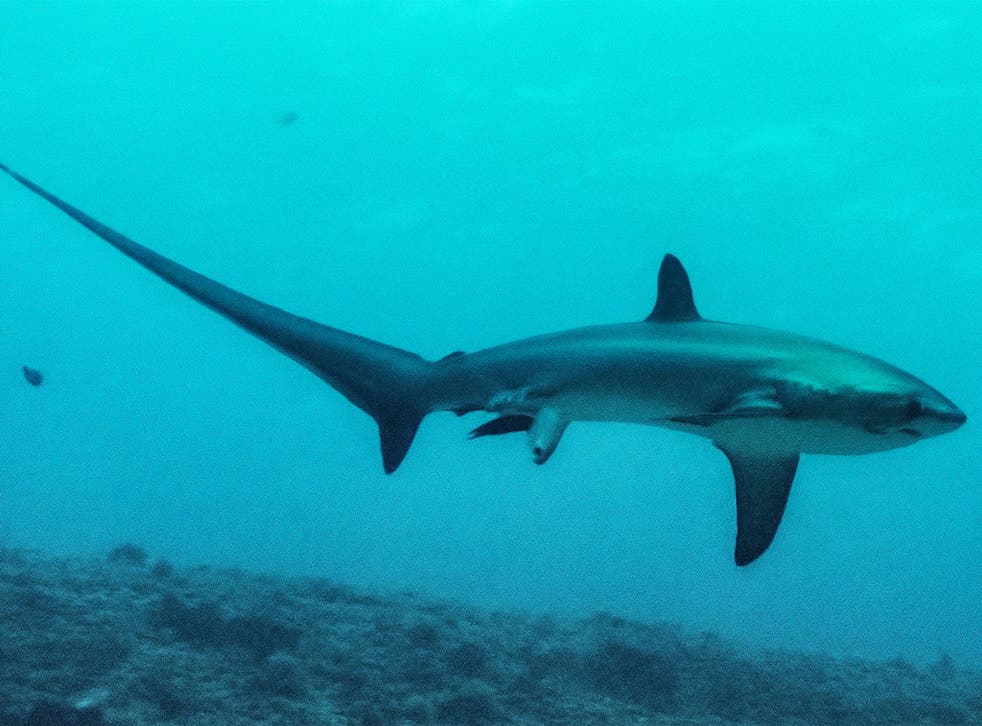 A photograph believed to be the first picture showing the live birth of a thresher shark has one scientist very excited. The BBC reported the picture was taken by Attila Kaszo during a 2013 research dive in the Philippines and now has been published in Coral Reef, the official journal of International Society for Coral Reef Studies.
"He took the picture of the shark, and when he processed the image and showed it to me, I freaked out," said lead researcher Simon Oliver, who also told the BBC that seeing the picture was a highlight of his career.
Marine biologist Jean-Marie Ghislain's stunning images of sharks

Show all 7
"We observed a large female pelagic thresher shark swimming back and forth across a cleaning station in an agitated state," Oliver and Kaszo wrote in the journal. "We were unable to decipher the cause of the shark's distress from our observation post 15m away, although it was evident that cleaner wrasse were taking bites from its pelvic region. We observed the shark for a total of 4 min, during which we took its photograph for identification purposes. The shark then left the cleaning station and was not observed again. Later, when we processed the photograph for analysis, it revealed the head of a pup emerging from the shark's cloaca," an opening for genital organs and the urinary and intestinal tracts.
Kaszo said in an interview that he had made several hundred images on the trip and didn't know what he had. "That picture ended up in my trash folder because it appeared to have a 'blob' on it which I thought was a jellyfish" he said. "[I] revisited my trash folder and looked more closely at what I had…Even after I had stared at it for some time I couldn't reconcile it was a birth, I guess it was just too far-fetched for that. I sent the pic to Simon Oliver who authenticated it, then it went through numerous evaluations and peer reviews."
According to Oliver, the sharks have rarely been seen in the wild. He noted in the journal that "little is known of the reproductive strategies of most oceanic species."
Simon Thorrold, a senior scientist from Woods Hole Oceanographic Institution in Massachusetts, told the BBC that the image may have limited importance in shark conservation, but he has never seen a comparable image. "It may well be, or at least the first time that the event has been photographed, but this is always difficult to say definitively," he said.
©The Washington Post
Register for free to continue reading
Registration is a free and easy way to support our truly independent journalism
By registering, you will also enjoy limited access to Premium articles, exclusive newsletters, commenting, and virtual events with our leading journalists
Already have an account? sign in
Join our new commenting forum
Join thought-provoking conversations, follow other Independent readers and see their replies