Developing world invests more in renewable energy than rich countries for first time, new study says
Last year broke records for investment in renewable energy with countries like China, India and even Mauritania in the forefront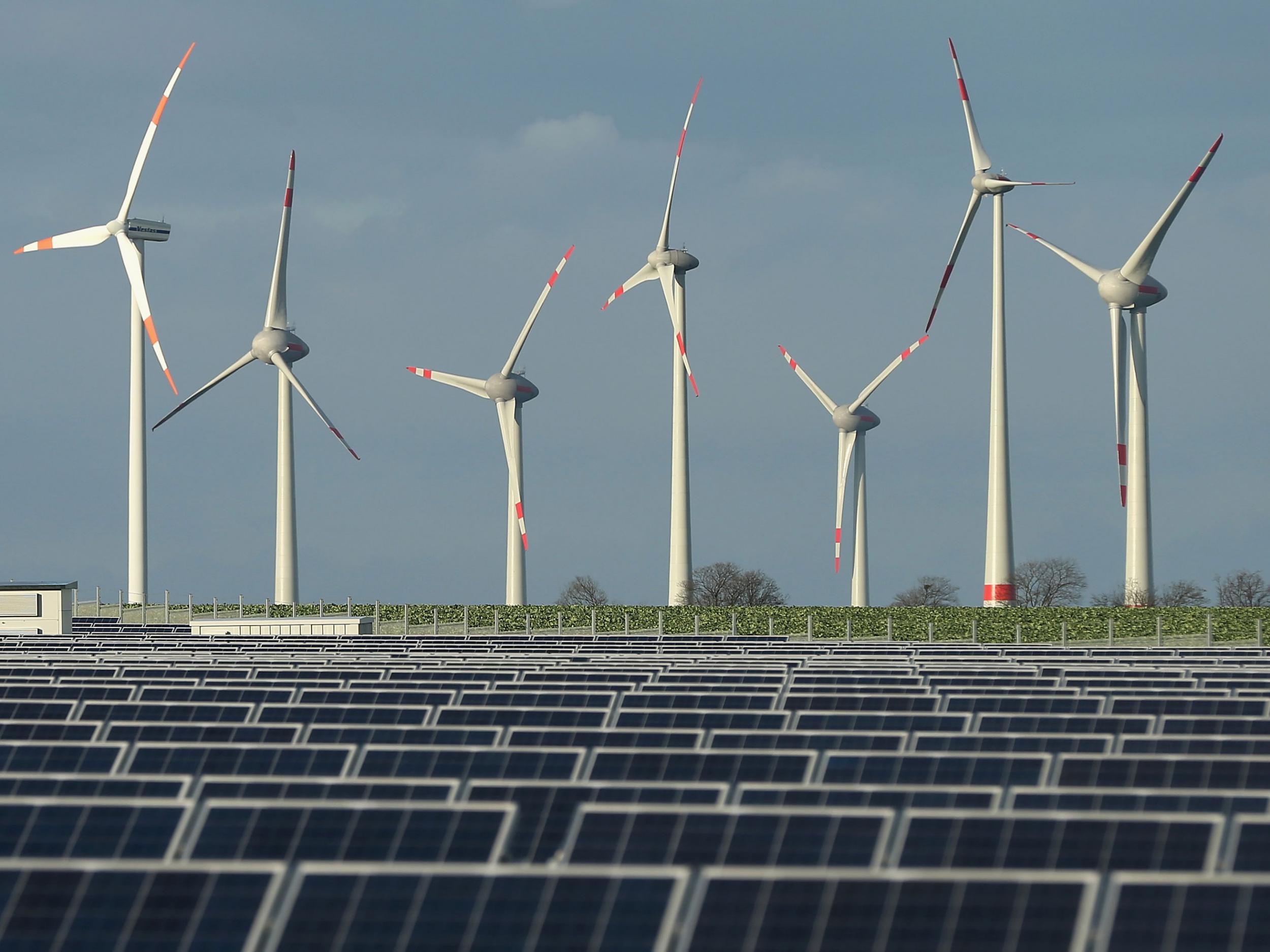 Investment in renewable energy was higher in the world's poorest countries than the richest ones for the first time last year, according to a major new report.
A total of about £196.5bn was spent renewable power and fuels globally in what was a record year for investment in the sector, according to the Renewables 2016 report by the Renewable Energy Policy Network for the 21st Century (Ren21).
But more than £107bn of that total, which doesn't include large hydropower schemes and heating and cooling technologies, took place in developing countries such as China, India and Brazil.
Friends of the Earth said it was "shameful" that the UK was being outspent by "much poorer countries" and attacked the Government for failing to create the right environment for investors in renewables.
By the end of 2015, there was enough renewable capacity to supply an estimated 23.7 per cent of the world's electricity - a figure the UK Renewable Energy Association (REA) said showed that there was a "strong business case" for the industry.
However the REA also lamented "political decisions" by the British Government that it said were holding back the sectors' growth and favouring "more expensive technologies instead".
In 2015 renewables worldwide had the capacity to generate 1,849 gigawatts of power, compared to 1,701 gigawatts in 2014, after the largest ever annual rise, the Ren21 report said.
Christine Lins, REN21's executive secretary, pointed out this record level of growth had been achieved despite governments around the world heavily subsidising fossil fuels.
"What is truly remarkable about these results is that they were achieved at a time when fossil fuel prices were at historic lows, and renewables remained at a significant disadvantage in terms of government subsidies," she said.
"For every dollar spent boosting renewables, nearly four dollars were spent to maintain our dependence on fossil fuels."
Renewable energy is making waves in Europe
She said poorer countries were increasingly turning to renewable energy partly because it was now so "cost-effective".
"Countries are opting for renewables because they are not only the most environmentally sound, but also the cheapest option," Ms Lins said. "It's a clear signal of its economic viability."
While developing nations were creating new electricity supplies, richer nations had to phase out existing fossil-fuel power stations, she added.
But what this means is poor countries are more than pulling their weight in terms of moving towards a fossil fuel-free world to limit the effects of global warming.
"For the first time in history, total investment in renewable power and fuels in developing countries in 2015 exceeded that in developed economies," the REN21 report said.
China, often portrayed as a polluted, coal-powered villain in debates on climate change, topped a league table for investment in renewable power and fuels apart from large-scale hydro, followed by the US, Japan, the UK and India.
And Mauritania came first in a league based on investment in proportion to GDP, followed by Honduras, Uruguay, Morocco and Jamaica.
The report added: "Bangladesh is the world's largest market for solar home systems, and other developing countries (e.g., Kenya, Uganda and Tanzania in Africa; China, India and Nepal in Asia; Brazil and Guyana in Latin America) are seeing rapid expansion of small-scale renewable systems, including renewables-based mini-grids, to provide electricity for people living far from the grid."
China, it said, had played a "dominant role" in the industry, increasing its investment by 17 per cent. This accounted for a staggering 36 per cent of the total global investment.
"Renewable energy investment also increased significantly in India, South Africa, Mexico and Chile. Other developing countries investing more than $500m (about £345m) in renewables in 2015 included Morocco, Uruguay, the Philippines, Pakistan and Honduras," the REN21 report said.
"By contrast, renewable energy investment in developed countries as a group declined by eight per cent in 2015, to $130bn (about £90bn).
Central Americans turn coffee into renewable energy
"The most significant decrease was seen in Europe (down 21 per cent to $48.8bn), despite the region's record year of financing for offshore wind power ($17 billion, up 11 per cent from 2014).
"In the United States, renewable energy investment (dominated largely by solar power) increased by 19 per cent to $44.1bn, the country's largest increase in dollar terms since 2011."
In January, experts who carried out an analysis for The Independent warned that the British renewable energy sector would "drop off a cliff after 2019" because of the Government decision to end subsidies for windfarms while pledging to go "all out" for shale gas produced by fracking.
James Court, head of policy at the Renewable Energy Association, said the REN21 report "clearly shows that globally there is a strong business case for renewables".
"While the demand globally for renewables is increasing, we are beginning to see in countries such as the UK, that political decisions are holding back the industry's growth," he said.
"Good examples include onshore wind and solar, both of which are being denied access to the market while more expensive technologies are supported instead."
Andrew Pendleton, a Friends of the Earth campaigner, said: "It should be a source of deep shame that Britain is being outspent by many other industrialised and developing nations in renewables when, as a windy island, we have a clear competitive advantage.
"It's even more shameful that we're being outspent by much poorer countries – Bangladesh is installing home solar while our Government slashes support to homeowners.
"Wind, solar and marine technologies will dominate energy markets. Whichever country emerges the most innovative and ambitious will doubtless be positioned for economic domination with all of the job creation that that implies.
"If Britain, with our almost unrivalled natural resources isn't the right place to invest in renewables then where is? If now is not the right time, when will be? Governments have to create the right investment climate and it's clear that currently ours isn't."
Join our commenting forum
Join thought-provoking conversations, follow other Independent readers and see their replies