Climate crisis: Renewable energy provided almost half of UK's electricity in first three months of 2020
New wind projects and declining demand for fossil fuels make significant inroads to decarbonising energy sector
Harry Cockburn
Friday 26 June 2020 18:30 Comments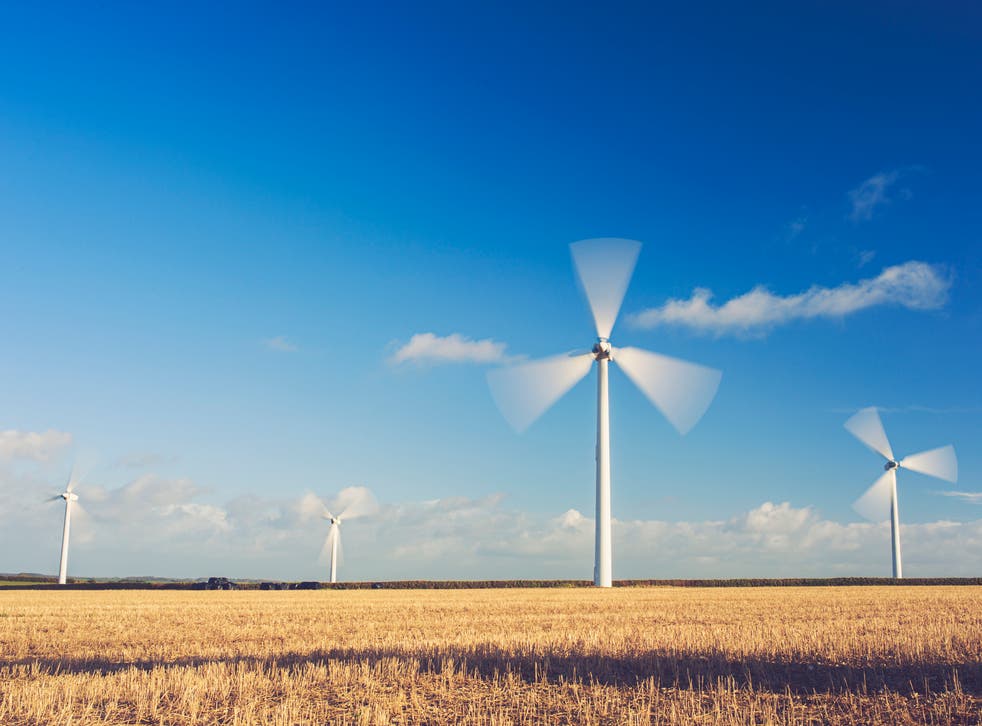 Renewable energy sources provided almost half of the UK's electricity during the first quarter of 2020, setting a new record driven by a surge in wind power.
The latest government data revealed renewables contributed 47 per cent to the UK's energy generation between January and March this year.
This was up from 35.9 per cent during the same period last year, and a rise on the previous quarterly record of 39 per cent, set last summer.
The government said the increase in renewables' contribution was down to greater numbers of wind farms coming online, but also due to windy weather at the start of the year.
Renewable energy sources include wind, solar, hydro power and bioenergy, but with the addition of nuclear energy and biomass, the overall share of electricity generation from "low carbon" sources increased to a record high of 62.1 per cent, according to the report.
This was despite nuclear power generation falling by 5.8 per cent compared to the same period last year.
Meanwhile, this quarter also saw the lowest share of generation coming from fossil fuels at 35.4 per cent.
The report by the Department of Business, Energy and Industrial Strategy (BEIS) said: "This is the first time the fossil fuel share has dropped below 40 per cent of total generation, continuing the ongoing trend away from fossil fuels."
Overall use of energy is also falling in the UK. The report said total final consumption of electricity decreased by 1.8 per cent in the first quarter of 2020 compared to the same period the previous year. "This continues an ongoing trend for lower year on year consumption," the authors said.
The quarter had almost ended by the time the UK went into lockdown on 23 March, but demand was already down, the report indicated.
Domestic electricity consumption decreased by 0.3 per cent and electricity consumed by the industrial sector fell by 3.6 per cent, which BEIS said reflected a drop in the manufacturing Index of Production.
Climate change: Decade's defining issue in pictures

Show all 20
Industry body Renewable UK's head of policy and regulation Rebecca Williams said: "At the coldest time of year, wind and renewables rewrote the record books right across the board, keeping our nation powered up when we need it most.
"This is the clean energy transition written very large indeed," she said.
"As the government works with us on a massive expansion of renewables as part of the UK's green economic recovery after the pandemic, you can be sure that the latest records, extraordinary though they are, will be broken again in the years ahead, as we phase out fossil fuels to reach net zero emissions."
Kwasi Kwarteng, the minister for energy and clean growth, said in a statement: "These figures highlight the progress being made as our country moves away from fossil fuels towards renewable energy.
"The huge shift to clean energy over the past decade is one of our great national success stories, and this Government is determined to go even further to reach our net zero emissions target by 2050."
Register for free to continue reading
Registration is a free and easy way to support our truly independent journalism
By registering, you will also enjoy limited access to Premium articles, exclusive newsletters, commenting, and virtual events with our leading journalists
Already have an account? sign in
Join our new commenting forum
Join thought-provoking conversations, follow other Independent readers and see their replies