Rhino poaching peaks across Africa as demand for horns soars
Michael McCarthy
Monday 31 December 2012 18:27 Comments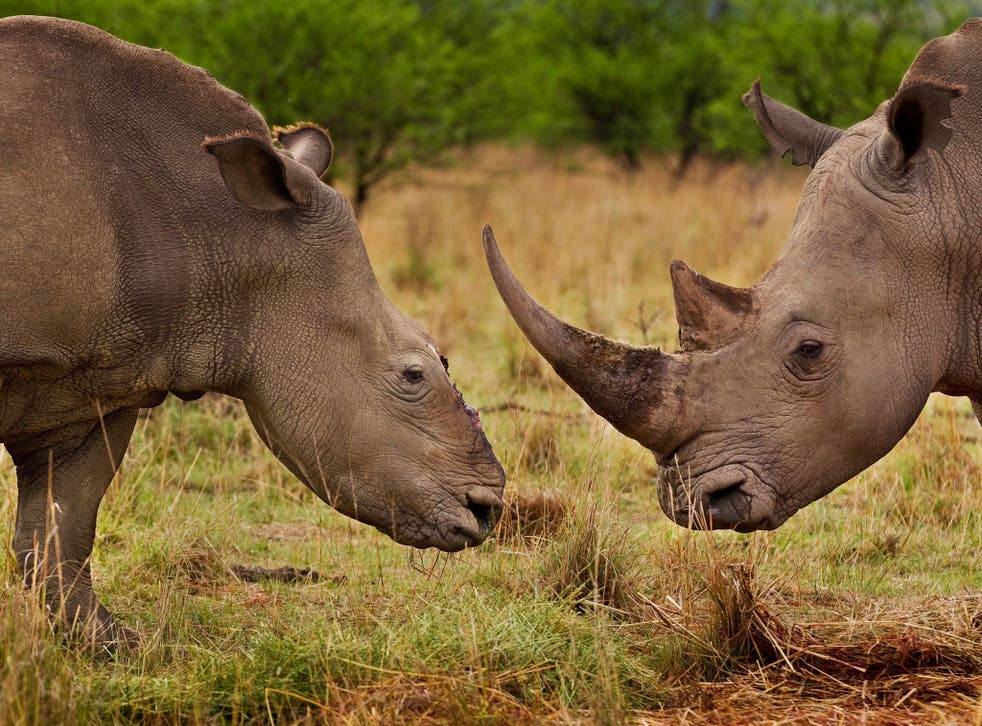 The world is facing a new wildlife crisis with rhino and elephant poaching in Africa now running out of control, as the illicit wildlife trade booms across the globe as never before.
A problem which has always existed, but previously seemed containable, hit an unprecedented new level in 2012, with hundreds of rhinos and thousands of elephants illegally slaughtered to satisfy soaring demand in Asia for rhino horn and elephant ivory.
More than 600 rhinos have been killed in the past year and at least 3,000 elephants – but probably many more. Rhino horn is being sought as a cancer treatment by multitudes of users of traditional Asian medicine following a pervasive urban myth: that its powdered form cured the cancer of a Vietnamese politician.
It is also considered an aphrodisiac. Ivory is being sought for luxury carvings for the teeming numbers of new millionaires in China and surrounding Asian countries. For both markets, prices have rocketed, with both rhino horn and ivory in some circumstances fetching $60,000 (£37,000) per kilo – equivalent to the price of gold.
The profits generated are so vast that they are attracting both organised crime syndicates, and rebel groups across Africa, who are using sales of horns and tusks from animals they have killed to finance their civil wars. Some of the continent's most notorious armed groups, including the Lord's Resistance Army and Darfur's Janjaweed, are hunting elephants and using the tusks to buy weapons.
Conservationists, politicians and the international community have begun to realise that the threat to Africa's big beasts is of a wholly new order, and may lead to their extinction in the wild in some countries unless drastic action is taken; the situation also threatens to hasten instability in various African countries.
Hillary Clinton, the US Secretary of State, highlighted the growing dangers of the illicit wildlife trade in a speech in November, and last month the primate conservationist, Jane Goodall, called for a ban on the worldwide sale of ivory to prevent African elephants disappearing. "The world must wake up," she said.
The illegal trade in wildlife is now worth at least $19bn a year and is the fourth largest global illegal trade, after drugs, counterfeiting and human trafficking.
Demand for rhino and elephant products in particular has grown rapidly in the last five years. The figures for the recent killings are remarkable and have hit new highs in the last 12 months.
In South Africa alone, 633 rhinos were killed by poachers in 2012 (up to 19 December), with no fewer than 395 hit in Kruger National Park, South Africa's largest wildlife reserve and the country's leading safari destination. Rangers predicted than another 20 animals would be killed by the year's end, making the total more than 650.
This compares with an average poaching rate of 12 animals per year across the country between 2000 and 2007. Since then the average annual figures have shot up at an astonishing rate, going from 13 in 2007 to 83 in 2008, 122 in 2009, 333 in 2010 and 448 in 2011. South Africa has about 20,000 rhinos, or 80 per cent of all the rhinos in Africa.
Similarly, poaching of African elephants hit a new high in 2012, based on global seizures of illegal ivory, which at 34 tonnes, was 50 per higher than the previous record of 23 tonnes set in 2011. At roughly one tonne of tusks to 10 elephants, this is well over 3,000 animals slaughtered, but the true figure across Africa is thought to be much higher.
Among the groups calling for a new effort against the killing is the World Wide Fund for Nature, which has presented a report to the UN. It said: "The current global approach to fighting illicit wildlife trafficking is failing, contributing to the instability of society, and threatening the existence of some illegally traded species."
Register for free to continue reading
Registration is a free and easy way to support our truly independent journalism
By registering, you will also enjoy limited access to Premium articles, exclusive newsletters, commenting, and virtual events with our leading journalists
Already have an account? sign in
Join our new commenting forum
Join thought-provoking conversations, follow other Independent readers and see their replies