Richard Leakey: Brad Pitt to portray the man who went to war with elephant poachers – and who is doing it all again
Despite his injuries and his age, Dr Leakey has recently returned to the wildlife service, picking up the fight once more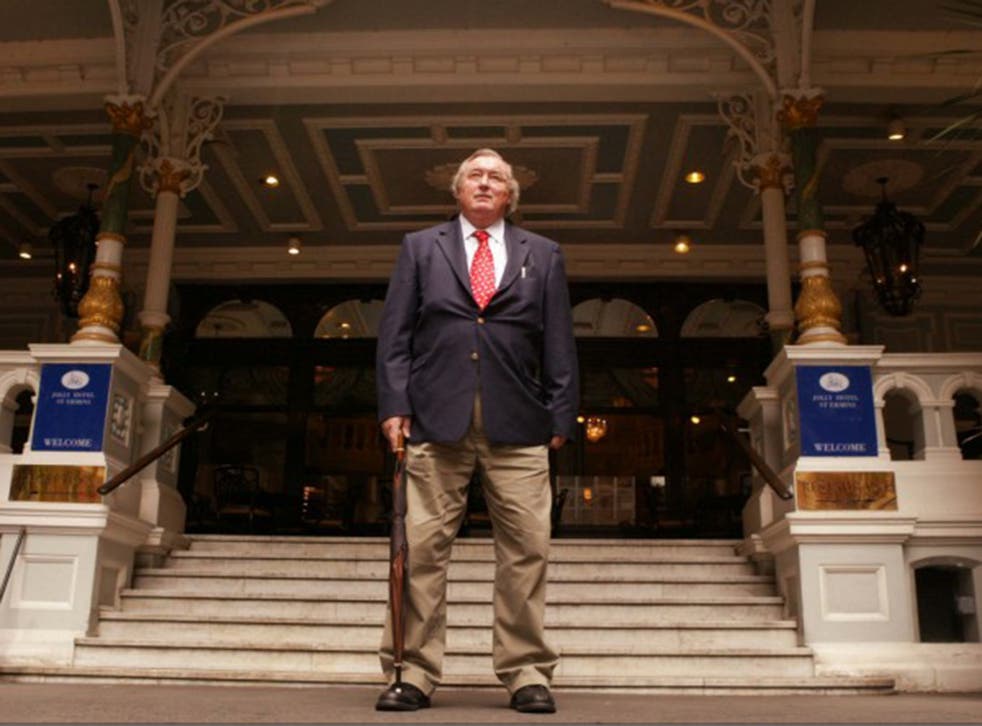 'I had lunch with Angelina a few days ago in New York," says Richard Leakey with a roguish smile, enjoying the thought. Yes, he is talking about Angelina Jolie, the Hollywood star, director and activist who wants to make a movie of his extraordinary life as the man who went to war with elephant poachers in Africa and won – and is now doing it all over again at the age of 70.
"It was a working lunch," says this large, formidable fellow with eye-watering confidence, as if there was any suggestion that they might have been flirting instead. "The plan to make a film based on protecting elephants in Kenya is very much on."
The Kenyan government has reportedly stepped in with financial incentives to make it happen, although Dr Leakey is also said to have asked Angelina to tone down the sex and violence. "I have a reputation for having had a fairly full life, but not nearly as full as that."
The truth is, though, that his real life has been as remarkable as any Hollywood script.
Born in colonial Kenya to a pair of famous palaeontologists, he preferred digging in the dirt with them to school. Family games included trying to drive lions away from a kill, as our ancestors did.
Dr Leakey made the cover of Time magazine in the 1970s, and became world famous after a series of remarkable fossil finds that proved human life evolved on the plains of Africa. Next he became known as a fearless conservationist, one of the first to highlight the scandal of elephant poaching.
He dared to burn a huge pile of ivory worth a fortune to assert that it should only be valuable on a live elephant. Ivory prices fell as governments were shamed into cracking down on the poachers.
Dr Leakey was the first chairman of the Kenya Wildlife Service; he armed its rangers with the latest weapons and vehicles and sent them into battle. He made enemies as a result, some of whom may have sabotaged the light aircraft in which he crashed in 1993. He now walks on artificial legs, which he stretches out after sinking heavily down into a deep chair at the Gore Hotel in Kensington, London.
Despite his injuries and his age, Dr Leakey has recently returned to the wildlife service, picking up the fight once more. His admirers include presidents, prime ministers, Prince Charles and Prince William. So he is really, truly remarkable.
But to be honest, in terms of looks, he's no Brad Pitt. That's who will play Dr Richard Leakey in the film of his life. "I never knew who he was until all this happened," he says of Angelina's absurdly handsome husband. "I don't ever watch movies." Of course, being himself, he told Brad this. "He was very amused."
Today, Dr Leakey looks battered and bruised, with a black eye from a fall. His face has filled out and his Superman-style cowlick has gone grey, but looks matter little compared to courage and brains. He has not left his wife Maeve and their 100-acre farm outside Nairobi and come all this way just to talk about the movies.
As many as 40,000 elephants are being killed across the continent of Africa every year, he says. A single tusk can sell for as much as $30,000 (£20,000) on the black market in the United States or China.
As a white African who thinks, dreams and prefers to talk in Swahili and has become a major political player on that continent, he takes this personally.
"Elephants are a major part of our heritage. They are an enormously important ecological, iconic species. We would like our grandchildren and great-grandchildren to have the extraordinary thrill of going into the wild and seeing wild animals, including elephants," he says.
"We see no reason why a few people should destroy that now, simply because we are not prepared to pick up the fight and say: 'No. This is not for America. This is for us. Don't take it from us.'"
He first took over the Kenya Wildlife Service in 1989. "I said to my fellows: 'Where there is a poaching incident, don't turn your back on it and run away because you know you are going to get killed. Go in and engage. If somebody shoots at you then shoot back, but shoot better!' "
Fossil discoveries

Show all 7
Did he tell them to shoot to kill, as was reported? "My instructions were always to try to get them alive, because poachers talk. So it wasn't this slaughterhouse that the popular media got hold of at all. It was very controlled."
His book about those years was Wildlife Wars: My Fight to Save Africa's Natural Treasures. "It was a battle to prevent the total decimation of elephants and rhino. It was a relentless thing that involved security patrols, arrests, shoot-outs, a lot of intelligence."
And it worked. The number of elephants being killed dropped dramatically. More than 4,000 a year were dying in Kenya when he first took over, now it is down to the hundreds. "That's sustainable, although it's not pretty and not necessary." He plans to burn ivory again next year, only this time hundreds of tonnes of it.
Dr Leakey resigned from the wildlife service the year after his plane crash. He fought political battles, survived assassination attempts, and even tried to reform the Kenyan civil service. He became a professor of anthropology at Stony Brook University in New York and a Fellow of the Royal Society in London, which marked his 70th birthday with a symposium. But now he's back in charge of the rangers, and has told the British government that his men and women have a part to play in the fight against terrorism, working as they do in a part of the world where groups such as al-Shabaab are suspected of hiding.
"I think they are very cognisant of the role the Kenya Wildlife Service could play in an aspect of anti-terrorism, while interacting with wildlife in areas where terrorists might otherwise be doing other things."
What does he mean by that? "I think they recognise that a wildlife intelligence service operating at that level, talking to nomads and so on, might pick up a lot of intel that could be very valuable, both to the Kenyan government and their allies."
At the same time, Dr Leakey is part of a campaign to increase wildlife tourism, called Make It Kenya. The Foreign Office advises British citizens to stay away from some parts of the country because of the high risk of terrorism – but crucially, that does not include the national parks and wildlife reserves where big animals can still be seen living freely in spectacular settings. Some of us will probably never have the chance to go, of course.
When there is so much human suffering in the world, why should we care about protecting elephants? His eyes narrow.
"Why don't people like to see dogs eaten? Because they know dogs are caring, dogs are intelligent, dogs are loving, dogs are animals we identify with. Elephants are more so."
He is grateful for outside support but says: "We are developing a strong constituency for wildlife ourselves, as Africans. There needs to be an African solution."
One example of this happening is a Kenyan charity called Space for Giants, which specialises in securing land for elephants to roam safe from poachers. The killing has dropped by up to 80 per cent in these areas.
The Independent on Sunday supported Space for Giants with its 2014 Christmas Appeal.
Presidents who want the charity to help to protect elephants in their country are asked to sign up to a set of defining principles. So far, the leaders of Kenya, Gabon, Uganda and Botswana have done so, with six more preparing to join what is now called the Giants Club.
Those leaders plan to meet in Kenya next year, hosted by President Uhuru Kenyatta. Together they will form a new alliance across borders, to provide safe spaces for these majestic creatures.
It was the Kenyan government which asked Leakey to return to head up the Kenya Wildlife Service earlier this year, but if the fight was won last time, why on earth did he need to?
"They got really lax," he says, acknowledging that poaching had been pushed out to neighbouring countries but was also on the rise again in Kenya as rangers turned a blind eye.
"I don't think we have gone deep enough yet to have cured it, but there was clearly a lot of corruption at a lot of levels. Up through the chain of command to quite senior wardens and deputy directors, people were on the take."
He is trying to change the culture by introducing fines and prison sentences.
"It's like school," he says. "Walk on the grass and you get beaten."
That tells you something about his schooling in Kenya in the 1950s. Leakey went to work instead of going to university, although he now has "at least" 16 honorary degrees from around the world.
"I'm not exactly sure how many it is."
His team found the fossilised full skeleton of a young hominid male from 1.6 million years ago near Lake Turkana in northern Kenya.
"For the first time, you had embedded in consolidated rock that could be accurately dated to 1.6 million years, something that even a lay person could have said was a human skeleton."
This proof of evolution was a blow landed against his grandfather and other Leakey family members who had been missionaries, bishops and archbishops.
"I thought: 'Got 'em!' God did not create us in His image, we created Him in ours. It is us that we should worship, as a species."
He stops and looks down at his coffee, smiling. "Was that laced?"
Dr Leakey wrote a best-selling book called Origins and presented his own BBC television series on how all modern humans evolved out of Africa.
All this came from digging for fossils that might not have been there. He is currently recruiting backers for a massive science park in Turkana, so that such speculative research can continue.
"I hope it has already done good in that people now realise that racial segregation and the idea that we have different origins and different IQs has gone out of the window. It wouldn't have done without this type of research."
He will have no shortage of attention for his projects once the movie – with the working title Africa – gets made, but can he really be that uncomfortable at being portrayed as an all-action hero?
He glances across at his publicist, who knows what he is like, and says in a voice rich with irony, "I'm hoping that it will be a gentle, wise, charming, persuasive leadership that can break the back of this international problem of crime."
And at that thought, she laughs out loud.
Join our new commenting forum
Join thought-provoking conversations, follow other Independent readers and see their replies