RSPB warns Boris Johnson's plan to turn UK into 'Saudi Arabia of wind' could put vulnerable seabirds at risk
Installation of thousands of turbines could add to 'cocktail of threats' declining species such as kittiwakes already face unless farms are built in less ecologically sensitive areas, charity says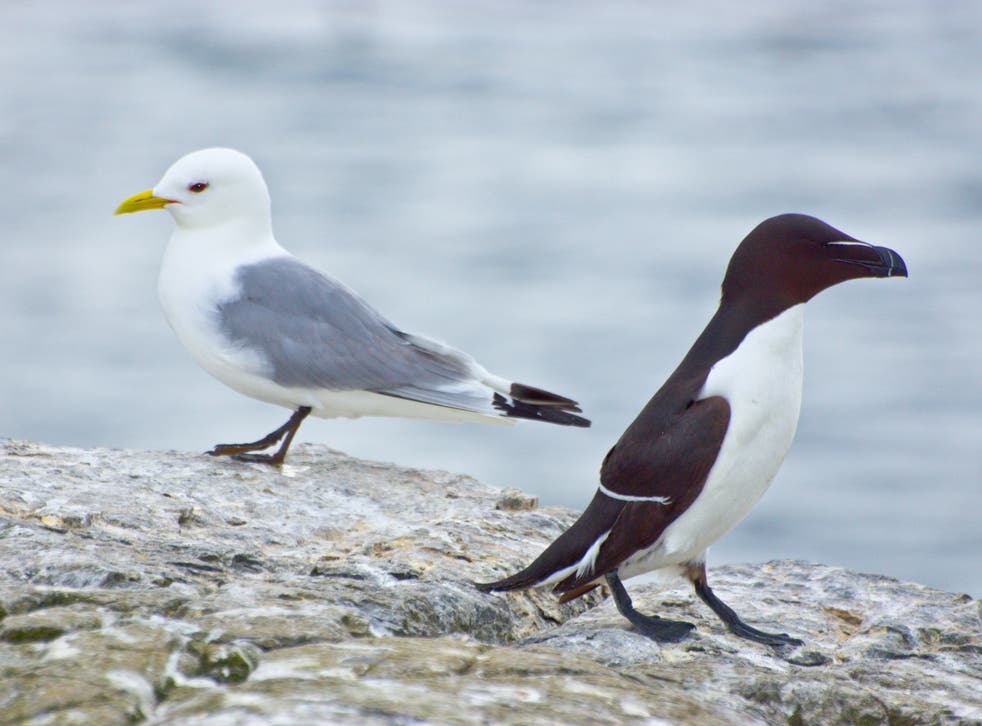 While environmental organisations have broadly welcomed a change in tone from the government over renewable energy, there are now concerns the rapid roll-out of large new wind farms could affect vulnerable seabirds.
At the Conservative Party Conference earlier this month, Boris Johnson said the UK would aim to become "the world leader in low-cost clean power generation", adding, "in 10 years' time, offshore wind will be powering every home in the country, with our target rising from 30 gigawatts to 40 gigawatts".
This would depend on the completion of a turbine every weekday for the next 10 years, analysts have said.
But the RSPB has warned that without positioning new wind farms in ways which have as little impact as possible on nature, the thousands of new turbines could add to the existing pressures already affecting some species.
The organisation said: "Seabirds face a cocktail of threats on land and sea including fishing (seabird bycatch and fishing which does not set aside enough food for wildlife), marine and coastal development, and predation by invasive mammals. These human pressures are acting in combination with the effects of climate change and together there is an increased risk of irreversible wildlife losses."
But despite other media reports saying the RSPB was warning that "puffins will be driven to extinction", by wind power, the organisation confirmed to The Independent it is backing new wind farms, but was concerned about how leases are granted to developers.
Helen Quayle, policy officer at the RSPB told The Independent: "We do support offshore wind, but we want to see changes in how we do offshore wind.
"That's needed for nature because we're looking at this massive upscaling in offshore wind with this 40GW target, but further into the future the Committee on Climate Change has recommended 75GW by 2050, so we're looking at putting a lot more wind in already crowded seas.
"As we build more wind power we're seeing an increased pressure on our marine environment. Offshore wind can impact seabirds through collision, habitat loss, displacement, it can act as a barrier to where seabirds want to reach in terms of foraging or migration - there's a range of ways it can act on seabirds, but it's not the only thing going on in our marine environment - increased offshore wind acts in combination with all these other pressures."
She explained the key issue at the moment was that many of the areas being developed for offshore wind overlap with vital seabird habitats.
However, developers currently do not have much of a say over where wind farms can or cannot go, as the rights to the seabed around the English and Welsh coasts are held by the Crown Estate, so wind farms can only be built once the Queen's property managers have given the green light for development in certain, set areas.
"There is a conflict between energy and nature at the moment, but the route to solving that is to integrate how we respond, and find joint solutions," said Ms Quayle.
"We're calling on the government to integrate the climate response with the UK's nature commitments. Only by doing this can we build back greener and hit net-zero sustainably."
She said the conflict between the need for new clean power and the risk to certain bird colonies has already been recognised by the government, so there is a precedent for taking them into consideration during the planning process.
"The secretary of state acknowledged the cumulative impacts on seabirds of Hornsea 3 (a wind development off the north Norfolk coast). This was a sort of watershed moment for the industry and one of the reasons why we need to reduce uncertainties," she said.
"If we had a more strategic approach to offshore wind, and looked from the offset at which would be the most suitable areas of seabed to use, that would resolve a lot of the conflicts, so we need government-led planning to identify those places.
"This would make it a lot easier for developers and investors to go forward and say: 'Right, these are the areas of least ecological sensitivity, let's do as much wind development in those areas as makes sense'."
One of the birds in worst decline around Britain is the kittiwake. Since 1986, the UK kittiwake population has fallen by 70 per cent, due to declines in breeding success and survival, according to the RSPB.
"Offshore wind on the east coast of the UK is predicted to increase pressure on this species in particular," the organisation said.
At the moment, the impacts of windfarms on seabirds are not well documented.
Ms Quayle said: "There is research ongoing looking at the behaviour of birds in existing wind farms, but we need a lot more.
"A lot of the evidence at the moment comes from modelling and predictions, so they could end up looking better, or a lot worse."
She added: "We've been calling for the research and the monitoring which will help us understand the impacts a lot more. And that will help us look after our seabirds and our oceans."
Join our new commenting forum
Join thought-provoking conversations, follow other Independent readers and see their replies