Climate crisis: Melting glaciers reveal five new new islands in Russian Arctic
Unnamed islands emerge from ice amid record period of melting
Harry Cockburn
Wednesday 23 October 2019 17:07 Comments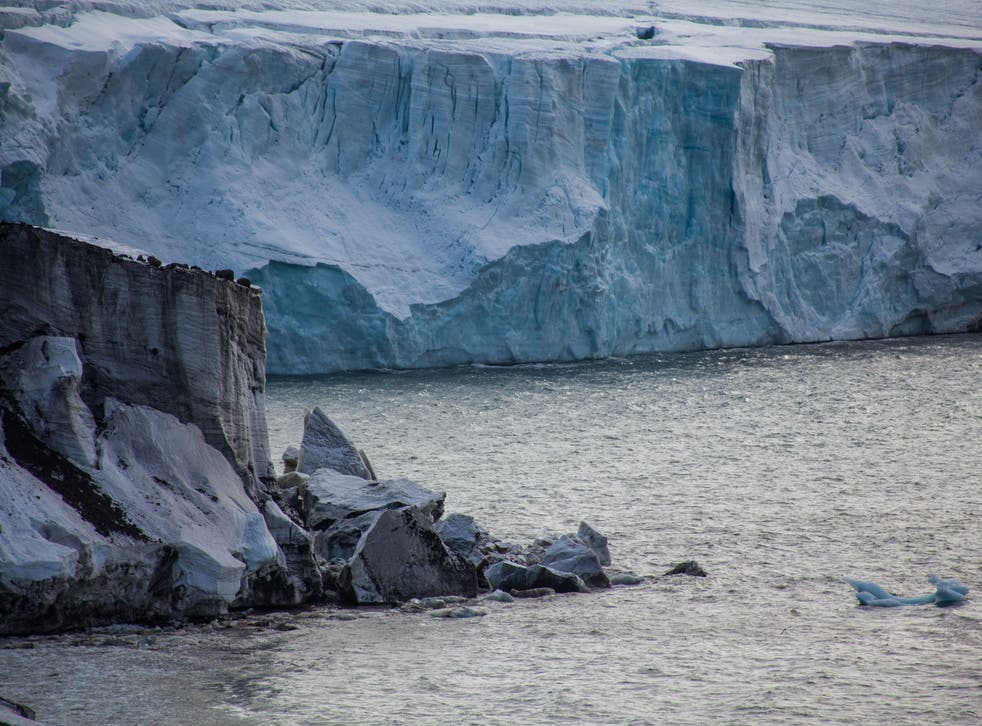 Russia has announced it has found five new islands after ice has melted from a glacier in the Arctic.
They were first spotted the newly de-iced islands in Vize Bay off the huge, mountainous Novaya Zemlya archipelago in 2016 using satellite imaging by the country's navy.
But they were only confirmed and mapped during an expedition to the site over August and September, the Russian Defence Ministry said.
Vice-admiral Alexander Moiseyev, who led the expedition, told state-run news agency Tass that "temperature changes" in the region were among the reasons the islands had emerged.
He said: "Mainly this is of course caused by changes to the ice situation. Before, these were glaciers. We thought they were [part of] the main glacier.
Spectacular images show beautiful landscapes of Iceland and Greenland

Show all 24
"Melting, collapse and temperature changes led to these islands being uncovered."
The islands range in size from 900 to 54,500 square metres (0.2 – 13.5 acres).
Now the islands have been charted, the findings will be officially recorded and the islands will be named, he said.
Between 2015 and 2019, more glacier loss was recorded in the Arctic than in any other five-year period on record, a United Nations report on global warming warned last month.
Meanwhile, according to the Russian Geographical Society, between 2015-2018, more than 30 new islands, capes and bays were discovered in the region as ice has retreated.
The result is greater Russian military presence in the Arctic, with a string of new bases for scientific research and military operations opening.
Declining sea ice provides Russia with lengthening seasons for shipping routes through the Arctic Ocean, which would previously have been impassable. There are also growing concerns among environmentalists that Russia could seek to exploit increasingly accessible natural resources beneath the fragile ice cap.
The large-scale expedition involved 60 people and as well as visiting the melting glacier at Novaya Zemlya, found another previously undiscovered island off the Franz Josef Land archipelago to the north west.
The crew, travelling on a rescue towboat rather than an icebreaker, followed the paths of historical expeditions and studied the remnants of the military infrastructure of the Soviet period and the traces of the expeditions "of past centuries", Tass reports.
Support free-thinking journalism and attend Independent events
In September, as a group from the expedition attempted to land at Cape Heller on Franz Josef Land, in an inflatable boat, they were attacked by a female walrus.
"The walruses probably feared for their cubs and attacked the rubber landing craft," a statement by the Geographical Society said. "The boat sank, but a tragedy was avoided thanks to the prompt action by the squad leader. All landing participants safely reached the shore."
During the expedition, crews also determined the maximum depth of the Barents Sea, found to be 632m (345 fathoms).
Register for free to continue reading
Registration is a free and easy way to support our truly independent journalism
By registering, you will also enjoy limited access to Premium articles, exclusive newsletters, commenting, and virtual events with our leading journalists
Already have an account? sign in
Join our new commenting forum
Join thought-provoking conversations, follow other Independent readers and see their replies