Sainsbury, Asda and Waitrose are members of group lobbying against air pollution crackdown
Transport group, which includes supermarkets, boasted of delaying clean air zones in six UK cities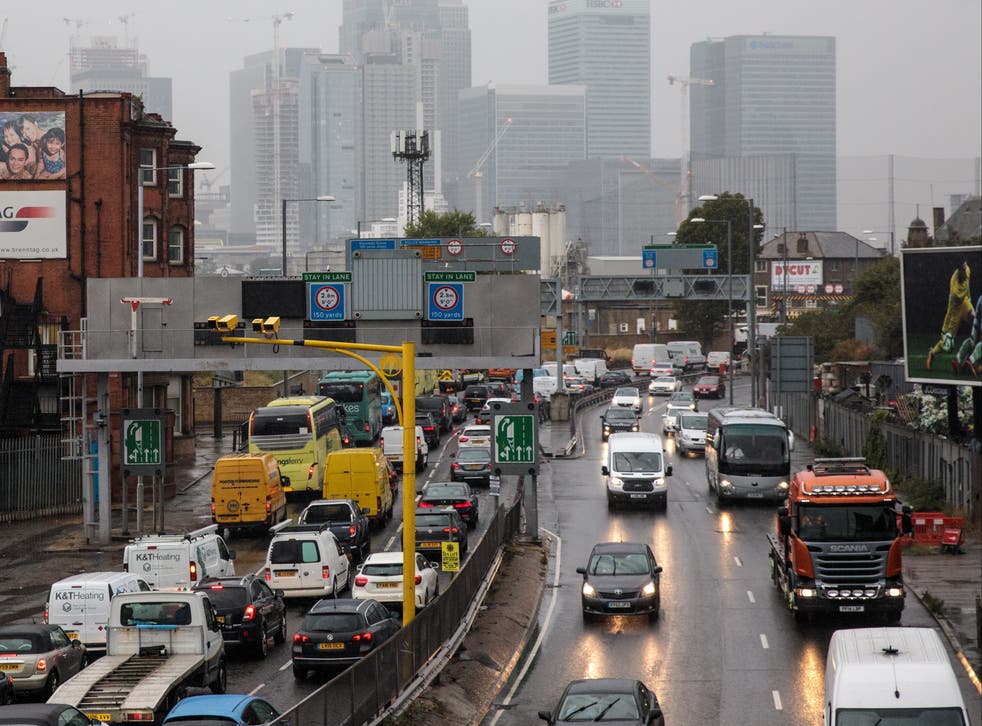 Sainsbury's, Asda and Waitrose are members of a group that lobbies against clean air measures while trumpeting their green credentials, an investigation has found.
The supermarket giants are "powerful" affiliates of Logistics UK, which has lobbied against clean air zones in UK cities and lists one of its policy achievements last year as delaying six clean air zones "for as long as possible", according to Desmog, an environmental investigations website.
They are among 20 members that form a well-organised opposition to many of the UK's clean air measures, including driver groups and car manufacturers, it's claimed.
The investigation also found dozens of links between the umbrella groups and MPs of all parties.
An internal document produced by Logistics UK – formerly the Freight Transport Association (FTA) – outlines its 2019 policy achievements, including: "Due to FTA lobbying, six city clean air zones (CAZs) or air quality schemes, including London's ultra low emission zone (Ulez), have had their start dates delayed for as long as possible."
The document then lists delays to or watering-down of clean air schemes in Southampton, Greater Manchester, Birmingham, Leeds, Derby, Cardiff and Oxford. In the latter case, it says: "Following calls from FTA, revised plans for Oxford city council's proposed zero-emission zone show the hours of operation will be changed from 24/7 to between 10am and 6pm instead."
"Derby city council agreed with the FTA recommendation to avoid the introduction of a CAZ and instead work on achieving compliance with air quality standards through other measures (eg traffic management plans)," it reveals.
And Cardiff city council announced it would not be implementing a clean air zone "consistent with FTA's campaigning", the round-up states.
The FTA  argued that plans for a CAZ in Newcastle would hurt local businesses, saying clean air zones "do not provide any lasting benefit to air quality". 
In response to a consultation on London's ultra-low emission zone, it called for the introduction to be delayed to allow operators more time to comply, and argued that it was counterproductive.
Air pollution is responsible for an estimated 40,000 premature deaths a year in the UK, doctors say. 
The FTA was also a founding backer and funder of Fair Fuel UK, a pressure group that says "air quality alarmism is being used to attack motorised transport via regressive taxes".
Desmog said supermarkets were among the most powerful of Logistics UK's members, and, "as consumer-facing businesses responsible for huge amounts of freight traffic, they have a particular responsibility to do what they can to curb air pollution, especially with home deliveries on the rise under Covid-19".
In January, Sainsburys committed to becoming Net Zero by 2040, promising it would increase the percentage of its fleet using alternative zero and low-carbon fuels to 20 per cent by 2025.
Last year, Waitrose launched new climate action targets stating it was aiming for its transport fleet to be zero-carbon by 2045.
Jemima Hartshorn, founder of anti-pollution campaign group Mums for Lungs, said: "I'm sure I speak for many key workers, parents and teachers when I say the supermarkets must now undo the damage they have caused - by leaving Logistics UK and greening their fleets as soon as possible."
Professor Stephen Holgate, clinical professor of immunopharmacology at the University of Southampton and air quality special adviser at the Royal College of Physicians, said: "In a capitalist democracy there has to be a consideration of the economic issues as well as the public health ones and the more 'responsible' businesses will enter into this debate in a rational and constructive way."
A Sainsbury's spokesperson said: "We are one of a number of members of Logistics UK. However, our fleet is compliant with Clean Air Zones. Sainsbury's is committed to becoming net zero across our operations by 2040, aligned to the highest ambitions of the Paris Climate Change Agreement. We will invest £1bn over 20 years to help us achieve that ambition."
Asda referred to a statement by Logistics UK, which said the group and its members "are fully supportive of the need to improve air quality in the UK's cities, but any solution needs to be proportionate and fair to all – our members believe a charging CAZ is not the most effective method to implement change".
It added: "Our members believe other measures such as alleviating congestion will have a greater impact on air quality in the long term."
It said its support of Fair Fuel related solely to their activities to avoid an increase in diesel duty.
A spokesperson for John Lewis Partnership, which owns Waitrose, said: "Being part of any membership organisation means it's inevitable at times you will have differing opinions. We have had discussions with Logistics UK on our own commitments to clean air and experience, which we believe can provide good insight on what can be achieved."
She said the company had clear commitments to clean air and was making good progress on its own carbon emissions targets, next year trying out electric vans for online deliveries. She said: "All our 600 heavy-goods vehicles will be switched to low-carbon biomethane by 2028 and we aim to stop using fossil fuels across our entire transport fleet by 2030. We therefore aim to be net zero-carbon by 2045."
Join our new commenting forum
Join thought-provoking conversations, follow other Independent readers and see their replies