Salmon farms that slaughter protected seals to be 'named and shamed' after landmark ruling
Campaigners have won a victory against the £400m a year salmon industry
Jamie Merrill
Tuesday 07 July 2015 18:20 Comments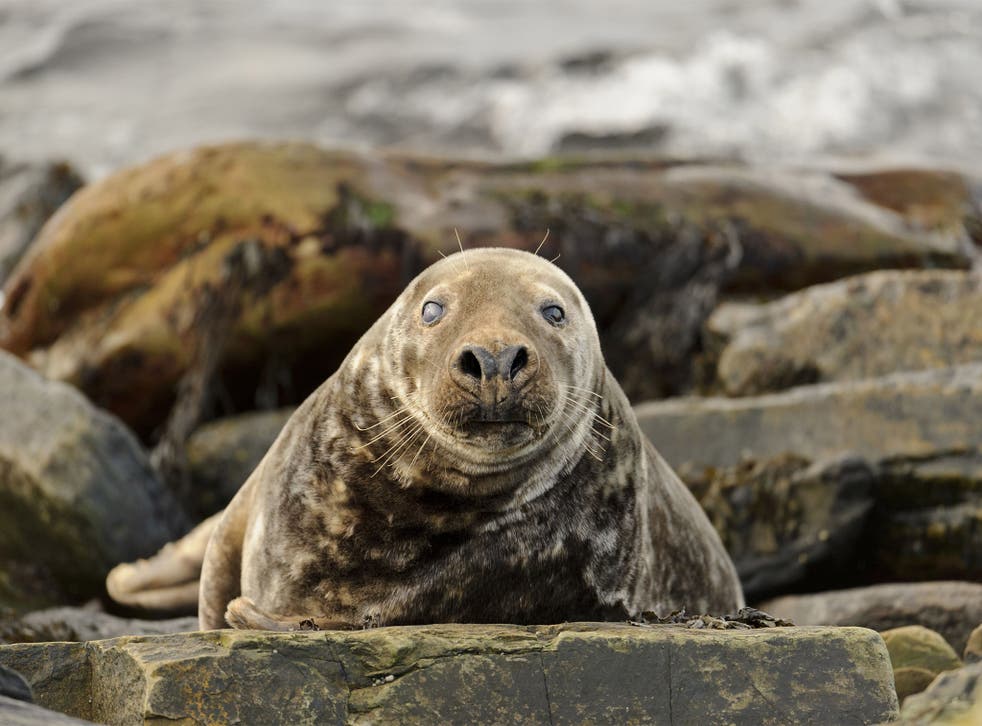 Fish farms that cull protected seals will effectively be "named and shamed" after animal rights campaigners won a landmark victory in their battle against the lucrative £400m a year salmon farming industry.
More than 200 seals were legally shot by marksmen in Scotland last year to protect stocks of salmon and other fish, according to official figures – leaving orphaned seal pups to starve and calls from campaigners for a consumer boycott of "lethal Scottish salmon".
Common and grey seals are protected under Scottish and EU law. But to the dismay of conservationists, fish farms and salmon fishermen can apply for a licence to cull them – prompting a "seal-shooting war" off the north-east coast of Scotland this summer, with activists trying to stop marksmen who have responded with accusations of "environmental terrorism".
As many as 1,400 seals have been killed since the Scottish licence scheme was introduced in 2011. However, despite rulings from Scottish Information Commissioner (SIC) in 2012 and 2013, the Scottish Government has refused to name the fish farms where animals have been culled, citing concerns that it could jeopardise the safety of salmon farmers.
Now though, a pair of rulings from the SIC will force the Scottish Government to publish more details of the culls, including the locations where seals have been culled by salmon farms and wild-salmon fishermen.
Don Staniford, director of the Global Alliance Against Industrial Aquaculture, which brought the legal challenge under freedom of information rules, said on Tuesday that the legal decisions were "are a shot in the arm for freedom of information and a shot across the bows of the bloody Scottish salmon farming industry.
He added: "Now the public will be able to boycott salmon from lethal salmon farms. It is shameful that the Scottish salmon-farming industry continues to kill seals and shocking that supermarkets still source seal-unfriendly farmed salmon."
The judgment will come as a blow to the salmon fish- farming industry in Scotland, which is worth £400m a year and produces more than 150,000 tons of fish annually. "The last thing we want is our workers being attacked or bullied by a baying mob," said one industry insider.
The judgment, which gives Scottish ministers until 21 August to disclose the culling locations, comes amid rising tensions at Gardenstown harbour in Banff, where members of Sea Shepherd UK, a conservation group, are using three boats and up to 80 volunteers to monitor legal seal shoots carried out by the Scottish Wild Salmon Company.
For the second year running, the campaigners have used speedboats to photograph the culling of seals by marksmen. According to the Sunday Herald, both sides now face the possibility of criminal charges after a series of confrontations on the nearby cliffs and beaches.
However, despite rising tensions, the SIC found that Scottish ministers had "not provided any specific examples or evidence to support the view that there would be an increased threat to public safety if information about seal shooting carried out under licence is made known". A spokesman for the Scottish Government said it had received the SIC ruling and was "currently considering the decision".
There has been a 55 per cent decrease in seals culled since 2011, but campaigners say progress has not been fast enough and that there is no need to kill seals. They say the SNP government in Holyrood has been silent on the issue, preferring to use seals in promotional tourist material and that is should encourage fish farms to invest in anti-predator nets and acoustic deterrent devices instead.
The disclosure of the farms next month is likely to show that several major supermarkets buy salmon from fish farms that legally cull seals. Previously released data has linked Marks & Spencer to such farms, while Tesco has previously admitted that farms it buys salmon from cull seals as a "last resort".
Andy Ottoway, campaign director for the Seal Protection Action Group, said case was vitally important as the soon-to-be released details would allow supermarket "customers to make an informed choice about what salmon products they want to buy to avoid supporting seal killing."
Earlier this year, the RPSCA came under fierce criticism after it emerged that 52 of the seals culled last year where shot by fish farms in the animal welfare charity's Freedom Food initiative. The charity said culling was a "last resort" after "rigorous measures" are taken to protect salmon and that it is "equally concerned" with the welfare of "all animals".
Mr Staniford said it was sad that the majority of consumers were "unaware" that the RSPCA scheme "shamefully" permits the killing of seals. He added: "The sure-fire message to consumers is simple: Scottish salmon is farmed and dangerous."
Scott Landsburgh, the chief executive of the Scottish Salmon Producers' Organisation, said: "The number of seals shot by salmon farmers has declined dramatically over recent years.
"We have championed deterrence techniques that are designed to keep seals away from our fish, and shooting is always a last resort."
Salmon Farming: Birth of an industry
Late 1960s Salmon farms are established off the Scottish coast, bringing cheap salmon to the masses.
1984 The industry suffers from the infection salmon anaemia, a viral disease in Norwegian farmed salmon.
2007 Experts confirm that louse infestations on Scottish salmon farms have hit wild salmon numbers.
2010 Aqua Bounty becomes one of the first salmon farms to genetically modify salmon, despite fierce opposition.
2012 A naturally occurring parasite is introduced to a Scottish salmon farm in the hope that it will minimise the impact of sea lice.
Jessica Smith
Register for free to continue reading
Registration is a free and easy way to support our truly independent journalism
By registering, you will also enjoy limited access to Premium articles, exclusive newsletters, commenting, and virtual events with our leading journalists
Already have an account? sign in
Join our new commenting forum
Join thought-provoking conversations, follow other Independent readers and see their replies