Satellite images show emissions drops over European cities amid coronavirus lockdown
Air pollutant nitrogen dioxide, which comes from vehicles and power plants, is less concentrated this month in parts of Europe
Louise Boyle
New York
Wednesday 25 March 2020 22:24 Comments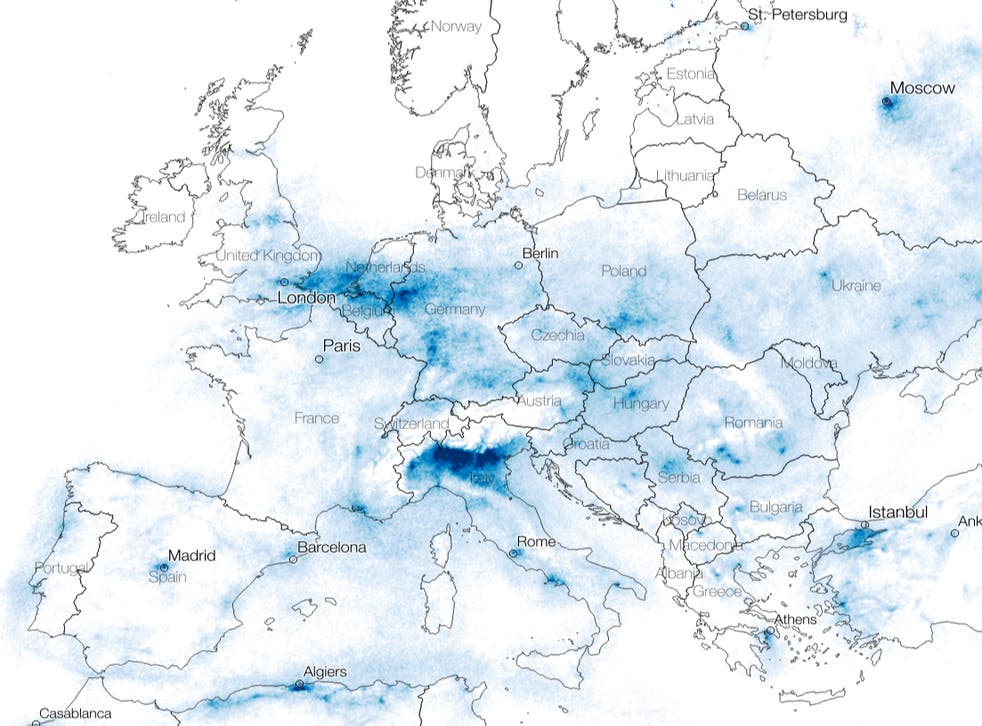 Pollution has declined in some European cities as many countries have ground to a halt in efforts to battle the coronavirus outbreak.
Satellite images show nitrogen dioxide (NO2) concentrations from 10 March to 22 March, compared to the same period last year.
NO2, represented by the colour density on the maps, is shown to be in lower concentrations this month across Europe. The maps show noticeable differences in Essen, Germany; Granada, Spain and Russia's capital, Moscow.
According to United Nations data as of Wednesday, Spain has 39,673 confirmed cases of the coronavirus and 2,696 deaths while Germany has 31,554 confirmed cases and 149 deaths. The Russian Federation has 658 confirmed cases and no deaths.
The analyses of NO2 emissions were provided to The Independent by Descartes Labs, a geospatial analysis group. The images, using the European Space Agency's Sentinel-5P satellite data, represent weighted mean NO2 concentrations.
Marshall Burke, a professor at the Department of Earth System Science at Stanford University, who reviewed the data for The Independent said: "I think they show pretty clearly that air pollution has declined as a result of the epidemic."
In an article he wrote earlier this month, Mr Burke noted that air pollution in China caused by economic disruption likely saved twenty times more lives in China than have currently been lost directly due to infection with the virus in that country.
But he made clear that "[N]one of my calculations support any idea that pandemics are good for health."
Europe has been hit hard by the Covid-19 outbreak as thousands more cases are reported daily. Some countries like Italy, the country with the highest death toll, along with France, Spain and Germany imposed lock-down measures earlier this month to try to limit the spread of the virus. The British government ordered a lock-down on March 23.
Satellite images show nitrogen dioxide (NO2) concentrations from 10 March to 22 March, 2019 in Essen (Descartes Labs)
Russian president Vladimir Putin said on Wednesday that the country had managed to "restrain" the spread of the virus while Moscow's mayor, Sergei Sobyanin, warned that the number of sick was larger than official figures, ordering the city's residents over 65 to stay home from Thursday, the New York Times reported. ​
Similar analyses were also provided to The Independent of NO2 emissions for US cities like New York, Chicago and Los Angeles.
Nitrogen dioxide levels in the atmosphere in part come from cars, trucks, buses and power plants, according to the Environmental Protection Agency.
The air pollutant forms when fossil fuels like coal, oil, gas or diesel are burned at high temperatures. Along with other nitrogen oxides, NO2 contributes to particle pollution in the air.
It can cause a range of health issues, according to the American Lung Association, including increased inflammation of airways; cough and wheezing and reduced lung function. The group also points to new research which warns NO2 to be the likely cause of asthma in children.
Register for free to continue reading
Registration is a free and easy way to support our truly independent journalism
By registering, you will also enjoy limited access to Premium articles, exclusive newsletters, commenting, and virtual events with our leading journalists
Already have an account? sign in
Join our new commenting forum
Join thought-provoking conversations, follow other Independent readers and see their replies