Scientists call for destructive seabed trawling to be banned
The scientists were joined by MPs in demanding an end to bottom trawling below 600 metres in all European waters
Lewis Smith
Wednesday 21 January 2015 21:20 Comments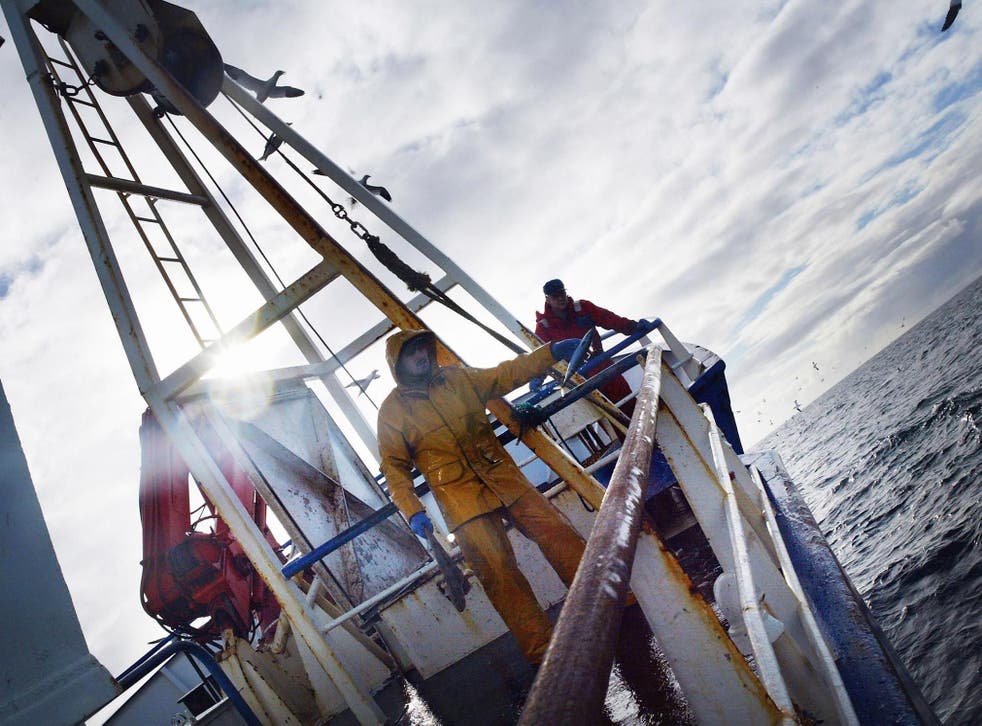 Sixty marine scientists have signed an open letter urging the fisheries minister, George Eustice, to stop Spanish and French fishermen damaging wildlife in the deep sea.
The scientists were joined by MPs in demanding an end to bottom trawling below 600 metres in all European waters. The Tory MP Richard Benyon, a former fisheries minister, and the former Labour environment minister Ben Bradshaw are also planning to write to Mr Eustice.
Mr Benyon said the economics of deep sea bottom trawling "don't stand up", with much of the European fleet heavily subsidised. He added: "This is the UK's marine heritage that is being damaged into destruction but the vast majority is by other nations' fishers."
About a third of the seas surrounding and controlled by the UK are deeper than 600m but 94 per cent of the fish legally caught there are taken by French and Spanish vessels. Stocks of orange roughies have already been destroyed and scientists fear other species, including deep water sharks, will follow.
Banning deep sea bottom trawling would affect just 12 of the UK's 5,000 fishing vessels, a Commons briefing was told, and those 12 take less than 1,000 tonnes each year. The main commercial species in bottom trawling are roundnose grenadiers, black scabbardfish and blue ling, but fish belonging to dozens more species are discarded.
The scientists warned that bottom trawling below 600m damages the seabed and the rare and slow-growing fish and other wildlife that live there. They are particularly concerned at the loss of rare cold water coral reefs, groups of sponges, and groups of mysterious, tennis-ball-sized, single-cell creatures called xenophyophores.
"We are calling on you to exercise leadership to negotiate a new EU regulation to phase-out bottom trawl fishing in the deep sea, among other measures, to protect vulnerable species and habitats," they wrote.
"There is overwhelming scientific evidence that bottom trawling along the continental slopes, on seamounts, and in other deep-sea areas in the North-east Atlantic is detrimental to deep-sea ecosystems and species.
"It is not necessary to fish with bottom trawl gear. Deep sea fish can be caught using other bottom gears provided they are well managed and the limits on the catch are set at sustainable levels."
The European Union is considering proposals to improve protection for deep sea wildlife, but conservationists believe that stronger measures would be approved if the UK took the lead.
Mr Bradshaw said he thought there was a "real prospect" of new rules that would "make a huge difference" if the UK were to champion the proposed ban.
He added: "Imagine a giant plough dragged over our most precious landscapes, destroying everything in its wake and leaving a wilderness of ecological destruction.
"Liberated from ministerial office, I feel it's easier to speak the truth about these things and push for greater action."
In deep water: Prized catches
Black scabbardfish (below)
Despite their fearsome appearance, these creatures are one of the "poster fish" of the campaign to end deepwater bottom trawling.  Growing up to 4ft long, they are armed with sharp teeth and eat smaller fish and squid. They are usually found between 200m and 2,000m below the surface but can go much deeper.
Roundnose grenadier
Large eyes give the roundnose grenadier a surprised appearance but it is well adapted to hunt small squid, prawns and crustaceans. It grows to about 3ft and has a tapering body. It has a tough hide but the flesh is prized for flavour and succulence.
Blue ling
Mainly found at depths of 600m to 1,000m, this is a member of the cod family and can reach 5ft in length. Its body is long and thin and it feeds mainly on small fish and invertebrates. Catches peaked in the early 1980s and 1990s.
Register for free to continue reading
Registration is a free and easy way to support our truly independent journalism
By registering, you will also enjoy limited access to Premium articles, exclusive newsletters, commenting, and virtual events with our leading journalists
Already have an account? sign in
Join our new commenting forum
Join thought-provoking conversations, follow other Independent readers and see their replies