Scotland's floating turbine smashes tidal renewable energy records
Leads to calls for 'wholly renewable electricity system' from environment group
Wednesday 22 August 2018 18:09 BST
Comments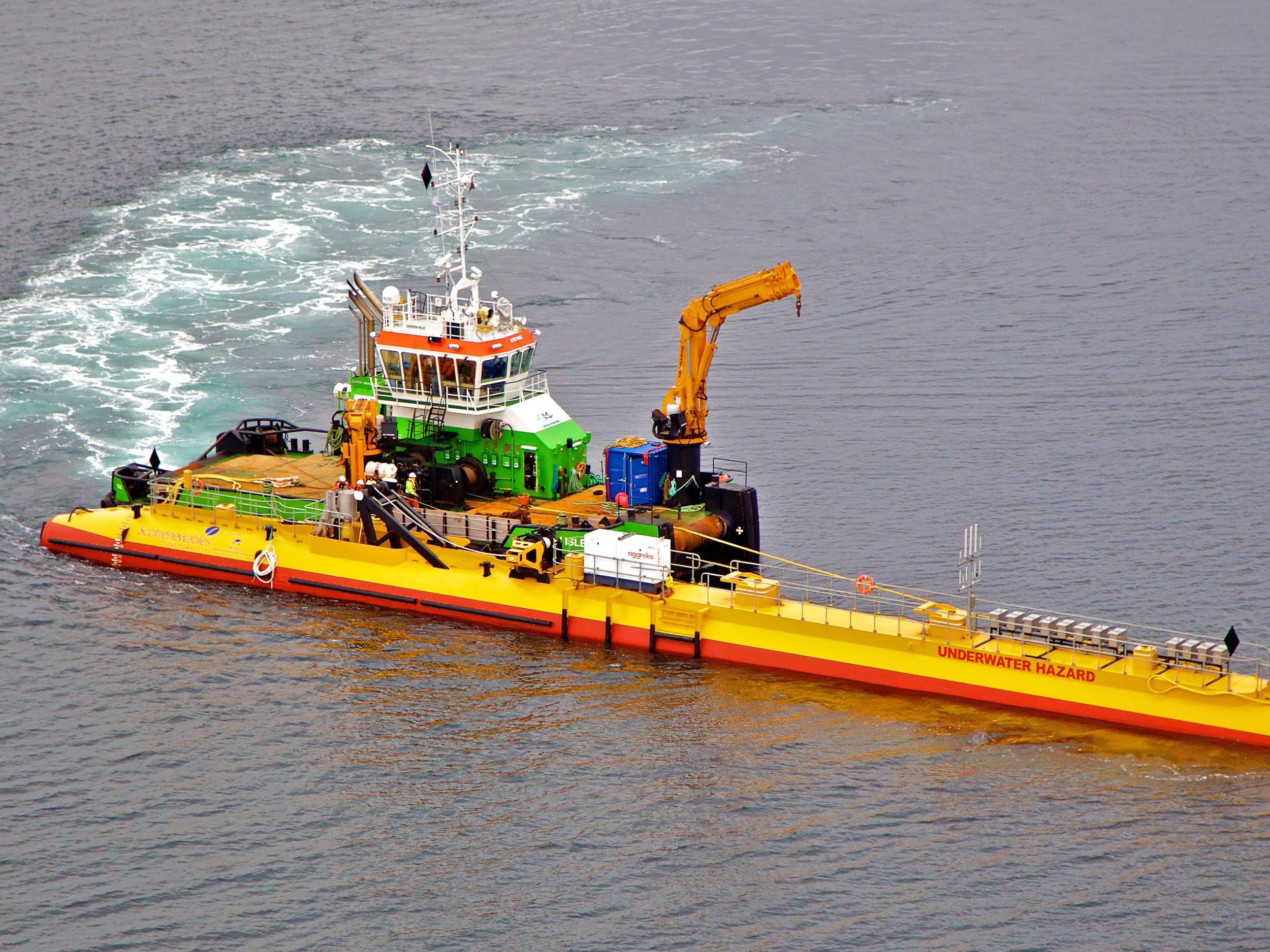 A floating tidal stream turbine off the coast of Orkney has produced more green energy in a year than Scotland's entire wave and tidal sector produced in the 12 years before it came online.
In 12 months of full-time operation, the SR2000 turbine supplied the equivalent annual power demand of about 830 households.
Its developer claimed the machine – the most powerful of its kind in the world – had set a benchmark for its industry due to its performance.
It produced 3GWh of renewable electricity during its first year of testing at the European Marine Energy Centre.
Over the 12 years before its launch in 2016, wave and tidal energies across Scotland had collectively produced 2.983GWh, according to Ofgem.
Andrew Scott, chief executive officer of developers Scotrenewables Tidal Power, said: "The SR2000's phenomenal performance has set a new benchmark for the tidal industry.
"Its first year of testing has delivered a performance level approaching that of widely deployed mature renewable technologies."
He added: "The ability to easily access the SR2000 for routine maintenance has been a significant factor in our ability to generate electricity at such levels over the past 12 months, including over winter."
The team at Scotrenewables said their success – combined with Meygen's generation of more than 8GWh over the past year from four tidal turbines deployed in the Pentland Firth – is evidence that tidal power generation could be rolled out more widely.
Hannah Smith, senior policy manager at trade body Scottish Renewables, said: "This milestone for the tidal energy industry truly demonstrates the untapped potential of this emerging sector.
"Scotland's remarkable marine energy resource has placed us front and centre in developing this industry with global potential.
"To keep driving progress it's critical that both Scottish and UK governments recognise the potential of these technologies and work with industry to fully commercialise these innovations."
Gina Hanrahan, acting head of policy at WWF Scotland, added: "As we transition to a wholly renewable electricity system, it's really important that we have a diversity of renewable electricity sources.
"We've seen huge growth in onshore wind and offshore wind over recent years, and it's great to see new tidal technologies now hitting new milestones."
PA
Join our commenting forum
Join thought-provoking conversations, follow other Independent readers and see their replies