Climate crisis: Enormous 50-turbine onshore wind farm in Scotland given green light
When complete South Kyle Windfarm will have capacity to power 170,000 homes
Harry Cockburn
Monday 27 April 2020 16:49 Comments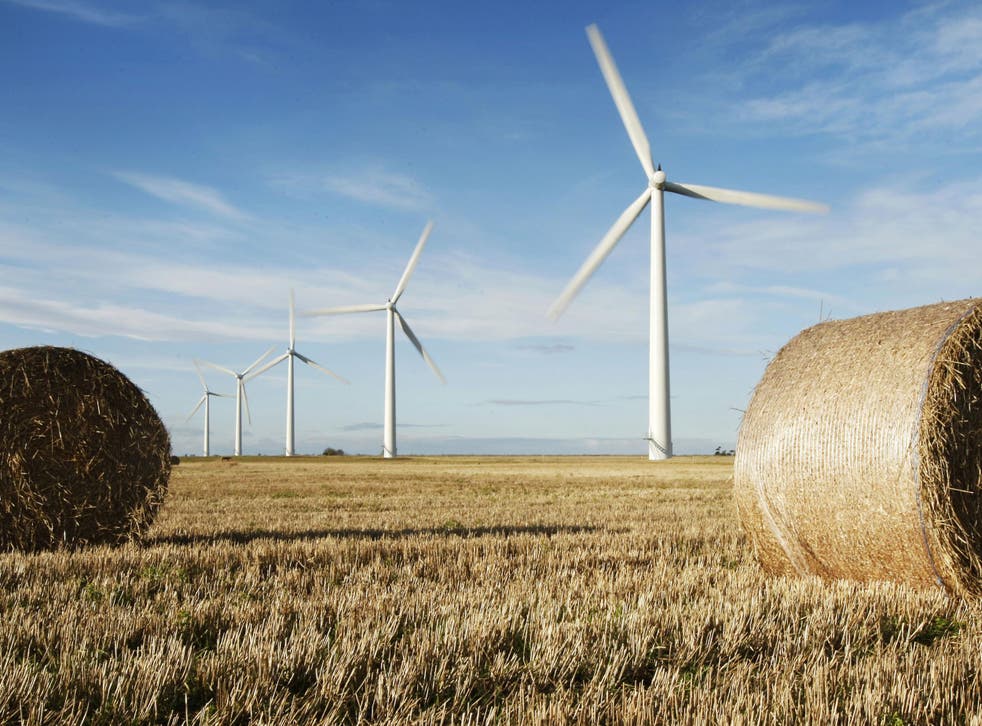 A 50-turbine onshore wind farm has been approved in Ayrshire, southwest Scotland, after a £320m funding deal secured the project's future.
Swedish state-owned firm Vattenfall, which already had planning permission for the project, has entered a partnership with infrastructure fund Greencoat UK Wind to ensure construction goes ahead.
With 50 turbines, the project will become one of the UK's largest onshore wind facilities. Each of the turbines will measure 150m from the ground to blade tip.
According to Vatternfall, when complete, the South Kyle wind farm will have a maximum capacity of 240 megawatts which means it will be able to power the equivalent of 170,000 UK homes, and save "close to 300,000 tonnes in carbon dioxide emissions annually".
"The planned construction of the South Kyle Wind Farm shows our commitment to the United Kingdom and its transition to climate neutrality as well as delivering on Vattenfall's goal to enable fossil free living within one generation", said Magnus Hall, the chief executive of Vattenfall.
The deal means Vattenfall will construct the wind farm and Greencoat UK Wind will then acquire it upon completion.
However, Vatenfall will manage the site on behalf of Greencoat for a minimum of 10 years. Vattenfall will also purchase the power for a period of 15 years.
"The transition towards a fossil free future is in full swing and requires large investments in renewable energy. Therefore, we are delighted to be partnering with Greencoat UK Wind and realise the South Kyle Wind Farm," said Gunnar Groebler, senior vice president at Vattenfall.
He added: "South Kyle will significantly contribute to the renewable energy production in Scotland."
Construction of the wind farm will not begin immediately, due to the coronavirus pandemic.
Vattenfall said: "In line with UK government guidance to ensure the safety of employees amid the Covid-19 pandemic, construction of the wind farm will begin once it is appropriate to do so."
Under current plans, the wind farm is expected to be operational by 2023.
Greencoat already has 36 wind farms across the UK.
Register for free to continue reading
Registration is a free and easy way to support our truly independent journalism
By registering, you will also enjoy limited access to Premium articles, exclusive newsletters, commenting, and virtual events with our leading journalists
Already have an account? sign in
Join our new commenting forum
Join thought-provoking conversations, follow other Independent readers and see their replies