Scott Pruitt: Donald Trump's EPA chief spent 43 out of 92 days in home state or travelling
Former Environmental Protection Agency staffer calls for its boss to explain why he's spending so much time away from his office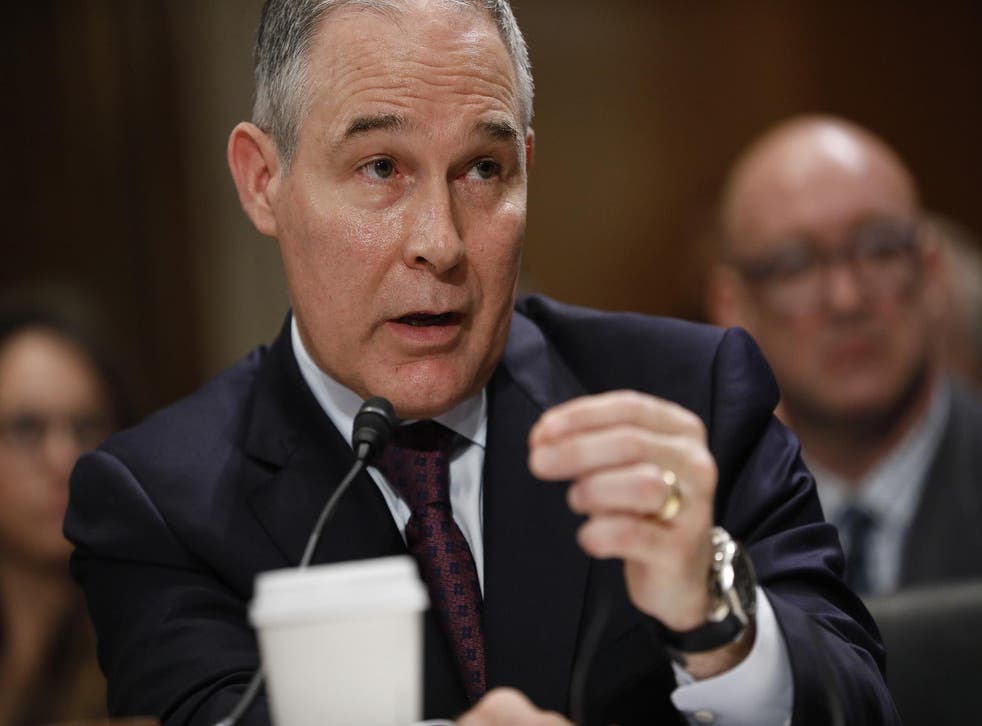 Scott Pruitt, the head of the US Environmental Protection Agency, travelled to his home state, Oklahoma, 10 times over three months this year, largely at taxpayer expense, according to a new report.
The findings from the Environmental Integrity Project, a non-profit group founded by former EPA officials, are drawn from Mr Pruitt's calendar and the travel expenses he has submitted for reimbursement.
Obtained under the Freedom of Information Act, the documents show Mr Pruitt spent 43 out of 92 days from March through May in Oklahoma or traveling to or from the state.
The report does not assert that Mr Pruitt's estimated $12,000 in federally funded airfare, which includes travel to and from his home state, is improper.
Many in Oklahoma speculate that Mr Pruitt, who was the state's elected attorney general until assuming the EPA job in February, plans to again seek statewide office. Mr Pruitt lost a 2006 primary bid to become Oklahoma's lieutenant governor. He was elected attorney general in 2010.
An EPA spokeswoman said that all of Mr Pruitt's travel was related to agency business and that he had no other political agenda.
Since assuming the EPA job, Mr Pruitt has drawn much of his political staff from the office of Senator James Inhofe, a fellow Oklahoma Republican who doubts climate change science and who has championed the dismantlement of fossil fuel regulations.
But a number of top agency jobs — including deputy administrator and head of the air pollution office — remain vacant. The White House intends to announce nominations for those posts in coming weeks, officials said.
Eric Schaeffer, the executive director of the Environmental Integrity Project and the former director of the EPA's office of civil enforcement, said he had sought Mr Pruitt's travel documents because agency staff members told him they had difficulty scheduling meetings because Mr Pruitt was frequently out of town.
It is unclear whether aides or members of Mr Pruitt's full-time security detail accompanied him. The report lists only Mr Pruitt's airfare expenses.
Mr Schaeffer said Mr Pruitt had not been transparent about his reasons for spending nearly half of March, April and May in Oklahoma.
For all but one trip, Mr Pruitt's schedule notes an official reason for being in the state, like a tour he took in May of the Brainerd Chemical Company in Tulsa or a tour a week later of a contaminated creek in Osage County. In some cases, Mr Pruitt also paid a portion of the travel costs. When he made a three-day stop in Oklahoma after a speaking engagement in Houston, for example, Mr Pruitt paid for travel between Houston and Tulsa. The EPA picked up the rest of the airfare, according to the voucher documents.
The vouchers said Mr Pruitt was holding "informational meetings" during those days in Oklahoma, but they were not specified on the administrator's calendar.
The schedule also points to political destinations, like a keynote address he gave in April to the American Legislative Exchange Council, an industry-funded group.
Donald Trump's first 100 days: in cartoons

Show all 33
According to Mr Pruitt's calendar, he typically spends three to five days in the state but often lists just one official meeting. In one case, he travelled to Oklahoma on March 23 and received an award from the National Stripper Well Association in Oklahoma that day. He stayed through March 27.
In that case, Mr Pruitt asked for reimbursement for one leg of the travel, noting in the voucher that the rest of the weekend would be spent at his personal residence. On another trip, from May 4 through May 8, Mr Pruitt met with the head of a rural water association on May 5, with no other meetings scheduled.
"He needs to say why [he is] spending half his time in Oklahoma and having one meeting per trip is performing his duties as an administrator," Mr Schaeffer said. He added that the trips gave the appearance that Mr Pruitt is "keeping his political contacts warm" and questioned the amount being reimbursed as part of official EPA business.
Asked about the travel to Oklahoma and Mr Pruitt's future political plans, an EPA spokeswoman, Liz Bowman, said in a statement: "Administrator Pruitt is committed to serving the president by leading the Environmental Protection Agency; he is not running for elected office. The administrator's travel, whether to Utah, Michigan or Oklahoma, all serves the purpose of hearing from hard-working Americans about how EPA can better serve the American people."
Were Mr Pruitt to try to replace Governor Mary Fallin of Oklahoma in 2018, his tenure as EPA chief would be cut short. Mr Inhofe, 82, has not said whether he intends to run for re-election when his six-year term ends in 2020. Oklahoma's other senator, James Lankford, 49, is up for re-election in 2022.
Keith Gaddie, a professor of political science at the University of Oklahoma, said that the field for the governor's race was already crowded without Mr Pruitt and that he would not bet on Mr Inhofe's retirement.
Mr Gaddie added that there was little talk in Oklahoma about Mr Pruitt returning to the state to run for office.
Rather, Mr Gaddie said, Mr Pruitt was probably going home for personal reasons. His daughter, McKenna, recently graduated from the University of Oklahoma, and he has a son, Cade, who is several years younger.
Mr Gaddie also defended the travel reimbursements. "In a state where everyone's ethics are questioned," he said, "I've never heard his questioned."
Gina McCarthy, who served as EPA administrator during President Barack Obama's second term, also travelled frequently to her home in Boston, where her husband lived. A spokeswoman for Ms McCarthy, Liz Purchia, estimated that Ms McCarthy travelled home roughly every other weekend during her term leading the agency. She said Ms McCarthy paid for the travel.
Ms McCarthy's travel could not be immediately verified because her travel records are not publicly available.

New York Times
Register for free to continue reading
Registration is a free and easy way to support our truly independent journalism
By registering, you will also enjoy limited access to Premium articles, exclusive newsletters, commenting, and virtual events with our leading journalists
Already have an account? sign in
Register for free to continue reading
Registration is a free and easy way to support our truly independent journalism
By registering, you will also enjoy limited access to Premium articles, exclusive newsletters, commenting, and virtual events with our leading journalists
Already have an account? sign in
Join our new commenting forum
Join thought-provoking conversations, follow other Independent readers and see their replies