EPA chief Scott Pruitt met fossil fuel industry bosses but no environmentalists in first weeks in office
Concerns about oil and coal appear to have dominated the agenda of the head of the Environmental Protection Agency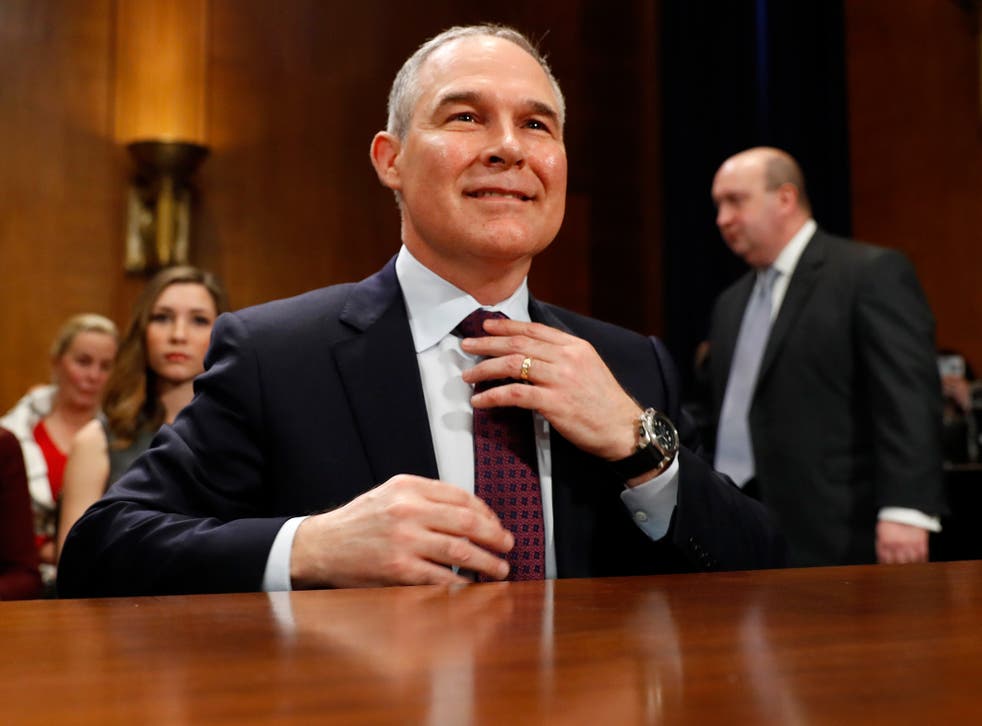 Scott Pruitt, the climate science-denying head of the US Environmental Protection Agency, met with a string of fossil fuel industry representatives during his first weeks in office – but no environmental groups – according to a copy of his diary obtained under Freedom of Information laws.
Mr Pruitt, a lawyer who sued the EPA numerous times while working as Oklahoma's attorney general, infamously claimed carbon dioxide was not a primary cause of climate change, contrary to well-established science as the American Meteorological Society, among others, pointed out.
He is also a staunch supporter of Donald Trump's plans to reinvigorate the ailing US coal industry.
So it is perhaps unsurprising that fossil fuel industry representatives and other interested parties beat a path to his door, according to the diary, which covers late February and March and which was obtained by E&E News.
On March 16, Mr Pruitt was due to meet Congressman David McKinley, chair of the Congressional Coal Caucus, to "discuss ways that both he and the Caucus can be helpful".
On March 20, John Minge, the president of BP America, was listed as arriving for a "meet and greet" and a day later John Watson, chief executive of another oil giant, Chevron, was due to "discuss regulatory reform in our sector and share Chevron's perspective on global oil and gas developments".
The following day, Steve Pastor, president of petroleum operations at BHP Billiton, was expected for a meeting under the heading "thank for leadership, focus on methane", a powerful greenhouse gas.
Later that evening, the diary listed a dinner held by the American Petroleum Institute at the Trump International Hotel in Washington DC.
The topic of discussion was to be "environment, regulations and energy policy as well as the [Trump] administration's plans on US oil and natural gas development". Two members of EPA's staff were listed as attending.
On March 28, the diary listed a meeting with AJ Ferate, of the Oklahoma Independent Petroleum Association.
The entry says the topic of the meeting would be "just a few words of appreciation for cancelling the Information Collection Request (ICR) on the oil & gas industry, and 2) to gather his thoughts on what he foresees occurring with the selection of the Region 6 EPA administrator".
A meeting with George Damiris, chief executive of HollyFrontier, a Dallas-based company that runs five oil refineries in Kansas, Oklahoma, Utah, Wyoming and New Mexico, was listed for two days after that.
"Mr Damiris would like to discuss the renewable fuel standard and point of obligation issue, as well as the broader EPA policies that impact the company," the diary said.
"HollyFrontier processes roughly 500,000 barrels of crude daily. They have a market cap of about $7 billion and employ roughly 5,000 people."
The diary listed no meetings with major environmental groups.
10 photographs to show to anyone who doesn't believe in climate change

Show all 10
However Mr Pruitt did meet representatives of The Nature Conservancy and the Audubon Society in April, according to an EPA press release.
Liz Bowman, an EPA spokeswoman, told E&E News that agency officials "continue to meet with a variety of stakeholders, including industry, bipartisan Members of Congress, Governors and environmental organisations".
Register for free to continue reading
Registration is a free and easy way to support our truly independent journalism
By registering, you will also enjoy limited access to Premium articles, exclusive newsletters, commenting, and virtual events with our leading journalists
Already have an account? sign in
Register for free to continue reading
Registration is a free and easy way to support our truly independent journalism
By registering, you will also enjoy limited access to Premium articles, exclusive newsletters, commenting, and virtual events with our leading journalists
Already have an account? sign in
Join our new commenting forum
Join thought-provoking conversations, follow other Independent readers and see their replies