Scott Pruitt spent more than $4m on his security detail, report reveals
The EPA chief is set to appear before Congress again to explain his spending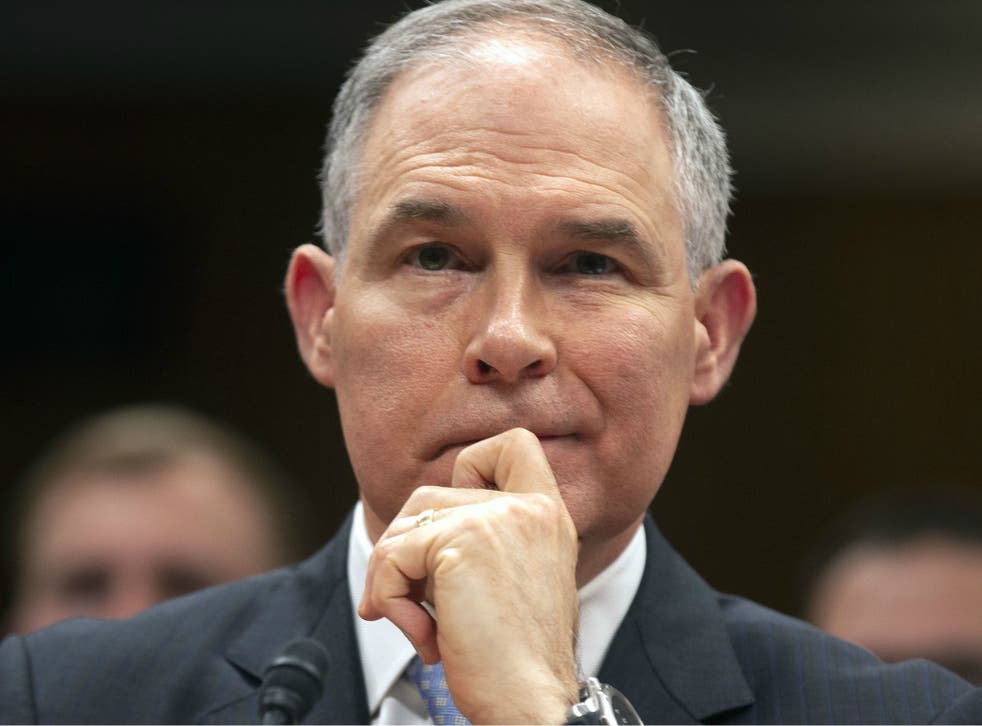 Scott Pruitt, head of the Environmental Protection Agency (EPA), spent $4.6m (£3.47m) of taxpayer money on his security detail, a new report has revealed.
Other expenses outlined in spending documents obtained through a Freedom of Information Act request, was the nearly $3,000 (£2,264) Mr Pruitt spent on "tactical polos" and "tactical pants".
He also spent $88,603 on radios and accessories such as travel chargers and gun holsters, according to The Intercept, which first reported on the issue.
"[The expenses] are routine expenditures for our Criminal Investigative Division (CID) and Protective Security Detail (PSD) agents to have proper attire for search warrants, arrests, disaster responses and training that go back multiple administrations. This attire is not used for protection work," Henry Barnet, the EPA's Director of the Office of Criminal Enforcement, Forensics, and Training told The Independent in a statement.
Agents working for the EPA are often not on only security detail but use the gear for other purposes like arrests and disaster response. Tactical trousers have special belt loops for gun holsters, reinforced in the seat and knees, and have pockets for handcuffs and other items.
Regardless, the scandal-beleaguered Mr Pruitt has been called before Congress to answer questions about his spending given that his predecessors - Lisa Jackson in Barack Obama's first term and Gina McCarthy in his second - averaged a third of the amount of Mr Pruitt's taxpayer spending.
EPA Chief Scott Pruitt suggests global warming could be good for humans
At a hearing in May 2018, read aloud a list of alleged threats he had received in 2017 in front of a Congressional panel as a reason for spending in excess of $3m, at that point, in taxpayer money on his extensive security. However, emails obtained by the Washington Post showed that there was no proper "threat assessment" done prior to Mr Pruitt's security detail in place.
According to some members of Congress however, the "threats" including questioned shouted at Mr Pruitt by protesters and a postcard mailed to him that read: "Climate change is real!! We are watching you".
In a letter to Democratic Senators Sheldon Whitehouse and Thomas Carper earlier this week, EPA inspector general Arthur Elkins said that: "EPA's Protective Service Detail began providing 24/7 coverage of the Administrator the first day he arrived". Mr Elkins also said his office "played no role in this decision" and that Mr Pruitt requested the detail.
World news in pictures

Show all 50
His spending has also included first-class plane tickets for official travel on the taxpayer dime as well, citing security concerns about sitting in economy class.
He was also questioned on the ethics of accepting housing rental in Washington DC for the curiously-low rent of $50 per night after it was discovered the owner of the residence is an oil and gas lobbyist with business in front of the agency.
He was also accused of booking unnecessarily lavish hotel accommodations, giving raises to staff without budget approval, and having government staff work on a number of his personal matters, and the purchase of a soundproof phone booth for his office.
Mr Pruitt is expected to testify in front of Congress in August 2018.
Join our new commenting forum
Join thought-provoking conversations, follow other Independent readers and see their replies