Scottish Power becomes first major UK energy company to generate all electricity from wind
'We are leaving carbon generation behind for a renewable future powered by cheaper green energy'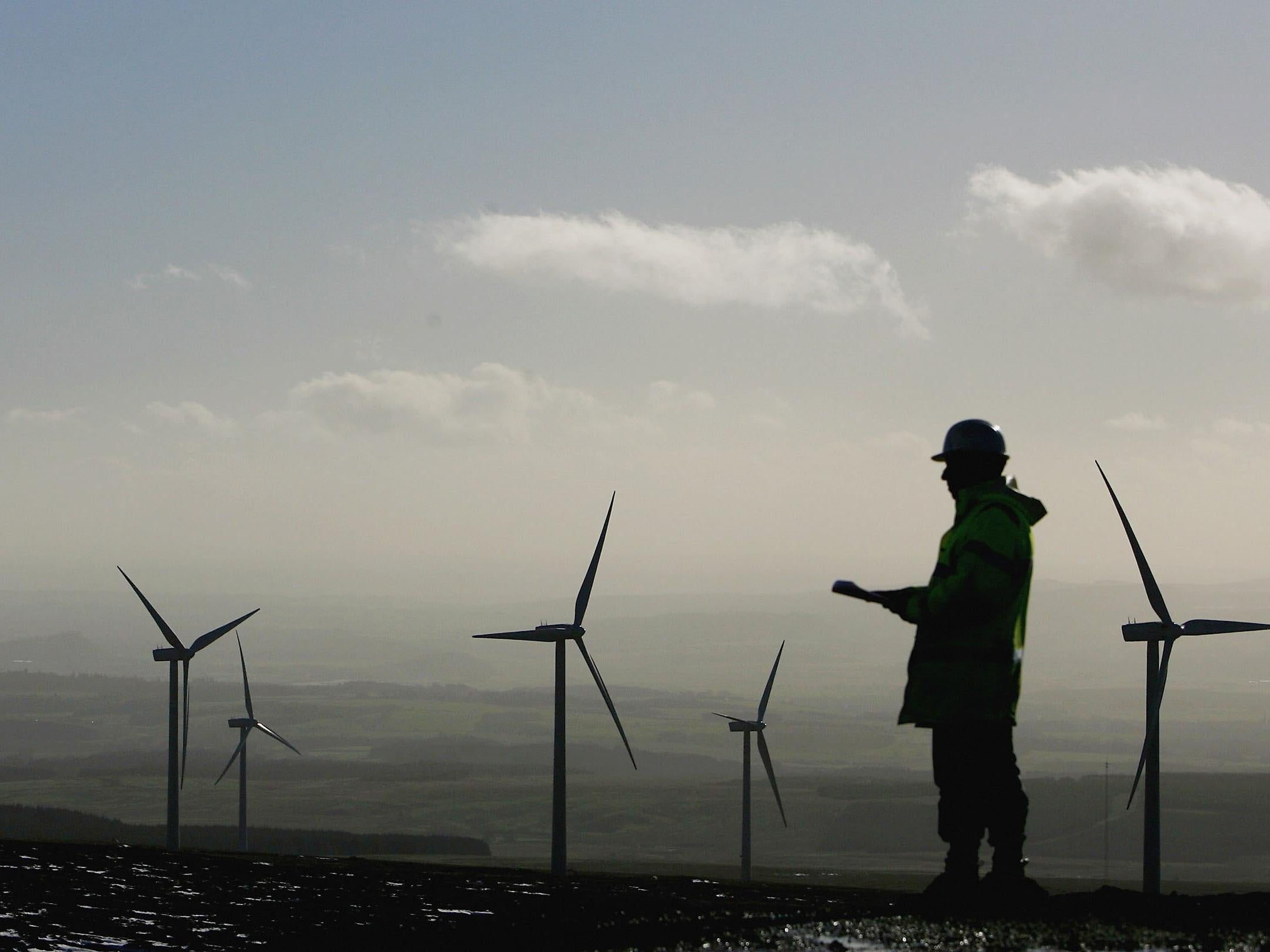 Scottish Power has become the first major UK energy firm to completely drop fossil fuels in favour of wind power, after selling off its remaining gas and hydro stations to Drax for £702m.
While customers will still get some electricity from non-green sources that the company has purchased from other operators, the firm indicated it would now be freed up to invest more in UK renewable energy sources like sunlight, wind, rain, tides and waves.
It plans to invest £5.2bn over the next four years to more than double its renewable capacity.
Calling it a "pivotal shift", the company's chief executive Keith Anderson said: "We are leaving carbon generation behind for a renewable future powered by cheaper green energy. We have closed coal, sold gas and built enough wind to power 1.2 million homes."
The firm is the first of the "big six" energy suppliers, which also includes British Gas, EDF Energy, E.ON, Npower and SSE, to make such a switch.
The government has already decreed that coal power should be phased out by 2025.
Some smaller energy suppliers like Ecotricity and Good Energy already offer totally renewable tariffs, with their power generated from wind turbines, solar panels and hydro sources.
10 photographs to show to anyone who doesn't believe in climate change
Show all 10
Scottish Power has already closed all of its coal plants and has 2,700MW of wind power projects operating or in the pipeline.
The firm's Spanish parent company Iberdrola is aiming to reduce emissions by 30 per cent by 2020, and 50 per cent by 2030 compared to 2007. Its goal is to be completely carbon neutral by 2050.
The move also marks a further step away from coal-burning stations for Drax, which has already converted four of its six stations to burn wood pellets instead.
Although the company has been criticised for the level of air pollution coming from these sources, the firm has insisted that pollution levels were "well within" legal limits.
Its continued use of comparatively clean power sources such as gas and biomass would allow it to fill in any gaps left when solar and wind production is too low to completely supply the UK with electricity, the company said.
Support free-thinking journalism and attend Independent events
After the sale was announced, the company's chief executive Will Gardiner said it was "a critical time in the UK power sector".
He added: "As the system transitions towards renewable technologies, the demand for flexible, secure energy sources is set to grow."
Kate Blagojevic, head of energy at Greenpeace UK, said the move by Scottish Power was part of a much larger trend.
"Big utilities across Europe have been shedding their dirty fossil fuel infrastructure because it makes economic and environmental sense," she said. "This move by Scottish Power shows that the same maths adds up in the UK too. Climate science could not be clearer that renewables are the future for powering our world.
"We need the government to give renewable energy industry its full backing rather than propping up the fossil fuel and nuclear companies."
A renewed focus has been placed on renewable energy since a major United Nations report announced that major changes would be needed across the world to limit the worst effects of climate change. This included a recommendation of a 45 per cent cut in carbon emissions by 2030.
Britain's government asked its climate advisers to prepare recommendations for the changes needed across the nation's energy sector, as well as industry, transport, buildings and lifestyles, to meet the strict limits outlined in the report.
Join our commenting forum
Join thought-provoking conversations, follow other Independent readers and see their replies