Sea turtle winces in pain as a straw is removed from its nose in video
Images of the bloody procedure were put on YouTube by marine scientists to raise awareness about 'detrimental' plastic litter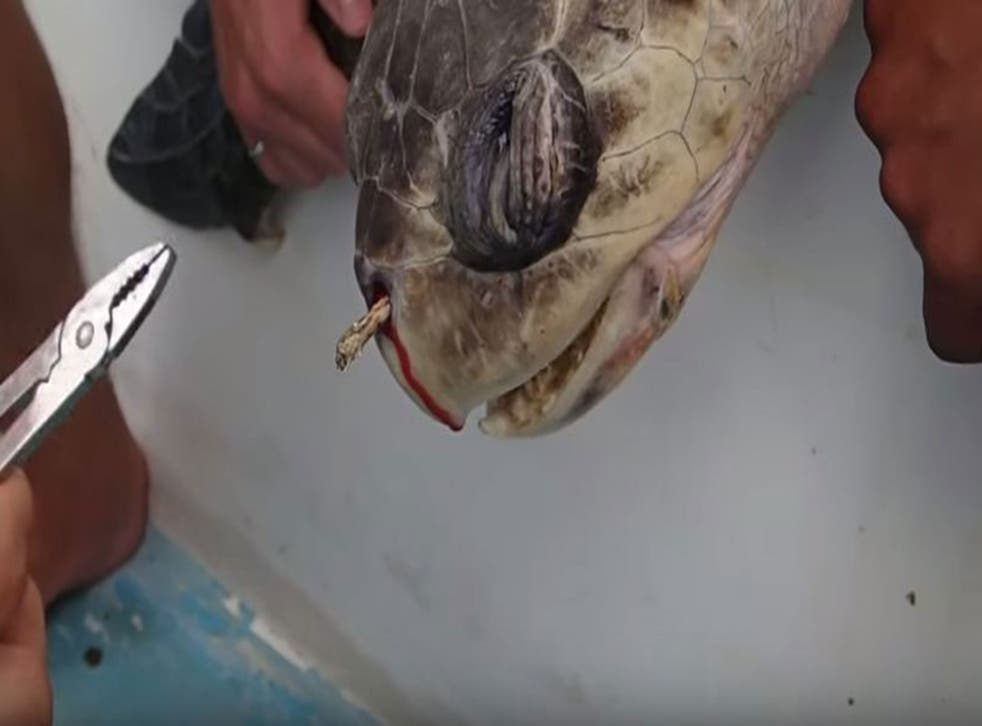 A video showing the long, painful removal of a straw from the bleeding nostril of a sea turtle has been posted online to highlight the environmental danger posed by plastic litter.
The excruciating eight-minute video shows the male Olive Ridley turtle wincing in pain and bleeding as a pair of pliers on a Swiss army knife is used to expel the 12cm straw from its nose.
A group of marine biologists made the video on a boat in Guanacaste, Costa Rica, and posted it on YouTube with the message: "'NO' TO PLASTIC STRAWS" alongside an appeal to fund PhD research into sea turtles.
The group, including field biologist Christine Figgener, at first debate what to do before deciding to use the knife – the only tool available on the boat.
Warning: Contains distressing scenes and strong language
The scientists are clearly distressed at the discovery, with some choice language used in the video.
At one stage, Dr Figgener says: "Is it a f***ing straw? Don't tell me it's a straw."
Online commentators were divided on the video – some saying that it was cruel and procedure did more harm than good. But others said the straw could have killed the poor turtle.
But Dr Figgener said that the procedure was necessary and sought to reassure concerned viewers that everything was done properly.
She wrote: "The bleeding stopped pretty much immediately after the removal of the straw.
"We disinifected the air passageway with iodine and kept the turtle for observation before releasing him back into the wild."
"This video shows why plastic rubbish is detrimental to marine life."
Join our new commenting forum
Join thought-provoking conversations, follow other Independent readers and see their replies