Seafood greenhouse gas emissions have spiked due to demand for lobsters and shrimp
Carbon footprint of some shellfish is similar to that of high-polluting meats like beef and lamb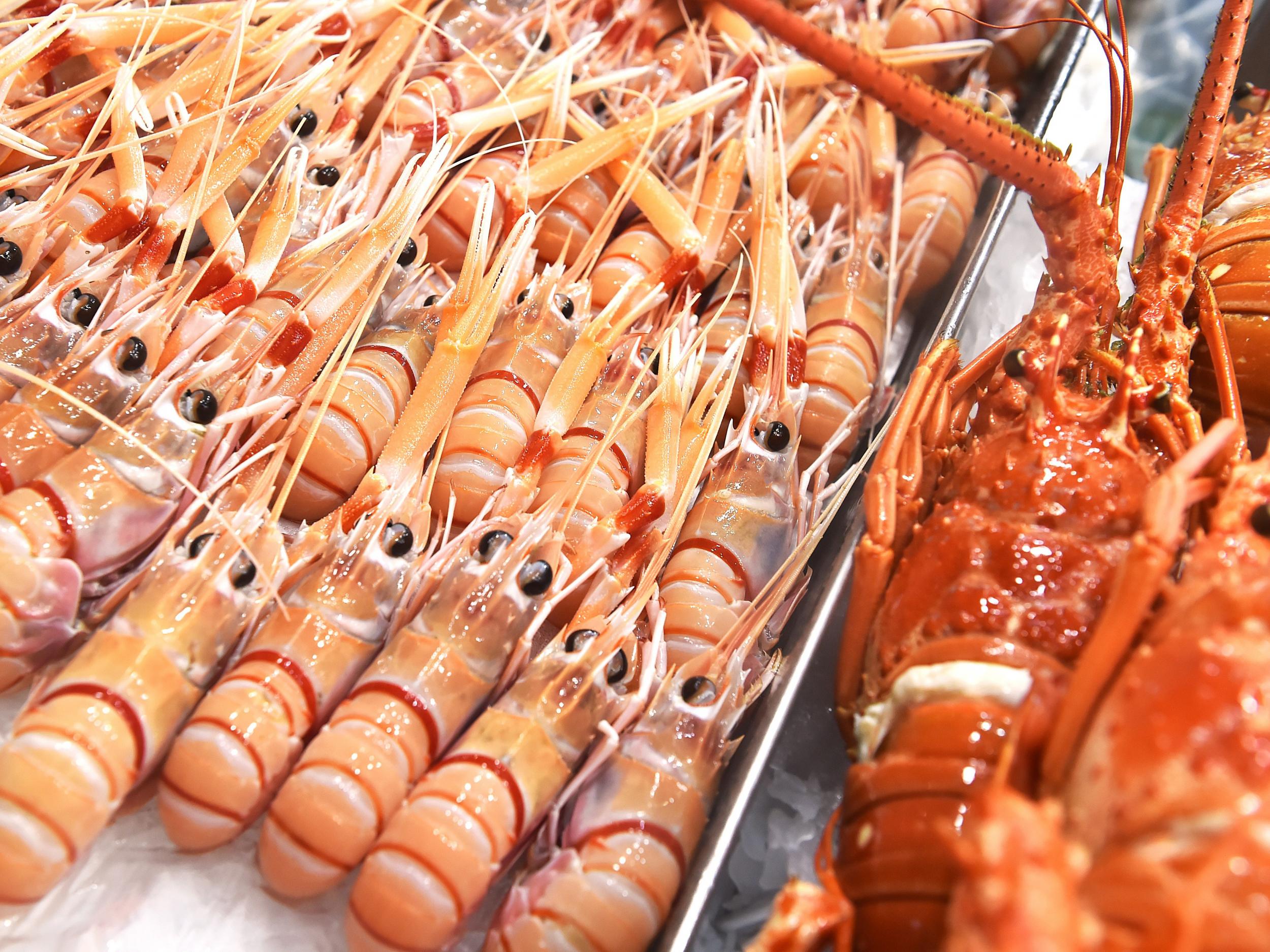 Greenhouse gas emissions from wild-caught seafood have risen dramatically due to increased demand for luxury items such as lobsters and shrimp, according to a new study.
Changing consumer preference for shellfish over more traditional net-caught fish in the years since 1990 has seen a huge spike in pollution, due to the way shellfish is caught.
Most seafood has a carbon footprint similar to that of chicken, but certain shellfish is as damaging to the environment as high-polluting meats such as lamb and beef.
In real terms, fishing industry emissions rocketed by nearly 30 per cent between 1990 and 2011, but the gross amount of overall seafood caught did not increase. Scientists believe increased demand for expensive seafood could be behind this trend.
"We're more affluent, people are willing to pay more for these sorts of animals and their abundance remains pretty good," said Professor Peter Tyedmers, a food systems researcher at Dalhousie University and one of the co-authors of the study, told The Independent.
Food production as a whole is responsible for at least a quarter of greenhouse gases produced by humans, but ocean fisheries are often overlooked.
"Seafood in general is often not incorporated in the assessment of food security and food sustainability in the same way as other foods," Dr Friederike Ziegler, a fisheries expert at RISE Research Institutes of Sweden, told The Independent.
However, emissions from fishing are still considerable due to the fuel used to power fishing vessels.
Based on fuel consumption data from fisheries around the world between 1990 and 2011, Professor Tyedmers and his colleagues worked out emissions on a country-by-country basis.
Their results were published in the journal Nature Climate Change.
The researchers found nations that focused disproportionately on crustaceans – the group of animals that includes lobsters, crabs and shrimps – had the most carbon intensive fleets.
Robotic fish used to photograph rare sea creatures
Australia, for example, harvested far less seafood than many other countries but contributed disproportionately high amounts of greenhouse gases.
Crustacean fisheries accounted for only 6 per cent of all the food caught, but were responsible for over a fifth of all emissions.
Fisheries that targeted smaller open sea fish, on the other hand, contributed only 2 per cent of the sector's emissions despite accounting for a fifth of all reported landings.
Previous research has suggested that fisheries targeting crustaceans consume substantial quantities of fuel while catching relatively low quantities of animals.
"The fact that crustaceans are high in energy use is not a surprise," said Dr Ziegler, who was not involved in this study.
"What this paper adds is the development over time – the actual composition of landings and the preferences have changed, and in some parts of the world for example in fishing grounds on the Swedish west coast you have a shift from ground fish to crustaceans."
Besides demand for these crustaceans, a global decline in fish stocks has led to increased focus on relatively healthy stocks of crustaceans.
Fisheries have a smaller carbon footprint than agriculture, but as their emissions increase experts have called for more a holistic approach that takes their contribution into account.
"Fisheries should no longer be managed in a silo as they have been," Helen McLachlan, fisheries governance programme manager at WWF UK, told The Independent.
"We need to look at them within broader marine management and the impact of fishing on the wider environment – be that target species, non-target species, habitats, and indeed emissions by fleets."
Dr Tyedmers said: "Let's not turn our backs on fisheries as an excellent source of animal protein that relatively speaking for the vast majority of tonnage has lower greenhouse gas impact.
Nigel Farage joins 'Fishing for Leave' flotilla campaigning for Brexit
Show all 10
"But let's recognise that improvements are possible in many of those settings."
Ms McLachlan pointed to the Norway lobsters used to make scampi – an important fishery in Scotland – as an example of how these fisheries can be made more climate-friendly.
"The fuel needed to catch a kilo of Norway lobster can be reduced from 9 litres to 2.2 litres if you switch from conventional trawl fisheries to trap fisheries," she said.
In the past, Dr Ziegler said bodies that encourage sustainable fisheries such as the UK's Marine Stewardship Council (MSC) have cited a lack of data when considering the impact of fishing on greenhouse gas emissions and climate change.
An MSC spokesperson said: "While greenhouse gas emissions were considered during the development of the MSC Fisheries Standard, and in subsequent reviews, they have not yet been included.
"This is largely because of previous research, similar to the findings in this paper, that concluded that emissions from wild seafood production are relatively low compared to other animal proteins such as beef.
"Furthermore, we believe that the largest contribution that the MSC can make to mitigating the impacts of climate change currently is not through monitoring emissions but by ensuring that fisheries and marine ecosystems are fished in such a way that they remain resilient to climate change."
Dr Tyedmers emphasised the urgent need to focus on greenhouse gas emissions coming from fishing, despite its relatively small overall contribution.
"This is a critically important issue at a time when everyone is saying we need to decarbonise," he said.
"It's a small corner of global emissions, but it's a corner where we are not seeing that pattern so we need to attend to it."
Join our commenting forum
Join thought-provoking conversations, follow other Independent readers and see their replies