SeaWorld's whales: Even without the circus tricks, the orcas will still suffer
​Under attack for the treatment of its performing whales, SeaWorld's "slick rebranding" means the orcas will still suffer
Simon Usborne
Tuesday 10 November 2015 20:17 Comments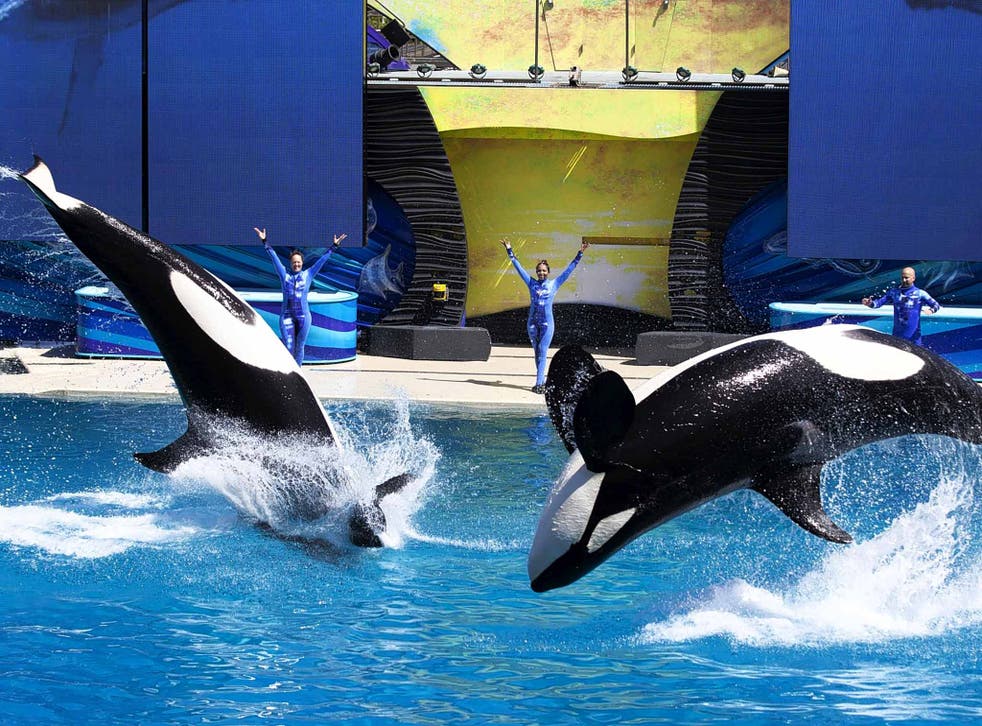 To understand SeaWorld's plans for a new-look show that is not quite what it seems, we have to go back to 1964 and a one-ton beast that refused to die, for a while at least. Because SeaWorld knows that, above all, whales mean business – a lesson the company learned more than 50 years ago, off the west coast of British Columbia, Canada.
The whale had been swimming that day with its pod off a small island when a harpoon struck its dorsal fin. An enterprising aquarium owner in Vancouver had commissioned hunters to kill a whale that could be used as a model for a life-size sculpture. He was expanding the attraction and needed a star exhibit. But the hunters were ignorant. Everyone was. The whales were viewed as a commodity at best – good for oil, pet food and other products. Alive, they were as feared as great white sharks, and seen as dangerous competition by fishermen, who dismissed them as "blackfish" and killed them without hesitation.
This time the animal survived. The hunters were stunned when other members of the pod helped the whale float so that it could breathe. When the men abandoned an attempt to finish the job with a rifle, the aquarium owner came up with an audacious new plan. Why exhibit a sculpture when he had the real thing, right there on a rope? It took 20 hours to tow the animal back to Vancouver.
What happened next set in motion a chain of events that brings us to SeaWorld's announcement. The operator of three parks in the US has responded to mounting pressure since the 2013 release of Blackfish, a critical exposé of orca captivity, by promising to remove some of the more circus-like elements of its shows. Visitors "want experiences that are more natural and look more natural", SeaWorld boss Joel Manby said.
It soon became clear that this is, as Blackfish director Gabriela Cowperthwaite feared, a "slick rebranding". The changes will only affect the company's San Diego Park, and even there the whales will continue to perform tricks. Most telling was the manner in which he made the announcement. Manby did not convene a press conference, nor seek to reassure conservationists; he made a conference call with his shareholders, who have watched their investments slide in the past two years.
SeaWorld now has 24 whales at its three parks, all of whom can trace their sorry but lucrative existence to 1964. When that harpooned beast reached a hastily erected sea pen at Vancouver, Canada went crazy. A radio station set up a naming competition, and the newly famous whale, wrongly thought to be female, became known as Moby Doll. Thousands came to gawp up close at what TV reporters described as a "pugnacious, dangerous monster".
But Moby Doll turned out to be smooth-skinned and docile. As minds changed, the animal created a new appetite for knowledge that helped inspire the modern conservation movement. Greenpeace took on the whaling industry, and the "killers" were renamed orcas from their Latin name. "The ocean's wolf had become the panda of the sea," Mark Leiren-Young, a Canadian environmentalist and journalist, wrote last year.
Moreover a business model was born. Months later, further down the coast in Seattle, aquarium owner Ted Griffin took in two more orcas. He would also become the first person to train the animals. The second whale, Shamu, caught the eye of four young graduates in San Diego who had just opened the first SeaWorld after ditching earlier plans for a themed restaurant. In 1965, SeaWorld acquired Shamu, its first orca.
Millions have flocked to watch the animals leap and play with their trainers, turning SeaWorld into a major company. The price of greater understanding of these benign monsters and popular fascination has been the captivity of animals used to swimming 100 miles a day. Their fins invariably droop and many display troubled or aggressive behaviour rarely observed in the wild. Health problems and premature deaths are common – and not just of whales.
In 1992, SeaWorld's Orlando park took on Tilikum, an 11-year-old male whose story inspired the Blackfish documentary. A year earlier, the whale had drowned a 20-year-old marine biology student who slipped into the pool at Tilikum's first home in Canada. In 1999, a man who had hidden in SeaWorld after closing got into the whale's pool. He was found dead the next morning. Following each death, SeaWorld continued to train the whale. In 2010, Tilikum dragged one of his trainers, Dawn Brancheau, underwater after a live show and killed her. He returned to performances a year later.
Tilikum is now 33 and, regardless of SeaWorld's plans for him and its other captives, will one day die in a pool. In 1993, Keiko, an orca at a Mexico City aquarium, became a cause celebre after appearing in Free Willy, the Hollywood film about a performing whale set free. A controversial campaign for his real-life release succeeded but the animal failed to adapt to the wild and died in 2003.
Moby Doll's demise was quicker. For 55 days after his capture the whale that would start it all refused to eat the meat thrown in her pen in Vancouver, which included octopus and horse hearts. When she finally accepted some salmon, it made front page news. But it was too late, and less than three months after his capture, Moby Doll died. Newspapers all over the world ran obituaries.
Register for free to continue reading
Registration is a free and easy way to support our truly independent journalism
By registering, you will also enjoy limited access to Premium articles, exclusive newsletters, commenting, and virtual events with our leading journalists
Already have an account? sign in
Join our new commenting forum
Join thought-provoking conversations, follow other Independent readers and see their replies