Secret deal to tackle emissions ushers in new era in the fight against global warming
Obama and Xi toast deal to bring Washington and Beijing in from the cold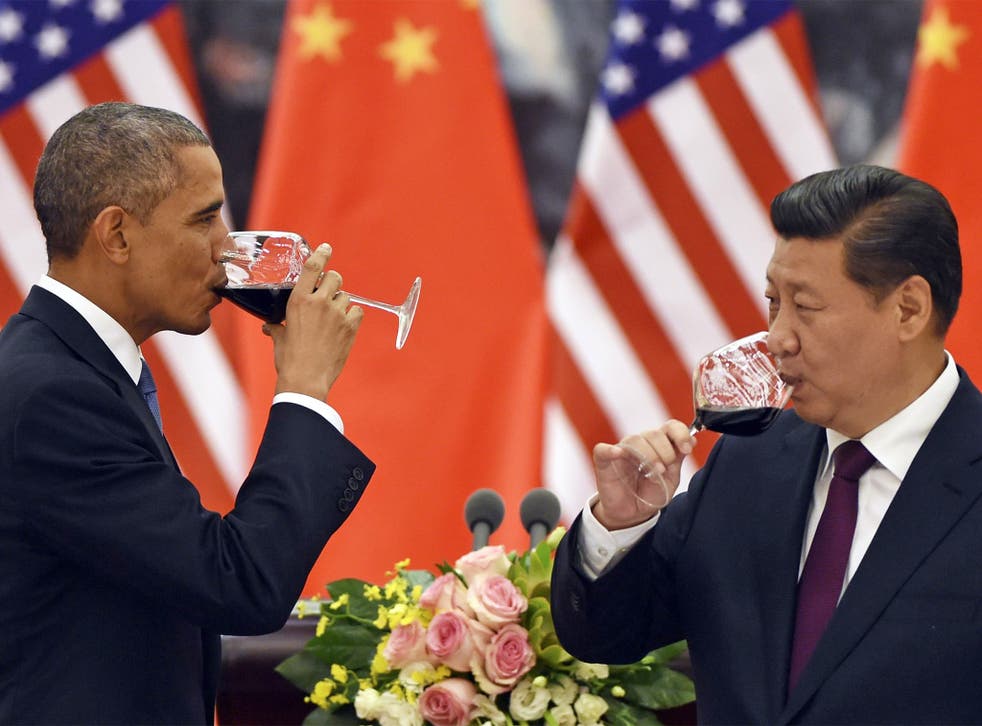 The battle to save the world from the ravages of climate change was given an unprecedented boost today as the US and China joined forces to announce secretly negotiated and radical actions to combat global warming.
The move will see both countries – which between them emit 44 per cent of the world's CO2 – make unprecedented commitments to cut their carbon emissions.
It was hailed by climate experts as the start of a new era of ambitious emissions targets because it should encourage other countries, such as India and Brazil, to follow the lead that has long been set by the EU and is now being backed by two countries which have traditionally been hostile to setting environmental goals.
"This is a giant leap for mankind," said Fatih Birol, chief economist of the International Energy Agency, which is charged by the world's leading economies to ensure reliable, affordable and clean energy.
Greenpeace UK executive John Sauven, a long-standing critic of the political response to climate change, said: "This is a major political breakthrough that many thought impossible. The world's biggest economies – China, the US and the EU – are now firmly set on a path towards a low-carbon economy and there's no looking back".
China is by far the biggest source of carbon emissions, accounting for 29 per cent of the global total, followed by the US, at 15 per cent and the EU, responsible for one tenth.
The agreements include a pledge by China to cap its carbon emissions – with the country promising to do this by 2030 at the latest, before starting to bring them down.
It also committed to producing a fifth of its energy from "zero-carbon" sources by 2030. This will see China add more new wind, solar, nuclear and hydro generating capacity than is currently produced by the country's coal plants.
The US has also announced its most ambitious climate change target so far, pledging to slash carbon emissions by between 26 and 28 per cent of its 2005 levels by 2025.
Joss Garman, associate fellow on climate change at the IPPR think tank, said the joint statement amounted to the biggest breakthrough ever seen in the battle to contain climate change.
"For decades a wall has separated political action from the scientific imperative on climate change. But with one handshake, the leaders of China and the US have breached that wall," he said.
Mr Garman said the deal makes a key climate change agreement at a crucial United Nations meeting in Paris in December 2015 "very likely". World governments have agreed to set legally binding targets at this summit designed to limit global warming to 2C, the point beyond which its consequences become increasingly devastating.
The action taken by China, the US and the EU – which last month agreed to cut emissions by "at least" 40 per cent by 2030 – will spur other countries to make their own pledges.
"When the world meets in Paris next year, the wall may finally crumble. This puts huge pressure on other major economies like Brazil and India to bring forward strong goals. It also puts pressure on Europe to upwardly review its new 2030 target," Mr Garman said.
However, although the announcements were widely lauded, experts cautioned that the task of agreeing a meaningful global emissions treaty next year remain huge. China has yet to say by how much it will cut emissions by and the task of the US and China meeting targets should not be underestimated.
In Britain, the Sino-American pledges put the spotlight on the Conservative party, which has been widely criticised for demonstrating a contempt for renewable energy. Ed Davey, the Liberal Democrat energy and climate change secretary, yesterday accused the Tories of being too dismissive of green energy which has put the UK in danger of missing its targets to reduce carbon emissions.
Mr Davey told The Independent that this approach to renewable energy, onshore wind in particular, risks putting investors off backing new green electricity generators because they want to be confident they have government support when making costly long-term commitments – and many of them don't.
"There is something worrying about the politics of renewables in the UK," Mr Davey said "Quite a lot of Conservative and Ukip politicians are speaking out against onshore wind. This is undermining confidence and investment and doing the economy a big disservice."
The effect of the Conservative Party's disdain for onshore wind, Mr Davey added, will be to increase the bill for meeting renewable energy and carbon-emissions targets. This is because onshore wind is a much cheaper way to produce electricity than the other low-carbon alternatives, such as nuclear, offshore wind, wave and solar.
The climate deal in quotes
Ban Ki-moon, UN Secretary-General: "The leadership demonstrated by the governments of the world's two largest economies will give the international community an unprecedented chance at reaching a meaningful universal agreement in 2015."
US Secretary of State, John Kerry: "This breakthrough marks a fresh beginning. Two countries regarded for 20 years as the leaders of opposing camps in climate negotiations have come together to find common ground, determined to make lasting progress on an unprecedented global challenge."
Former US vice-president, Al Gore: "Today's joint announcement is a major step forward in the global effort to solve the climate crisis. Much more will be required, but these actions demonstrate a serious commitment by the top two global polluters."
Christiana Figueres, Executive Secretary on the United Nations Framework Convention on Climate Change: "Two crucial countries have announced important pathways towards a better and more secure future for humankind."
Ed Davey, Liberal Democrat Energy and Climate Change Secretary: "These climate announcements from the US and China are a clear sign that major economies are serious about getting a global deal in Paris next year."
John Kemp, market analyst: "The joint statement by the US and China on climate change is more important for its political and diplomatic symbolism than any practical effect it might have."
Join our new commenting forum
Join thought-provoking conversations, follow other Independent readers and see their replies