Shale gas: Centrica puts £160m into fracking fields around Blackpool
Parent group of British Gas will take 25% stake in six Lancashire wells
Jonathan Brown
Friday 14 June 2013 07:29 Comments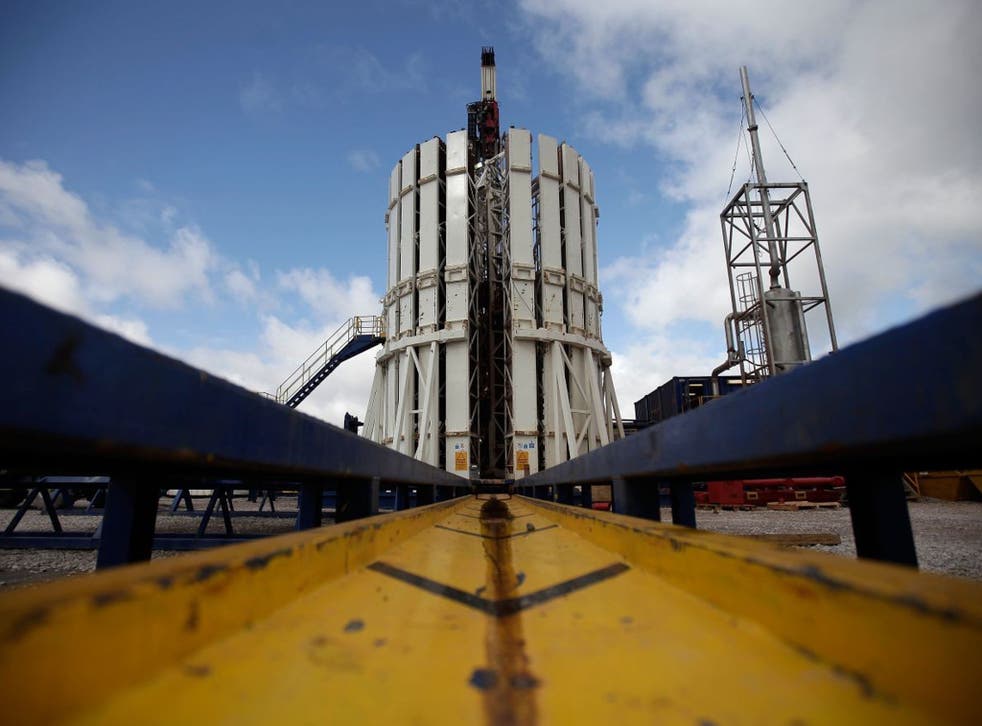 Britain's biggest energy supplier is to invest £160m into the controversial fracking fields around Blackpool which was hit by two minor earthquakes in 2011, it was announced today.
Centrica, the parent group of British Gas, said it is to take a 25 per cent stake in six wells in Lancashire bringing it into partnership with current operators Cuadrilla, whose chairman is former BP boss Lord Browne.
The hunt for shale gas has proved hugely controversial with local campaigners and environmentalists who fear it could pollute underground water reserves and lead to the industrialisation of the countryside.
Fracking – in which rocks containing natural gas are blasted with water and sand – was suspended for 18 months in Britain following the two seismic events but has since been declared safe to resume.
Francis Egan, chief executive of Cuadrilla said the announcement represented a "significant step" in the efforts to exploit shale gas in the UK. Reserves in the Bowland area alone could account for 70 years of domestic supply although no one knows how much can be recovered at what cost.
"Natural gas from UK shale can create thousands of jobs, generate significant tax revenues, reduce our ever increasing reliance on imported coal and gas and make a positive contribution to the country's balance of payments," Mr Egan said.
Mark Hanafin, managing director of Centrica's international upstream business, said the company intended to utilise its experience as a "responsible operator". It had previously carried out exploration in the Bowland Shale area but withdrew from operations two decades ago.
"With North Sea gas reserves declining and the UK becoming more dependent on imported gas supplies, it is important that we look for opportunities to develop domestic gas resources, to provide affordable sources of gas to our customers, and to deliver broader economic benefits to the UK," he said.
Centrica has paid £40m and committed to a further £60m on the Bowland joint venture. A further contingent payment of £60m will be made following the achievement of operational milestones, it said. Australian engineering group AJ Lucas will retain a 25 per cent stake.
British Gas has come under increasing scrutiny from fuel poverty and consumer groups over its profits at a time when energy bills are increasing with the company returning £3.5bn in dividends to shareholders over the past five years.
The Chancellor, George Osborne, who has considerable potential shale gas reserves within his own Tatton constituency, is pinning huge hopes that the gas could help secure the long term prosperity of the UK – generating tens of thousands of jobs and lowering soaring fuel bills.
However, this week a public relations executive for Cuadrilla said it would have an insignificant impact on household bills.
The Treasury is considering tax breaks for developers of the technology which has already been credited with revolutionising parts of the US economy although it remains deeply unpopular with environmentalists.
Cuadrilla has suggested that gas from the Lancashire field – the first to be fully explored in the UK – could be fuelling homes within three years. But progress in exploiting the estimated 200 trillion cubic feet of reserves is behind schedule.
Cuadrilla must now submit a further environmental report to Lancashire County Council as well as undergo consultation and planning processes before it can complete the exploration phase. No further drilling or fracking is expected to take place this year.
Register for free to continue reading
Registration is a free and easy way to support our truly independent journalism
By registering, you will also enjoy limited access to Premium articles, exclusive newsletters, commenting, and virtual events with our leading journalists
Already have an account? sign in
Join our new commenting forum
Join thought-provoking conversations, follow other Independent readers and see their replies