Britain exports more than 50 tonnes of shark fins in two years
'Many people will be gobsmacked to hear Britain is fuelling this controversial global trade'
Phoebe Weston
Science Correspondent
Monday 29 July 2019 13:13 Comments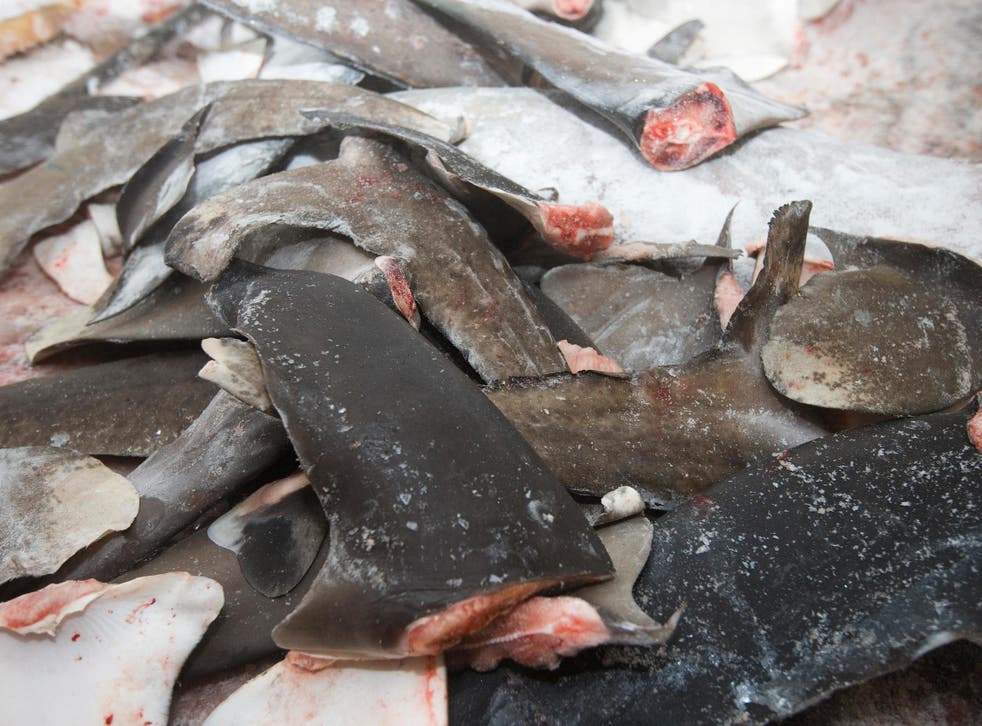 More than 50 tonnes of shark fins worth hundreds of thousands of pounds have been exported from Britain over the past two years, a Greenpeace UK investigation has revealed.
Campaigners are calling on the government to ban these exports which are fuelling the global demand for shark fin soup.
The majority of sharks in European and UK waters are being caught by Spanish vessels, according to the report by the organisation's investigative journalism unit.
Sharks are being landed in the UK, and their fins are then sent to Spain, one of the world's biggest shark fin exporters, the campaign group said. From there they are sold on to meet demand – largely in certain Asian countries – where shark fin soup is considered a delicacy.
Referring to data from HMRC, Greenpeace said shark fins valued at more than £300,000 were sent to Spain since 2017.
Endangered sharks being served up in British fish and chip shops

Show all 6
Will McCallum, head of oceans at Greenpeace UK, said: "Many people will be gobsmacked to hear that Britain is fuelling a controversial global trade threatening a majestic predator that's vital to life in our oceans.
"With tens of millions of sharks being killed every year, the UK government should do all it can to protect these creatures, starting with a ban on shark fin exports.
"We are campaigning for limits on shark fishing and also at the UN for a strong Global Ocean Treaty which will help shark populations recover from decades of overfishing and provide greater protection for marine life in our seas."
Graham Buckingham, from shark conservation organisation Bite Back, told Unearthed: "The sheer volume of shark fins being exported by the UK is a shocking indication that global demand for shark fin soup remains high and that sharks from EU waters are paying the price."
A Defra spokeswoman said: "The UK has a strong track record in marine conservation and we led the charge to ban shark finning across the European Union and pressing for stronger international action.
"While we're a member of the EU it is not possible to introduce additional restrictions on shark fin trade, but leaving the EU will give us an opportunity to consider further controls."
Earlier this year it was revealed British customers were unwittingly eating critically endangered shark species when they visit their local fish and chip shop.
Cameras mounted on great white sharks capture giant predators hunting in kelp for first time
Hammerhead sharks and dogfish were among the vulnerable varieties on offer in British outlets. Scientists found 90 per cent of products sold as huss, rock salmon and rock eel at chip shops were in fact the globally threatened spiny dogfish.
The University of Exeter team warned that such "umbrella" sale terms were being used to disguise the identity of these endangered sharks.
Additional reporting by PA
Register for free to continue reading
Registration is a free and easy way to support our truly independent journalism
By registering, you will also enjoy limited access to Premium articles, exclusive newsletters, commenting, and virtual events with our leading journalists
Already have an account? sign in
Join our new commenting forum
Join thought-provoking conversations, follow other Independent readers and see their replies