Sharks have distinct 'social personalities', new study reveals
The key to unpicking a shark's sociability is how they choose to keep safe when they are still juvenile
Tom Bawden
Thursday 02 October 2014 00:07 Comments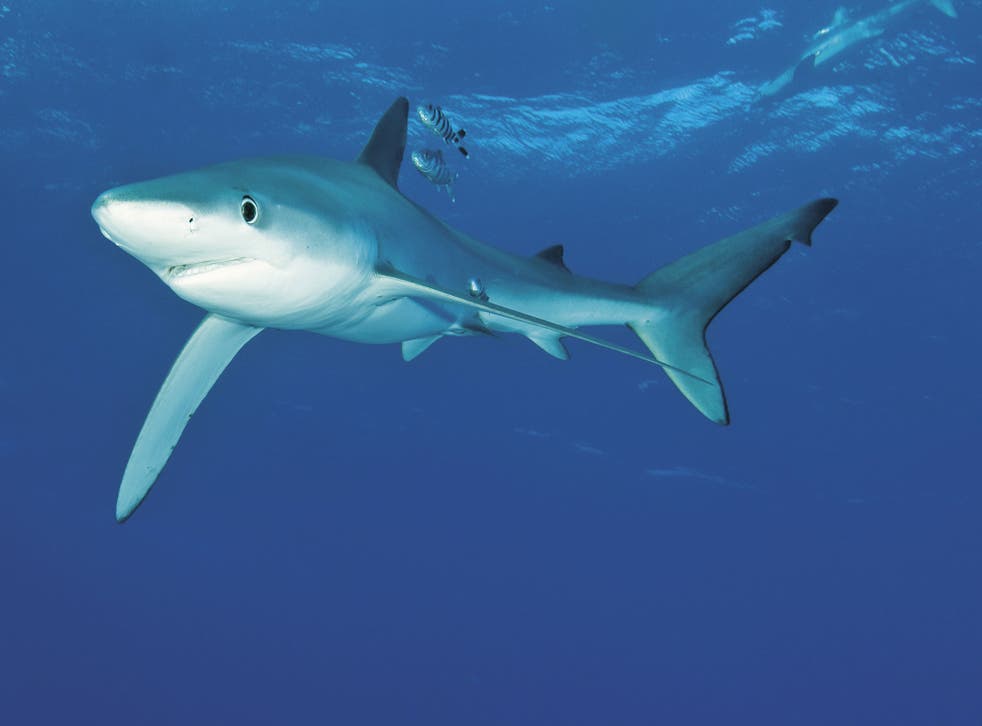 Sharks may be many things in the popular imagination, but they are not generally noted for their sociability.
But that could be about to change after new research has found that sharks possess distinct "social personalities" and that most, though by no means all, are actually quite sociable.
A groundbreaking study by Exeter University has established for the first time that the level of sociability varies between sharks – with each individual consistently exhibiting behaviour that is relatively more or less social than its peers.
Personality traits such as aggression and curiosity have long been identified in all sorts of animals, but until now their sociability levels have remained untested.
Not only is this the first time that sharks have been shown to possess social personalities – it is the first time that any animal species has been shown to possess a social personality, claims Dr David Jacoby, one of the report's authors.
As such, the research has huge implications, both for sharks and the wider animal kingdom, he said.
The key to unpicking a shark's sociability is how they choose to keep safe when they are still juvenile – less than a year old - and still at risk from bigger fish.
For social sharks, this involves pushing for the 'safety in numbers' adage, by forming conspicuous groups with other well-connected individuals. Meanwhile, the anti-social ones favour a bit of solitary camouflage, in the hope that they won't be spotted by would-be predators, according to a study published today in the journal Behavioural Ecology and Sociobiology.
"We define personality as a repeatable behaviour across time and contexts. What is interesting is that these behaviours differ consistently among individuals. This study shows, for the first time, that individual sharks possess social personalities," said Professor Darren Croft, of Exeter University.
"In the wild these small juveniles can make easy prey items for larger fish, so different anti-predator strategies are likely to have evolved," he added.
In the study researchers from Exeter University and the Marine Biological Association of the UK tested for social personality by recording the social interactions of groups of juvenile small spotted catsharks in captivity in different types of habitat.
This species – formally known as Scyliorhinus canicula – is found throughout the northeast Atlantic and Mediterranean, but during the test the sharks were monitored in large tanks containing three habitats in Plymouth.
"We found that even though the sizes of the groups forming changed, socially well-connected individuals remained well-connected under each new habitat. In other words, their social network positions were repeated through time and across different habitats," said Dr Jacoby, who was at Exeter University at the time of the research but has since moved to the Zoological Society of London.
"These results were driven by different social preferences (ie. Social/antisocial individuals) that appeared to reflect different strategies for staying safe. Well-connected individuals formed conspicuous groups, while less social individuals tended to camouflage alone, matching their skin colour with the colour of the gravel substrate in the bottom of the tank," Dr Jacoby added.
The way catsharks demonstrate their sociability is relatively limited. It essentially boils down to congregating in groups and sometimes rubbing against each other. By day, the species spends most of its time resting, often lying on top of one another on the seafloor in their natural habitat – throughout the northeast Atlantic and Mediterranean.
The researchers were able to quantify how "well-connected" – or sociable – each shark was by observing how many interactions they had with its colleagues. Those that cluster tended to gather in groups of two, three or four.
Register for free to continue reading
Registration is a free and easy way to support our truly independent journalism
By registering, you will also enjoy limited access to Premium articles, exclusive newsletters, commenting, and virtual events with our leading journalists
Already have an account? sign in
Join our new commenting forum
Join thought-provoking conversations, follow other Independent readers and see their replies