Sheffield's tree massacre: How locals battled to protect Europe's greenest city
Mass arrests, poisoned-tea plots and the unravelling of a secret £2.2bn PFI contract. Colin Drury delves into the inside story of the battle to save 17,500 trees being felled in a single city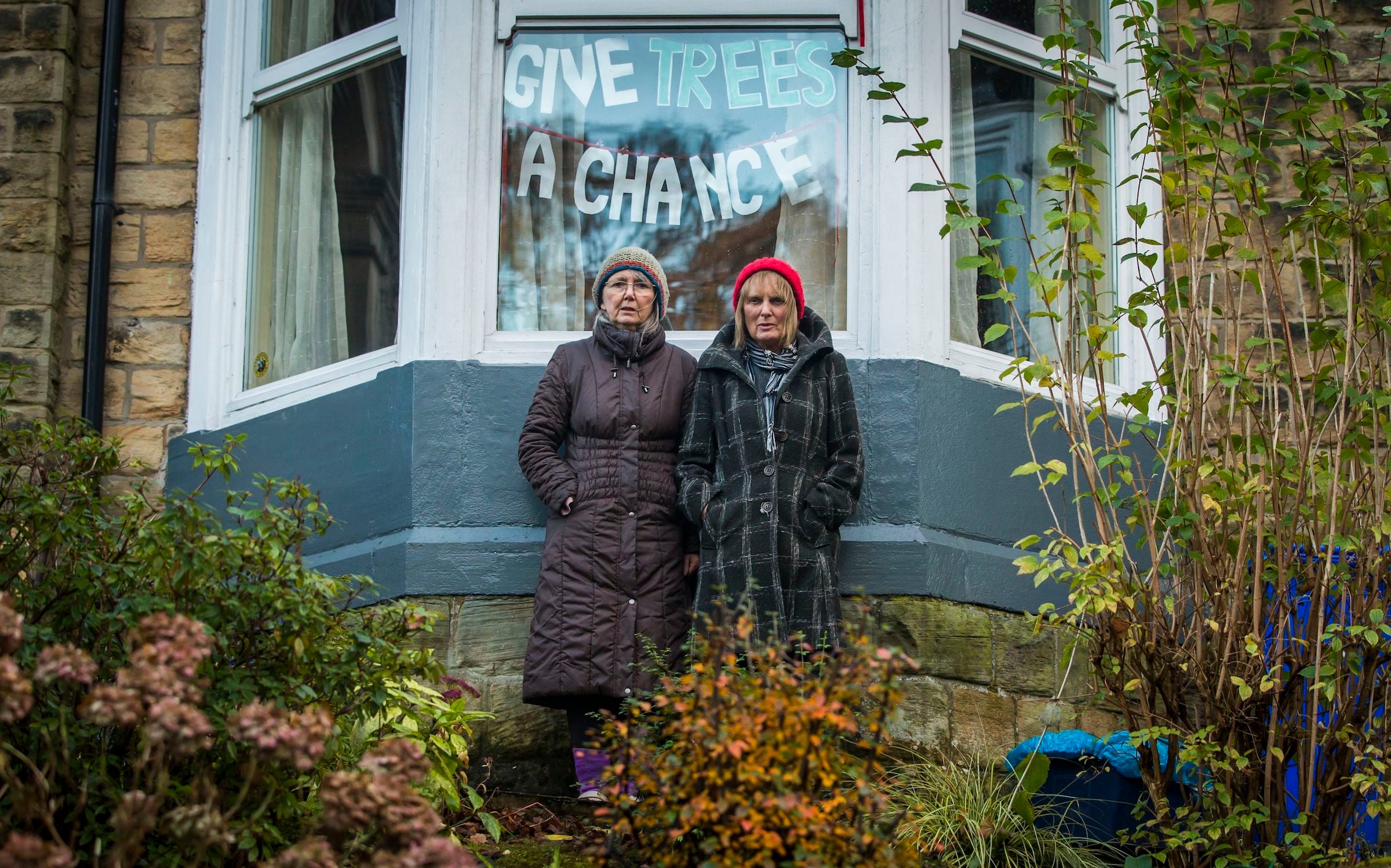 Jenny Hockey still shivers when she remembers the moment, almost 18 months ago, she was woken by police hammering at her door. It was 5am. When she looked outside, she momentarily wondered if a terror incident was unfolding.
"It was that kind of scene," the 71-year-old says. "Multiple cars, officers swarming everywhere, flashing lights. We had no idea what was happening."
It was 17 November 2016 and, under the cover of darkness, officers from South Yorkshire Police had descended on Sheffield's Rustlings Road, one of the city's most sought-after addresses. Cordoning off the street and banging on doors, they ordered residents to get dressed and move their vehicles or have them towed away. Within the hour, Hockey, a retired sociology professor, would become one of three neighbours arrested and locked up for eight hours.
But this dramatic pre-dawn raid – described by Nick Clegg, then the local MP, as like something "you'd expect in Putin's Russia" – was not carried out in search of terrorists or criminals.
Rather, it was in support of council contractors hired to chop down eight street trees, which residents had spent more than a year petitioning to save.
Amid the confusion, Hockey and two others – including another woman in her seventies – attempted to stand under one of these century-old limes, only to be detained. All charges were later dropped.
"We wanted to protect something we loved," she says. "And our right to do that – our democratic right – was taken away, really, by state force. It was so horrible and disempowering."
Indeed, by the time the trio were freed, the trees which had always overlooked their homes were no more.
Yet a bigger battle was just beginning: one which has since spread across the city, seen mass protests and riot police on suburban streets, and ultimately revealed an astonishing secret plan – hidden within a £2.2bn PFI contract – to cut down almost 20,000 street trees…
Sheffield has long boasted of being Europe's greenest city – in part because a third of it sits in the Peak District. But it is also due to the sheer number of trees that line the roads. Some 36,000 of them arch over highways and footpaths.
But around 2015, talk of what the Woodland Trust called a "tree massacre" started to emerge.
The eight limes in Rustlings Road were not the only ones marked for the chainsaw. Under then-redacted clauses in a £2.2bn contract, Sheffield's Labour council had agreed for 17,500 street trees to be axed as part of a vast highways improvement scheme being undertaken by the infrastructure giant Amey.
Company and council both said – and still say – such felling was necessary. Targeted trees, they argued, were either dying, dangerous or had roots causing irreparable damage to roads and footpaths. Every one taken down, they added, was being substituted with a younger sapling: "We assess every single tree and only replace them as a last resort," says Darren Butt, account director with Amey, today.
Yet, as this felling increased, questions started to be asked. There was shock when two cherries commemorating Second World War heroes disappeared one day. At Christmas, a row decorated with charity festive lights were hacked back – with fellers cutting through wires and all.
A feeling spread that perfectly healthy and safe trees were being chopped unnecessarily. A suspicion grew that the policy was actually about increasing Amey's profit margins. Over the length of the company's 25-year highway maintenance obligations, so ran the theory, a newly planted sapling is far cheaper to look after than older, larger arboreta.
"People were going to work in the morning and coming home to entirely different-looking streets," says Paul Selby, a city resident and leading member of Sheffield Tree Action Groups, known as Stag. "It was ecological destruction carried out, in secret, by a multinational company with the explicit support of the local authority and the police.
"And people were angry. These trees were part of their lives and they didn't want them taking. These weren't anarchists or hardline activists from other towns. They're Sheffielders furious they hadn't been given a voice in what was happening in their streets. So they came out and fought to be heard."
Almost 6,000 trees have been chopped down. But in the face of overwhelming and increasingly nationalised pressure, a pause on felling was announced last week.
Sheffield City Council has put this down to the "dangerous tactics" of protestors. Yet the support in favour of Stag – both within the city and from names including Jeremy Corbyn, Michael Gove, Ken Loach and Jarvis Cocker – probably had something to do with it too.
Hopes are now high the whole policy can be reconsidered. "We don't take anything for granted," says Selby, a civil servant with the Department for Work and Pensions. "But, after so long fighting, surely dialogue is now the sensible way forward."
Certainly, it has been a troubled road to here: the irony perhaps being that this all started with a real city victory.
In 2012 the government handed Sheffield £1.2bn to improve its roads, an economic godsend for a place locals had taken to calling Pothole City. Amey – a subsidiary of the Spanish company Ferrovial – won the work contract, promising to upgrade and maintain every highway, pavement, bridge, subway and street light for 25 years.
"This is work that is good for everyone living here," says Paul Billington, director of culture and environment with the city council. "It is already bringing investment and opportunities back into the city because it is making our infrastructure world-class."
Replacing damaging or dying trees, he argues, is key to that success continuing. Doing it now, he adds, is important because, as a 2007 survey showed, a large majority of trees are so old that to delay action would store problems for future generations.
And yet…
"No one disagrees that dying or damaging trees should be looked at – if they really do fall into those categories," says Alison Teal, a Green Party councillor in the city. "But this went beyond that. We still didn't know how many were due to come down but everywhere you looked, these magnificent trees were disappearing."
Demonstrations were civil enough to start with. People at home would spot Amey vans and go out to stand under targeted trees so they couldn't be axed. Others started taking the bus to work, leaving their cars blocking access to endangered arboreta.
Cups of tea were offered while people stood about. They debated the merits of the trees: their beauty, the environmental benefits, the wildlife. Occasionally, they talked about their favourite. An endangered elm in the Nether Edge area ended up being shortlisted for the 2016 England Tree Of The Year Award.
Yet things hardened after the Rustlings Road raid ("In hindsight, it was poorly handled," says Darren Butt). While many still supported the replacement scheme, opinion started to harden in favour of the so-called tree-huggers. Stag membership doubled within the month.
"At that point people were really realising this isn't just about trees, it's about democracy and our right to a say on what happens in our streets," says Teal, a psychologist by trade.
Demonstrations became feistier. Stumps of trees already cut were painted blood red as a mark of anger. Stag supporters – now numbering in their thousands – took to organising daily spotter patrols and flying pickets.
"When someone saw an Amey van near an endangered tree, they put a message in a WhatsApp group or online, and whoever was available would go and protect that tree," says Teal.
In this way dozens of limes, cherries, oaks and birches across several neighbourhoods were saved.
But as tensions rose – with both fellers and protestors accusing each other of intimidation – police started to appear.
At one demonstration in leafy Chippinghouse Road in January 2017, nine people were arrested, some while stood in their own gardens. None were ever charged. At another picket last month, a specialist police protest removal unit turned up. It was the first time it had ever been deployed on South Yorkshire's streets.
Arrest numbers grew – yet there were vaguely comedic elements to many. A 57-year-old woman was detained after blowing a pink trumpet, while a retired couple – Dr John and Sue Unwin – found themselves being questioned by CID officers (and later cleared) about the suspected poisoning of a cup of tea they gave a feller.
"It sounds like the plot from an Agatha Christie novel," Dr Unwin told the Daily Mail.
One 73-year-old was detained for intimidation. Alan Simpson, a retired firefighter and great-grandfather, says: "I've never been in trouble in my life and was there with my wife. I don't think I could have cut a less intimidating figure if I tried." His charge, too, has been dropped.
"If it wasn't so serious," says James Whitworth, cartoonist on local newspaper The Star, "it would be farcical, and I mean that literally: there is enough material here to make an actual farce.
"As a cartoonist, it's a dream because the whole thing is so ridiculous. You think you can't possibly say anymore on the issue – and then they arrest a woman for blowing a plastic trumpet. But as a city resident: I'm pretty neutral but, really, maybe leave our trees alone?"
As news of the ongoing demonstrations spread, meanwhile, concern grew it was damaging the city's reputation. When Sheffield was left off The Sunday Times Best Places to Live list this year, authorities blamed the campaigners: "it is regrettable the increasingly extreme actions of a small number of protestors is having this impact," a council spokesperson declared.
Demonstrators themselves were not above ridiculous assertions either: at a packed council meeting, one compared Amey's workers to Nazi guards, just doing their jobs.
"Not helpful," admits Teal.
For now, however, the potential turning point arguably came in March when a freedom of information request, asked by Paul Selby, forced the council to reveal it had indeed asked for 17,500 trees to be chopped down. The figure was so astonishing all three city MPs – all Labour – called for a rethink.
In a disastrous interview on local radio, council cabinet member for environment Bryan Lodge – who declined to be interviewed for this piece – denied the figure was a target but could not explain what it actually was. Days later the suspension of felling was announced.
What happens next is the question the city is asking itself.
"We've already lost 6,000 trees," says Selby. "Of course, there are some that should come down if they really are dying or doing irreversible damage to footpaths. But all other solutions should be sought first. Trees are a sign of a civilised city. We should be doing everything we can to save them."
Join our commenting forum
Join thought-provoking conversations, follow other Independent readers and see their replies