Shetlanders vow to free islands of single-use plastics
'We are in an absolutely ideal position to be the first place in the UK that is entirely free from single use plastic'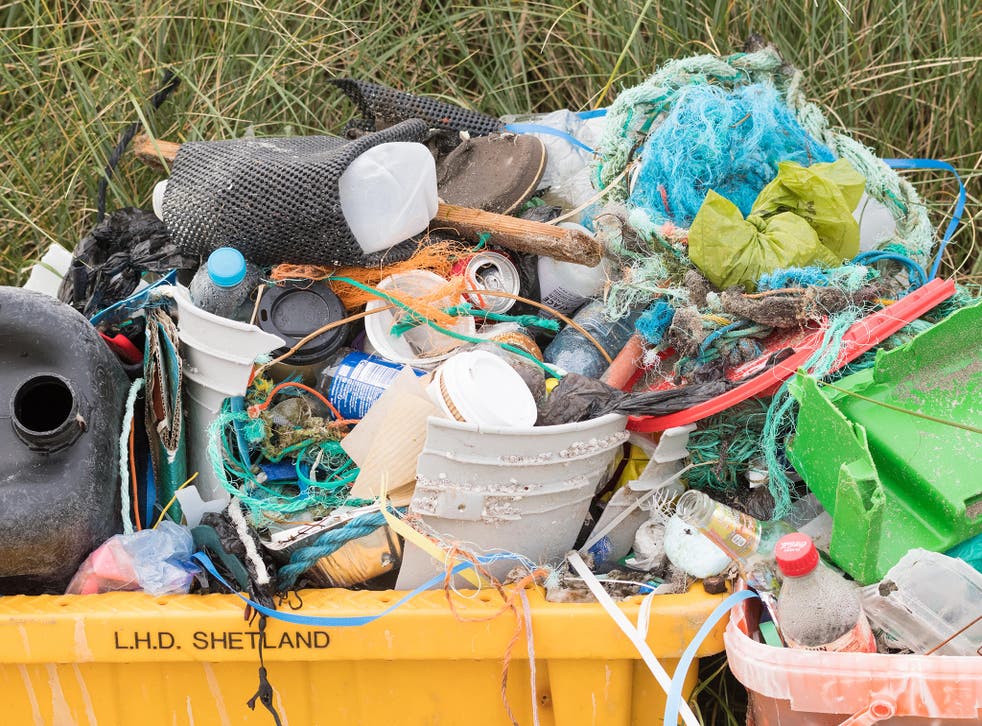 Shetland, one of the UK's most isolated and northerly regions, is leading the way in efforts to tackle what the Government has called "the scourge of plastic".
By the end of 2018, campaigners on the islands – which are home to only two high schools, around 40 police officers and 20,000 inhabitants – are hoping to completely cut out single-use plastics such as straws and cups.
Ultimately, they want to become the first place in the UK to eradicate single-use plastics altogether.
​Shetlanders import the majority of their food, but the same tides that bring boats filled with produce to their shores also come loaded with a more unwelcome cargo: plastic.
Plastic pollution is the environmental issue of the moment, with the Government making plastic waste a centrepiece of its November budget, as well as its recently announced 25 year plan for the environment.
In recent months, there have been moves in the UK to cut out plastic bottles, microbeads in cosmetics and disposable coffee cups. The Independent has recently launched its Cut the Cup Waste campaign to tackle the millions of unrecyclable cups that are thrown away every day.
As the owner of a convenience store in the village of Voe and chairman of the environment and transport committee in the Shetland Islands Council, Ryan Thomson is all too familiar with the endless tide of plastic that bombards Shetlanders on a daily basis.
"The amount of plastic I see coming through our doors is quite remarkable really – everything either contains plastic or is made of plastic or wrapped in plastic," he says.
"I would say the amount is increasing, rather than decreasing."
For him, the tiny archipelago provides an excellent plastic-free testing ground and the chance to set an example to the world.
Latte levy: The plastic problem inside your coffee cup
Tired of the "vast amount of plastic and rubbish we see on our coastlines" he set up a campaign – No Single Use Plastics – Shetland – with the intention of getting local businesses to replace their plastics with biodegradable alternatives.
"We are in an absolutely ideal position to be the first place in the UK that is entirely free from single use plastic," he says.
Shetland, an archipelago made up of around 100 islands located in the stretch of ocean separating Scotland and Norway, is a place very much in touch with its sea and coastline.
This is what makes Shetland such a perfect location for a plastic ban on single-use plastics, which litter the islands' beaches in vast quantities and which scientists say are causing all sorts of harm to marine ecosystems.
Animals can be killed after eating plastic or becoming tangled in it and there is even evidence floating plastic can increase rates of disease in underwater creatures.
There are already projects in region dedicated to cleaning the beaches. Shetlanders care about their coastline and this – according to Mr Thomson – is what makes it ripe for action on plastics.
Aside from its geographical location, Shetland has another advantage. With such a small population, getting everyone on board is a relatively straightforward task.
The campaign was only set up at the beginning of January and it has already been a runaway success.
"The target was to get all businesses to sign up to this pledge by the end of 2018," says Mr Thomson.
"We have got so many businesses on board and on top of that we have got so many members of the public offering assistance, that we have actually brought that forward considerably so we are now looking to have all businesses signed up by the end of February."
As for business owners themselves, they are already throwing themselves fully behind the project, as are their customers.
"The customers are all relatively happy this is happening," says Steve Swan, owner of the Hillshop on the island of Yell.
Though the initial phase of the project is relatively modest, asking businesses to commit to "only selling biodegradable straws and cups", individuals like Mr Swan are already pushing ahead with measures of their own.
"We are in the process of eliminating plastic sandwich wedges and using environmentally friendly ones; we also do pre-packed vegetables and we are trying to eliminate as much plastic packaging from that as well."
Ways to reduce your single-use plastic

Show all 6
Starting with these "baby steps", Mr Thomson and his fellow campaigners want to keep the momentum going and ultimately expand their campaign to incorporate as many single-use plastics as possible.
At the end of February they intend to discuss how to tackle plastic bottles, bags and cotton buds.
The campaign has been bolstered by the recent announcement by NorthLink Ferries, the company that transports people from mainland Scotland to the northern islands. They have pledged to stop providing straws, plastic cups and cotton buds aboard their vessels and have signed up to the No Single Use Plastics pledge.
Mr Thomson is keen that other big businesses on the islands participate as well. Following the unexpectedly rapid success of the campaign's first phase, he intends to set up meetings with Tesco and Co-op – the only two supermarkets on Shetland – to discuss his proposals.
While Mr Thomson acknowledges that Shetland is "only a very small part of the world", his efforts are part of a growing plastic-free movement in the UK. Penzance in Cornwall, the Welsh village of Aberporth and – most recently – Plymouth have all made moves towards eradicating single-use plastics.
"We can all make a meaningful dent on our consumption, which is why the individual side is important as well as the business side," says Rachel Yates community lead for the Penzance Plastic Free Coastlines initiative run by Surfers Against Sewage.
Research has highlighted the global scale of the plastic pollution crisis, with one study concluding a mere 10 river systems – eight in Asia and two in Africa – carried around 90 per cent of plastic pollution into the sea.
However, this does not mean local efforts to deal with local rubbish lack merit.
"This is very much something we need to tackle in Plymouth, in Shetland, in Penzance," says Professor Richard Thompson, a marine biologist who lead the International Marine Litter Research Unit at the University of Plymouth.
He says the UK and the rest of the developed world need to take the lead in creating an effective waste management system that does not result in vast quantities of unrecycled materials polluting the environment.
"We have a problem here and we need to take the lead in fixing that problem," he says.
Though plastic pollution has rightly received a bad rap in recent months, says Professor Thompson, plastic itself is an incredibly useful material. He hopes the current backlash against plastics will lead to an increased focus from industry on producing plastics that can be recycled easily.
"The public has become so repulsed by the problems of plastic that they are actively considering a world without plastic – a world where the potential benefits of plastic are not realised," says Professor Thompson.
"That absolutely has to be seen by the industry as a wakeup call for greater producer responsibility."
As for the Shetland campaign, Mr Thomson agrees that it is about encouraging both individuals and businesses to make changes and sending a message to the wider world.
"It just feels like in the last six or so months – not just in Shetland but nationally and even globally – people are really seeing this now as the serious issue that it is," says Mr Thomson.
"This is about making a statement and it's about showing people that this can happen."
Join our new commenting forum
Join thought-provoking conversations, follow other Independent readers and see their replies