Shipping industry accused of 'greenwashing' and urged to decarbonise by environmental groups
Sector 'on course to account for 10 per cent of global greenhouse gas emissions by 2050'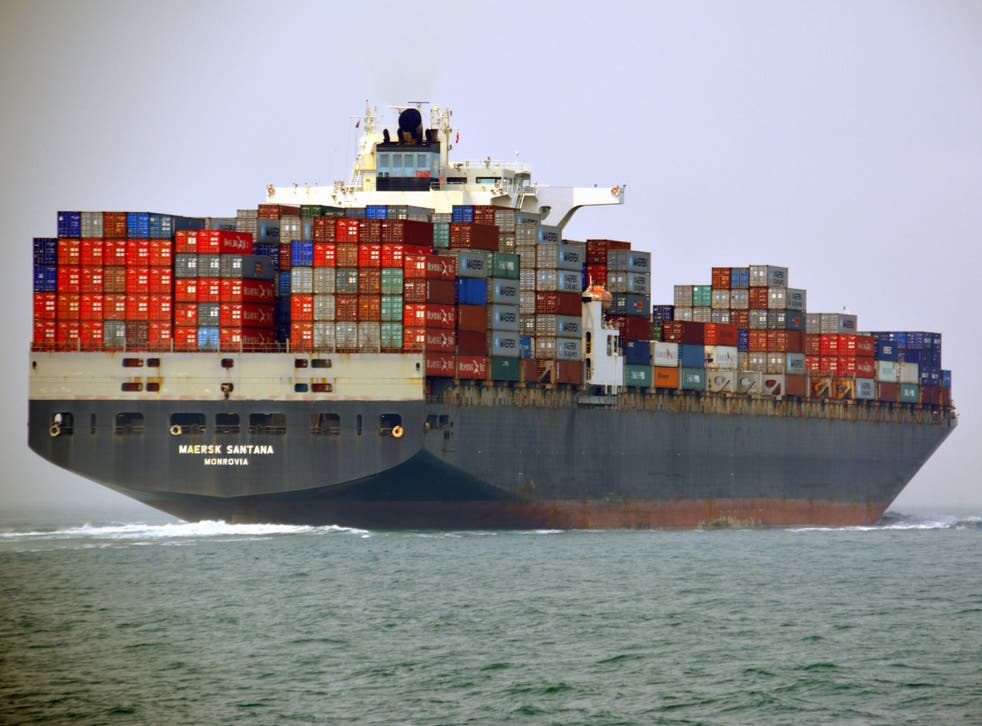 Shipping is a core part of global business, with around 90 per cent of the world's trade being seaborne, but it is also a major source of greenhouse gas emissions which are accelerating the climate crisis.
This week, representatives from governments from around the world are meeting to try and draw up new international guidelines to reduce the environmental impacts of shipping.
But environmental groups have branded draft guidelines - which are expected to be passed - as being merely "cosmetic", and protests have been held outside the International Maritime Organisation's London HQ.
Overall, the sector produces a billion tonnes of CO2 emissions every year - roughly 2 - 3 per cent of the world's total emissions - more than Germany.
The industry is largely exempt from paying taxes on either fuel or CO2 pollution in many countries, and the vast majority of total emissions remain uncounted because governments don't want to take responsibility for them.
As well as CO2, vessels pump out a broad range of other toxic pollutants, including sulphur dioxide, nitrogen oxides and particulate matter, all of which have serious environmental impacts.
At current growth rates, shipping could represent some 10 per cent of global greenhouse gas emissions by 2050, unless there are major changes in the industry, according to European campaign group Transport & Environment.
The International Maritime Organisation - the body which regulated the industry - set a target in 2018 to halve emissions from the sector by 2050, including rules which would see emissions reduced by 40 per cent by 2030.
But since then, the organisation has been accused of watering-down the rules and environmental NGOs with observer status have warned the new proposals do not meet the terms of the Paris climate agreement.
Six NGOs, including the Clean Shipping Coalition, WWF and Transport & Environment, said in a joint statement: "The proposal will not cap, let alone reduce, the shipping sector's one billion tonnes (and rising) of annual emissions this decade.
"This is happening at the very time that climate scientists say we must halve global GHG emissions this decade to stay within a relatively safe 1.5C of global warming."
In a statement, the IMO hailed the as-yet-unreleased agreement, based on the 2018 targets as a "major step forward."
The rules will mean new ships built from 2022 will have to be "significantly more energy-efficient", the IMO said, and further energy efficiency requirements would also apply to existing ships.
This includes "a new Energy Efficiency Existing Ship Index (EEXI) for all ships, and an annual operational carbon intensity indicator (CII)," the IMO said. The rules would apply to ships of 5,000 tonnes and above.
Opening the meeting, the IMO's secretary-general Kitack Lim said: "It is of utmost importance that IMO continues to deliver on the implementation of the Initial GHG Strategy by means of concrete measures, which will ensure achieving the levels of ambition as set out in the Initial IMO GHG Strategy, providing a globally harmonised regulatory framework."
He added: "IMO has to ensure that no country is left behind in the transition to decarbonisation of international shipping."
But the plans have been attacked as not being ambitious enough.
Clean Shipping Coalition president John Maggs urged countries to reject the deal.
He said: "No deal is better than a terrible greenwash deal - that pretends to regulate shipping's CO2 emissions but actually allows them to keep growing indefinitely."
WWF's senior specialist in sustainable shipping, Andrew Dumbrille said: "The targets included in the IMO initial strategy already fail to contribute to shipping's fair share of efforts consistent with keeping global temperature rise to 1.5C.
"What we need now is bold action, and the decision to be considered [at the meeting] must be rejected if the IMO and the global shipping sector want to truly play a leadership role on the way to a net-zero emissions future."
On Sunday, protesters from Ocean Rebellion - a group affiliated with Extinction Rebellion - wore pinstripe suits and masks made from salvaged waste oil containers found washed up on a Cornish beach, and set fire to a "Viking longship" which bore a sail reading: "Paris Climate Agreement".
A spokesperson for the group told The Independent: "Our demand is simple: Get ships off fossil fuels, to stop climate breakdown, prevent repeated negligent fossil fuel oil spills including in the Arctic, and to protect people's livelihoods and our precious marine environments."
They added: "The IMO has a chance to turn things around. To make a real difference not just to marine life but to our survival as a species on this planet. But it needs to step up now, to get out of bed with the fossil fuel industry and stand up for the environment."
The talks are expected to continue until Friday.
The Independent has contacted the IMO for comment.
Register for free to continue reading
Registration is a free and easy way to support our truly independent journalism
By registering, you will also enjoy limited access to Premium articles, exclusive newsletters, commenting, and virtual events with our leading journalists
Already have an account? sign in
Register for free to continue reading
Registration is a free and easy way to support our truly independent journalism
By registering, you will also enjoy limited access to Premium articles, exclusive newsletters, commenting, and virtual events with our leading journalists
Already have an account? sign in
Join our new commenting forum
Join thought-provoking conversations, follow other Independent readers and see their replies