Slug alert! Invasion of the gastropods
Record rainfall leads to population explosion – and devastation of British gardens
Denise Rowland
Saturday 14 July 2012 23:02 Comments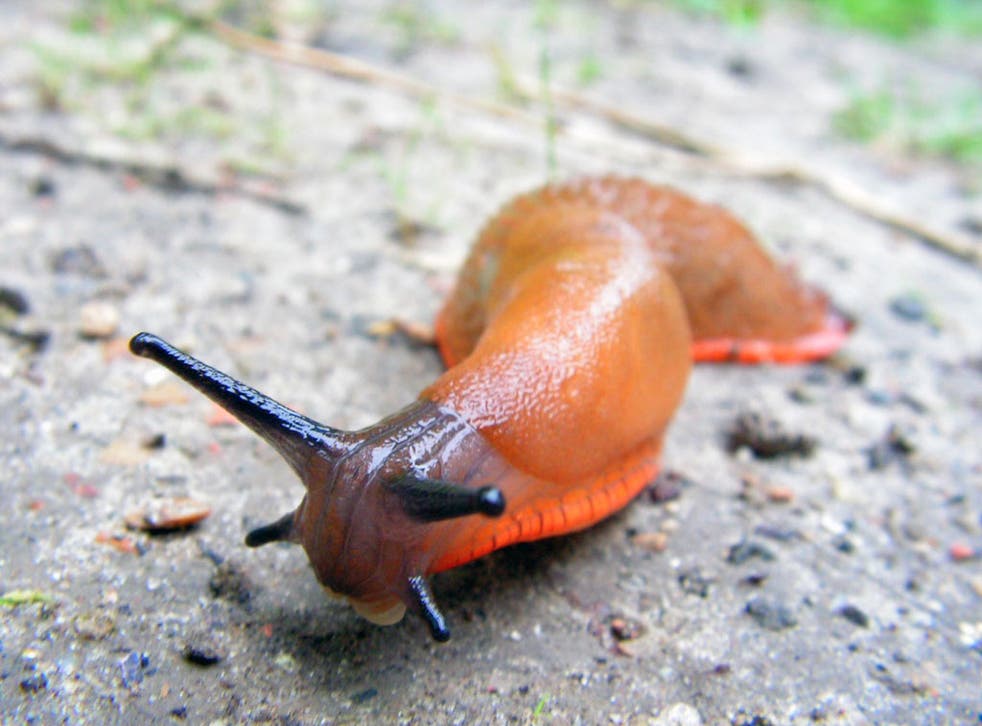 This is the summer of the slug. Gardeners and nurseries all over the country are finding that mild weather, punctuated by record levels of rainfall, has caused the population of the greedy gastropods to increase dramatically, and expert horticulturists agree.
As gardeners attempt to quell a rising tide of the small, slimy creatures, slug repellent manufacturers are reporting a sales surge. According to Garden Trade News, sales of slug prevention products are up by 149 per cent, while the leading brand, Bayer Bio slug pellets, saw sales balloon by 186 per cent compared with June last year.
Disturbingly for growers, the most prolific of the slugs are two invasive Spanish species, Arion vulgaris and Arion flagellu. These slugs are larger and lay around 10 times more eggs than Britain's native slugs, producing hundreds of offspring at a time.
Rainy weather favours slugs and snails in other ways – they venture higher up plants, where they find the youngest and most vulnerable leaves to feast on.
Guy Barter, chief horticultural adviser at the Royal Horticultural Society, said: "Slugs and snails are a huge problem this year. I cannot remember anything on this scale. The mild winter meant that more eggs survived than usual, which only added to the excellent breeding conditions created by the wet spring and summer."
Horticulturalists at the Birmingham and Bristol Botanic Gardens have had similar experiences. And, at the Chelsea Physic Garden, Nick Bailey, the head gardener, described his tireless battle with the pests. He said: "This has been the worst gardening year of my life, and I've been doing it for 22 years. The slugs are a big part of that." His greatest grievance came when he planted ten tobacco plants, only to return a day later to find them annihilated. "They'd eaten the entire batch. Each of them was 15 to 20cm across. It was unbelievable," he said, woefully.
But it may be domestic gardens that suffer the worst – lacking the rich supply of slug predators that large botanic gardens benefit from. Without a host of birds, toads, newts and frogs to prey on the gastropods, the home gardener is engaged in a more personal battle. Some estimates reckon a typical garden has 20,000 slugs and snails.
Andrew Halstead, principal scientist in plant health at the Royal Horticultural Society, said: "Moderate-sized gardens will have thousands of slugs and snails, but most of these are either too small to be seen or underground – less than 5 per cent of the total is actually visible."
And the number is likely to be growing. Professor Tony Walker, president of the Malacological Society of London, said: "People are generally expecting a doubling of the slug and snail population. And we may not have seen the worst of it yet. Unless we have a cold snap this winter, more eggs will survive into next spring to further exacerbate the problem."
This figure will not surprise despairing gardeners, whose forums abound with accounts of their gastropod problems. "Ashes", a gardener from Berkshire, wrote: "Slugs and snails are everywhere, eating everything quicker than I can reseed"; while in the West Midlands "Lazydog" wrote of how his only unaffected plants were those in hanging baskets, but even there he could see slime trails up the wall of the house. "Pamsdish" in Port Talbot lamented that nearly all her flower seedlings had gone. "They eat the dahlias as fast as they show," she said.
Jon Ablett, curator of molluscs at the Natural History Museum, said: "In the right conditions, slugs and snails will lay eggs continuously throughout the year. Since they are hermaphrodites they can be twice as prolific. You can potentially get two batches of eggs after mating."
Natural solutions for combating the menaces abound. Spiky physical barriers such as crushed egg shells and straw are believed to deter the advances of the soft-bodied creature. Beer traps are another common method.
But not every slug and snail is a plant devourer. Of Britain's 131 slug and snail species, five are not interested in plants, preferring earthworms. And, as Mr Ablett pointed out, they do play an essential role in the eco-system: "They do an important job in eating dead and decaying matter, and they are food for many bird and mammal species. They are part of the natural cycle."
Register for free to continue reading
Registration is a free and easy way to support our truly independent journalism
By registering, you will also enjoy limited access to Premium articles, exclusive newsletters, commenting, and virtual events with our leading journalists
Already have an account? sign in
Join our new commenting forum
Join thought-provoking conversations, follow other Independent readers and see their replies