Small shops to charge 5p for plastic bags despite being exempt from new rules making the fee compulsory
Independent retailers see it as an opportunity to bond with customers by helping the environment and giving money raised to charity
Tom Bawden
Friday 18 September 2015 21:58 Comments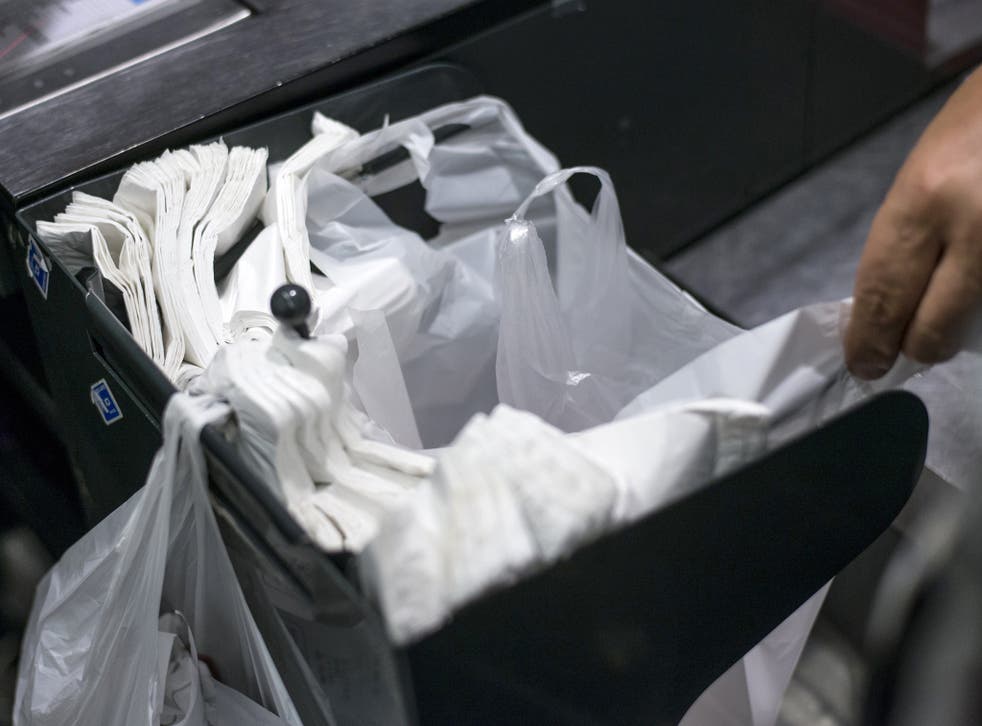 Thousands of small retailers will charge customers 5p for a plastic bag from next month – even though they are exempt for new rules making the fee compulsory.
The 5p charge on plastic bags is being extended to England on October 5, having been introduced successfully in Scotland, Wales and Northern Ireland.
But while the existing UK schemes apply to all retailers, the English version will not include small shops. It will also differ from others by excluding paper bags.
The Government says it would be costly and unfair to force the charge onto retailers employing fewer than 250 staff but many small shops actually want to be included.
They see it as an opportunity to bond with customers by doing something in a good cause, because cutting bag use is good for the environment and the money raised typically goes to charity.
The charge would also save the retailer money because it would act as a deterrent to plastic bag use.
At least 8,000 – or about 16 per cent – of England's village stores, newsagents and cornershops, plan to introduce a charge even though they are not obliged to do so, according to the Association of Convenience Stores (ACS). Some have started already.
An ACS spokesman added: "If the Government was fully committed to reducing carrier bags it would have introduced a universal scheme. We have lobbied hard on behalf of small retailers that we want to be included – it is frustrating that the government has not listened to us."
The Welsh scheme was the first to be introduced, in 2011. Initial figures suggest the 5p charge in Scotland has been even more effective since it was introduced just under a year ago, with single-use carrier bag usage falling by more than 80 per cent.
A Department for Environment, Food and Rural Affairs spokesman said: "The new 5p charge will help us cut the number of plastic bags we use, improve the environment and put an end to the blight of bags littering our communities."
"We want to avoid imposing burdens on start-up and growing businesses in England at a time when the Government is supporting economic growth, but where possible we encourage small businesses to take voluntary action to reduce the distribution of plastic bags."
Plastic bag charges: The new rules
Large retailers in England will charge customers 5p for each plastic bag from 5 October. Small retailers are not covered by the rules, but they can voluntarily ask customers to pay.
Exemptions include bags used for uncooked fish and meat, unwrapped seeds and flowers, and knives.
Register for free to continue reading
Registration is a free and easy way to support our truly independent journalism
By registering, you will also enjoy limited access to Premium articles, exclusive newsletters, commenting, and virtual events with our leading journalists
Already have an account? sign in
Join our new commenting forum
Join thought-provoking conversations, follow other Independent readers and see their replies