Solar panel subsidies face heavy cuts in 'climate change hammer blow'
Government faces criticism from campaigners after also scrapping large-scale solar energy projects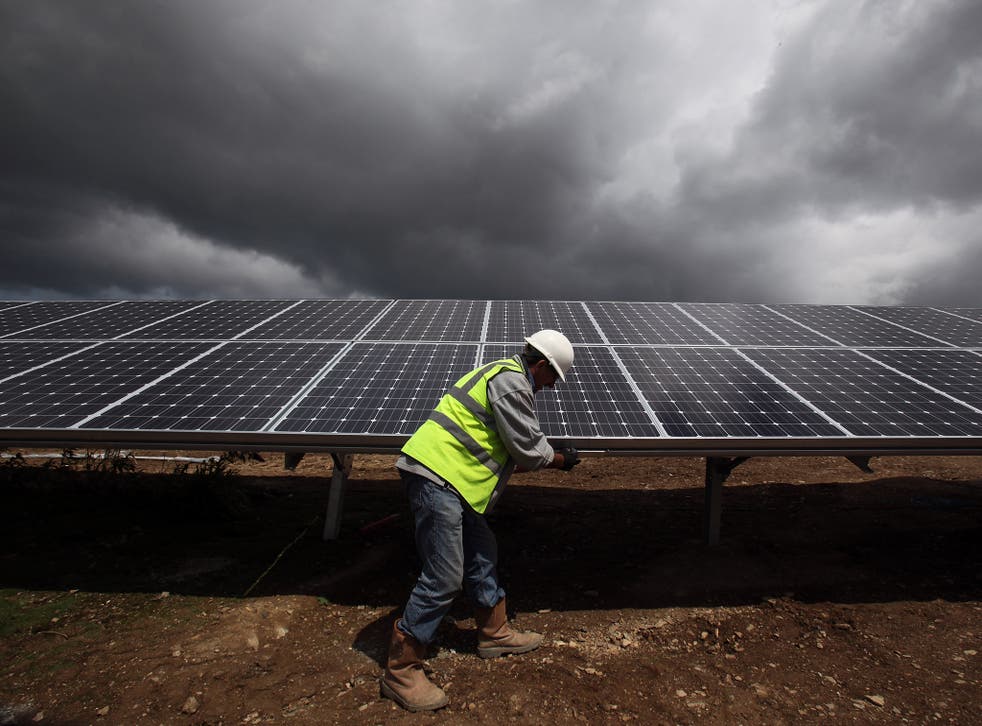 Subsidies for rooftop solar panels will be hit by heavy cuts, and Government support for large scale solar projects will also be scrapped, it has been announced, as ministers came under fire for hitting the green energy sector days after the historic Paris climate change accords.
Although reductions to support for household solar panels and small wind turbines are smaller than had been originally proposed, campaigners said the 65 per cent cut would be a "hammer blow for households, jobs and UK plans for tackling climate change".
The Government estimates the cuts could cost between 9,700 and 18,700 jobs in the solar industry. Solar companies said that the decisions showed "Paris has changed nothing".
UN climate change announcement
As well as cuts to so-called feed in tariffs for domestic solar power generation – a scheme in which householders are paid for electricity generated – support for larger scale solar projects, which currently cost only around £3 a year on household bills, will be closed down from April 2016.
The Solar Power Association said that scrapping the so-called Renewables Obligation for solar projects was "not in the interests of bill payers", adding that solar would have soon become "the cheapest low carbon energy source".
Investor confidence in the sector would now be shaken, setting a "dangerous precedent" for the future of green energy, the group said.
Energy and Climate Change Secretary Amber Rudd, who said less than a week ago that the Paris accords would "ensure all countries are held to account for their climate commitments", said her priority was to keep down household bills.
Solar subsidies are paid through energy bills. Cuts in support announced are predicted to save between £500m and £600m.
"My priority is to ensure energy bills for hardworking families and businesses are kept as low as possible whilst ensuring there is a sensible level of support for low carbon technologies that represent value for money," she said.
Pictures that show we are killing our planet

Show all 21
"We have to get the balance right and I am clear that subsidies should be temporary, not part of a permanent business model. When the cost of technologies come down, so should the consumer-funded support."
However, Seb Berry, of solar panel developer Solarcentury said the Government had "taken the axe to the only UK renewable that has a realistic plan to be off support mechanisms by 2020".
The plans suggested "Paris has changed nothing," he said and were a "million miles away" from the Government's pledge of a "solar revolution" – made as recently as June.
Alasdair Cameron, Friends of the Earth's renewable energy campaigner, said the Government had "shown its true colours".
"And they're certainly not green," he said. "These huge, misguided cuts are a massive blow for jobs and the economy, and further undermine the Government's already tarnished credibility on tackling climate change."
A former head of the Government's advisory Climate Change Committee said he believed that, while David Cameron and the Department for Energy and Climate Change were committed to combatting climate change, pressure on costs from the Chancellor was forcing the Government's hand.
Lord Turner, a former CBI director told the BBC: "I would love – as someone who believes that we have to make better effective action on climate change – that George Osborne was more of a believer of this in his heart and fundamentally I don't think he is."
Lisa Nandy, Labour's Shadow Energy and Climate Change Secretary said that cuts to solar subsidies were "short-sighted".
"These cuts stand in stark contrast to the generous hand-outs ministers recently announced to dirty diesel generators," she said. "At a time when energy bills are a big concern it makes no sense to limit one of the cheapest forms of clean energy."
Join our new commenting forum
Join thought-provoking conversations, follow other Independent readers and see their replies