Tourists to South Africa warned 'orphan' lion cub farms are a scam driving big cats to extinction
Visitors who take selfies with big cats, bottle-feed or take them for walks are duped into supporting lucrative trophy-hunting and bones trade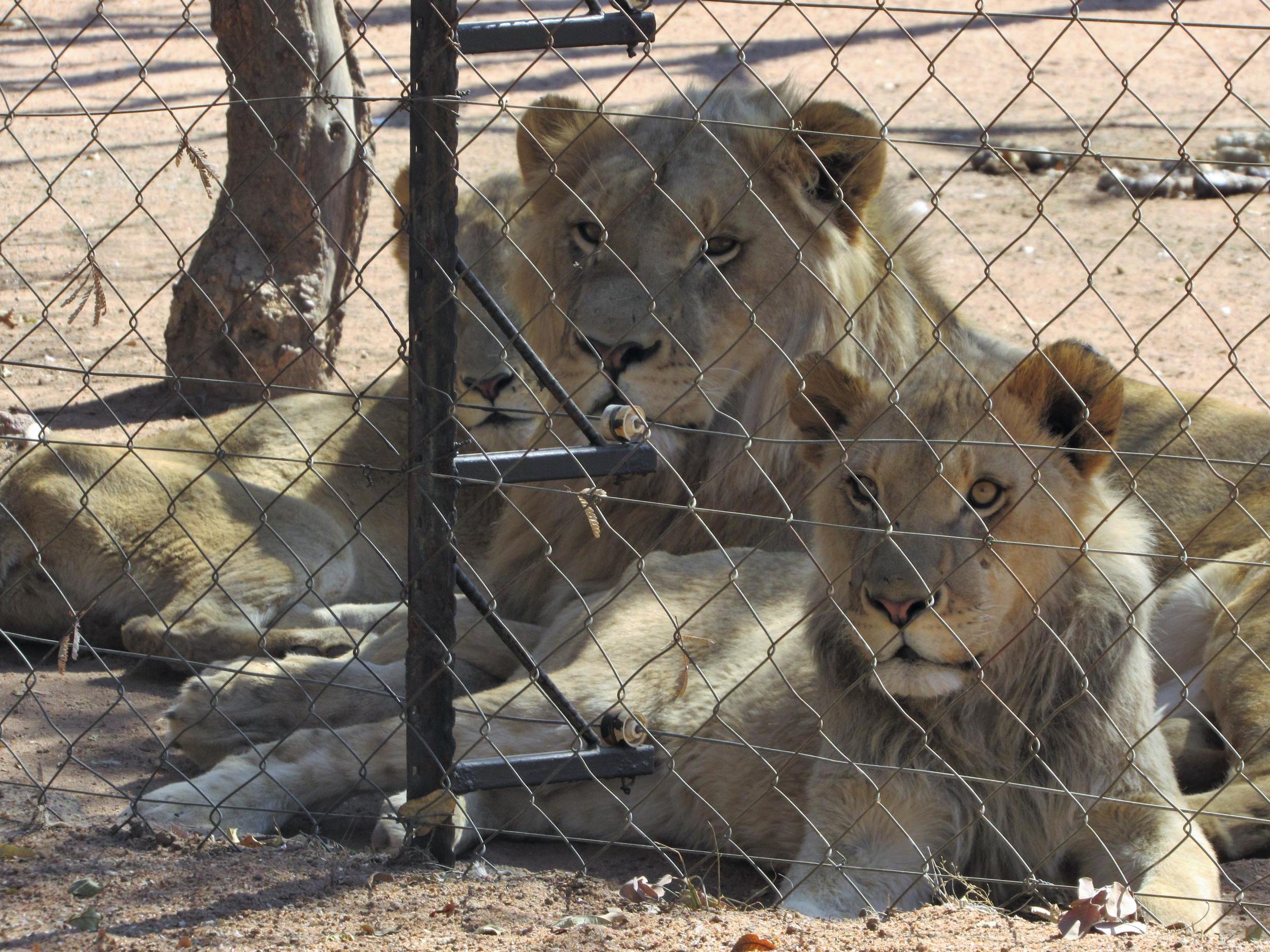 Holidaymakers are being warned against scam "orphan" lion cub attractions that are a front for the lucrative trade in shooting the animals dead.
Parks in South Africa where tourists can take selfies with big cats or bottle-feed, pet or walk with them are nothing but breeding centres that profit from trophy-hunting or Asia's trade in bones, say campaigners.
Far from helping the threatened species to thrive, farms where lions are kept in cages are accelerating its decline, experts say.
Last year an estimated 48,000 British holidaymakers visited South Africa, many fooled into thinking they were helping "orphaned" young lions before they were released back into the wild.
In reality, most of South Africa's lions are bred in captivity to be used for photo shoots with holidaymakers before being sold to trophy-hunters or slaughtered so that their skeletons can be ground down and turned into fake medicines sold across south-east Asia.
Investigators who have been inside lion-breeding farms say cubs are not orphans, but are taken from their mothers at just a few hours or days old to be used as photo props, earning big money for the owners.
Mother lions are forced into "continuous breeding", inseminated to become pregnant time and again.
The caged animals are often deprived of sufficient food, hygiene or the ability to behave as in nature, say campaigners from Humane Society International (HSI).
The cubs are never released into the wild, and could not survive if they were.
But unsuspecting tourists and volunteers often pay thousands of dollars to help hand-raise them, thinking they are helping conservation, unaware that they are supporting the cruel industry and further driving lions towards extinction.
"Once cubs are no longer cute and cuddly, they are used for lion-walking experiences. Once they are too dangerous for that, some are sold for canned hunts, in which they are shot by trophy-hunters in fenced areas from which they cannot escape," said a spokeswoman for the charity.
"Others are killed for the bone trade, either for display or for use in bogus medicinal tonics in Asia."
It is impossible to differentiate between body parts from wild and captive animals so the legal export of bones from farm-bred caged lions allows the illegal export of wild lion bones to continue, and allows the market to thrive.
A star of hit film The No 1 Ladies' Detective Agency is backing HSI's campaign urging visitors to shun lion attractions, branded "snuggle scams".
Actress Pearl Thusi condemned the "cruel and sad" exploitation of lions, listed as vulnerable by the International Union for the Conservation of Nature (IUCN).
Thusi, who played Patricia Kopong in the Botswana-based films, said: "Now that I know the truth behind the captive lion-breeding industry and the exploitation of these lions from birth to death, I am horrified that this is how we treat the king of the jungle.
"We should promote Africa as an authentic, wild and rewarding tourism destination and not support this industry."
South Africa has fewer than 3,000 lions in the wild - but up to 8,000 in captivity in 260 breeding farms.
Last year 16 million tourists visited South Africa, according to Statista.com, and numbers are forecast to grow, potentially fuelling a rise in popularity of lion farms and "canned" trophy-hunts.
Where not to visit if you love animals
Show all 9
Last month South Africa said it would nearly double its lion bone export quota from 800 to 1,500 skeletons.
HSI also says the trade in captive lion bones also endangers tigers because skeleton parts cannot be distinguished.
Join our commenting forum
Join thought-provoking conversations, follow other Independent readers and see their replies