Wetland paradise could become first natural World Heritage site in EU to be classed as 'in danger'
Conservationists warn the situation in the Doñana National Park in Spain – visited by millions of migratory birds every year – is 'already critical'
Ian Johnston
Environment Correspondent
Thursday 15 September 2016 00:02 Comments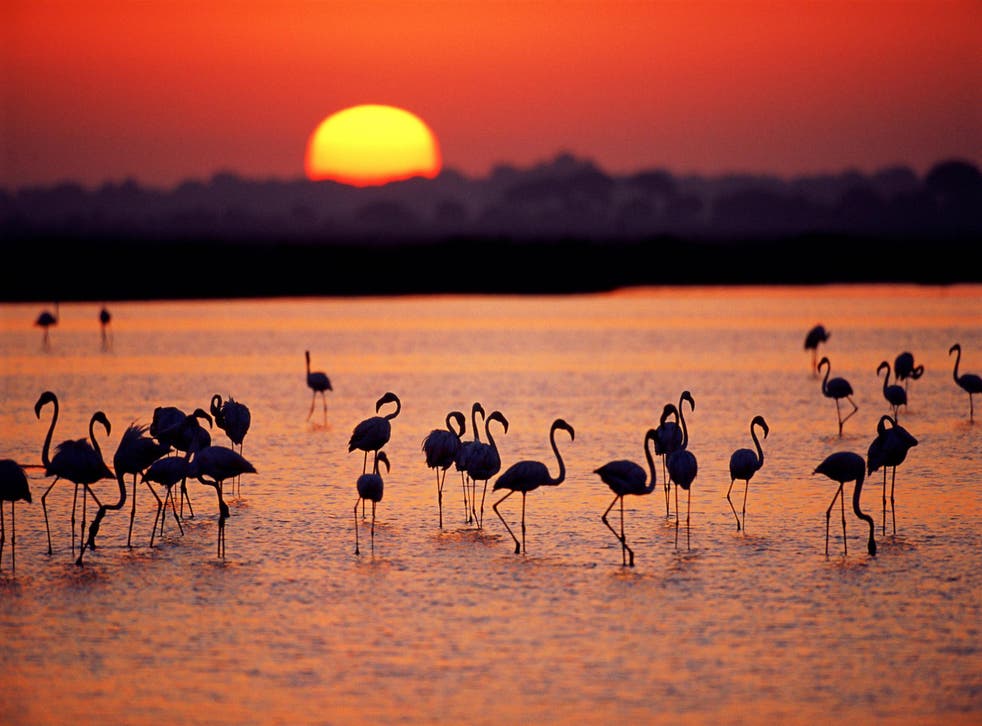 The Doñana National Park in Spain is a natural paradise – home to the world's rarest cat, the Iberian lynx, one of the world's largest colonies of Spanish imperial eagles, flocks of flamingos and thousands of other different species.
But the wetlands, on southern Spain's Atlantic coast, could become the first natural World Heritage Site in the European Union to be formally classified as "in danger" unless the Spanish government takes action to stop a major dredging project, according to conservation group WWF.
It claims that despite the park being protected by several international agreements, the wetlands are drying out at a dramatic rate and are also at serious risk from harmful industrial activities such as mining and gas storage facilities, and intensive agricultural techniques.
The area is visited by some six million migratory birds every year and is considered one of the most important stopover points on routes between Africa and the rest of Europe.
Madrid has insisted that Doñana's conservation status is "satisfactory", pointing to an increase in the total number of species since it was given World Heritage status in 1994.
But WWF-Spain CEO Juan Carlos del Olmo said: "Doñana is at a crossroads, either the Spanish government adheres to the international commitments it has made to safeguard this vital area that provides benefits to the entire world, or it allows it to be exploited to the point of no return.
"The situation is already critical and now we have the embarrassing prospect of an in-danger listing for our most famous World Heritage Site."
He pointed out that Doñana had lost more than 80 per cent of its natural marshes since the start of the 20th century.
"In recent years, illegal and unsustainable water use have severely impacted its natural value resulting in reduced biodiversity and dried out lagoons," Mr del Olmo said.
"Despite Doñana's significance and the fragile condition highlighted in the analysis, there is a proposal to dredge the Guadalquivir River.
"Dredging would worsen existing damage to the park and estuary, and would directly endanger the 4,000 species in Doñana, many of which are unique to the area."
A report produced for WWF, called Saving Doñana: From Danger to Prosperity, said that too much water was being extracted from the wetlands.
"The area now receives only 20 per cent of its natural water input," the document said.
"Doñana could be damaged further by dredging, mining and gas storage if the Spanish government proceeds with plans for such activities.
"To avoid the total loss of associated environmental, economic and social benefits, stakeholders must take imminent action to prevent the wetland from drying out completely."
The report called for planned dredging of the Guadalquivir River to be cancelled, and for some 1,000 illegal wells and 3,000 hectares of illegal farmland to be removed.
Last year, The World Heritage Committee, which oversees the sites, welcomed a Spanish Supreme Court ruling which cancelled a plan to dredge the Guadalquivir River.
But it also noted "with utmost concern" that there were proposals to reopen a mine at Aznalcóllar.
The committee also asked for a "detailed update" on reports that water was increasingly being used to irrigate rice paddies upstream on the national park, and gave Spain until 1 December this year to provide an assessment of the heritage site's conservation status.
The Spanish government, in its latest submission to the committee, said the park was in a "satisfactory" condition.
"In terms of fauna and bird life, Doñana is still an exceptional site. Not only has the reproduction been maintained of at least the same bird species that were mentioned in the act of inscription of Doñana as a World Heritage Site in 1994, but there currently exist more species than in that year," it said.
"In the last 12 years, on five occasions the census number exceeded half a million birds, established as a reference point in Doñana's World Heritage qualification, and on two occasions it exceeded a total of 600,000.
"Some aquatic species have shown spectacular trends of population growth and positive results in environmental conservation.
"Since 2002, the Iberian lynx population has maintained a positive trend, which is also true for territorial females, cubs and area occupied."
Habitats were described as being in an "overwhelmingly positive" state.
Animals in decline

Show all 8
A spokesman for global heritage body Unesco told The Independent that the World Heritage Committee would review the situation next year.
"The 'danger' listing is not a punishment," he said.
"It's something the World Heritage Committee decides for sites where the committee believes putting it on the danger list could be constructive for rallying support.
"It's really supposed to be just another tool to be used by the committee to encourage and improve conservation. Sometimes it is a way to raise support from donors."
Register for free to continue reading
Registration is a free and easy way to support our truly independent journalism
By registering, you will also enjoy limited access to Premium articles, exclusive newsletters, commenting, and virtual events with our leading journalists
Already have an account? sign in
Join our new commenting forum
Join thought-provoking conversations, follow other Independent readers and see their replies