Nearly 900,000 people call for Starbucks to deliver on decade-old recycling pledge as protesters gather at AGM
Protesters at coffee giant's annual meeting in Seattle to call for more sustainable packaging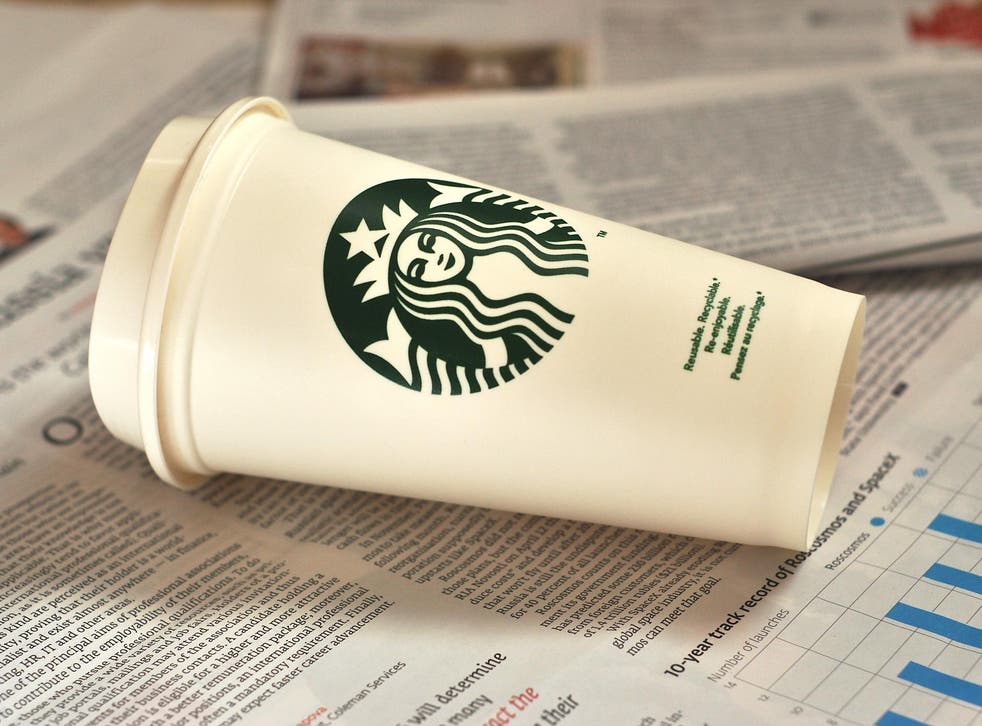 Nearly 900,000 people have backed a petition calling for Starbucks to honour a pledge made a decade ago and develop a recyclable coffee cup.
Bolstered by this mounting consumer pressure, campaigners gathered at the company's AGM in Seattle on Wednesday to protest and call for more environmentally friendly packaging from the coffee giant.
In addition, nearly 15,000 people have contacted Starbucks CEO Kevin Johnson directly urging him to deliver on the promise to make the company's disposable cups 100 per cent recyclable.
Starbucks made the pledge back in 2008, while also pledging to bring reusable cup usage to 25 per cent by 2015.
Latte levy: The plastic problem inside your coffee cup
As the company has not honoured either of these pledges, a coalition of leading environmental organisations from the Break Free From Plastic campaign is calling for action.
"We throw away 2.5 billion coffee cups each year in the UK, at great cost to the environment and the taxpayer," said Sondhya Gupta, a senior campaigner at SumOfUs, who are running the campaign jointly with US environmental organisation Stand.earth.
"Starbucks cups are pollution, and people have had enough of the broken promises."
Campaigners want to stop the company urging its shareholders to vote down a sustainability proposal by shareholder advocacy group As You Sow.
The proposal asks Starbucks to deal with plastic pollution by making its packaging more sustainable.
The campaign and accompanying petition have come at a time when plastic pollution, including disposable coffee cup waste, has become a major issue on both sides of the Atlantic.
Major businesses including Waitrose, McDonalds and Iceland have made public commitments to curb plastic waste, and MPs in the UK have called on the Government to take urgent action to tackle coffee cups in particular.
The Independent's own Cut the Cup Waste campaign found that the majority of the British public would back a "latte levy" – an additional charge added to coffee cups to discourage use.
"There's huge public demand for a less wasteful cup – Starbucks needs to make good on its pledge and stop profiting from plastic pollution," said Ms Gupta.
"Starbucks is now well behind the times – brands across the UK have responded to public sentiment and taken steps to cut their plastic waste.
"The Government should pass laws to make Starbucks phase out plastic cups."
What do people think of Starbucks charging 5p for coffee cups?
When approached by The Independent to comment on the campaign, a Starbucks spokesperson said: "Our waste provider can recycle our cups and actively recycle those we can collect in store.
"We offer a £1 reusable cup, a 25p discount on drinks when you bring your own cup and are trialling a 5p charge on paper cups, measuring behaviour change.
"We are also working across the industry with the Paper Cup Recycling and Recovery Group to find a solution to this issue."
Despite pressure from MPs, environmental organisations and the public, ministers in the UK recently rejected recommendations by the Environmental Audit Committee to introduce a 25p latte levy.
Instead they concluded it was better for shops to offer voluntary discounts to customers who bring their own cups.
Committee chair Mary Creagh said the response was "not good enough", and campaigners joined in condemnation of the Government's decision.
Tell us what you think by emailing lattelevy@independent.co.uk and we'll send you an Independent-branded reusable coffee cup
Join our new commenting forum
Join thought-provoking conversations, follow other Independent readers and see their replies