Stop taking 'tiger selfies' that fund animal abuse, charity says
Care for the Wild is campaigning against use of 'photo' prop animals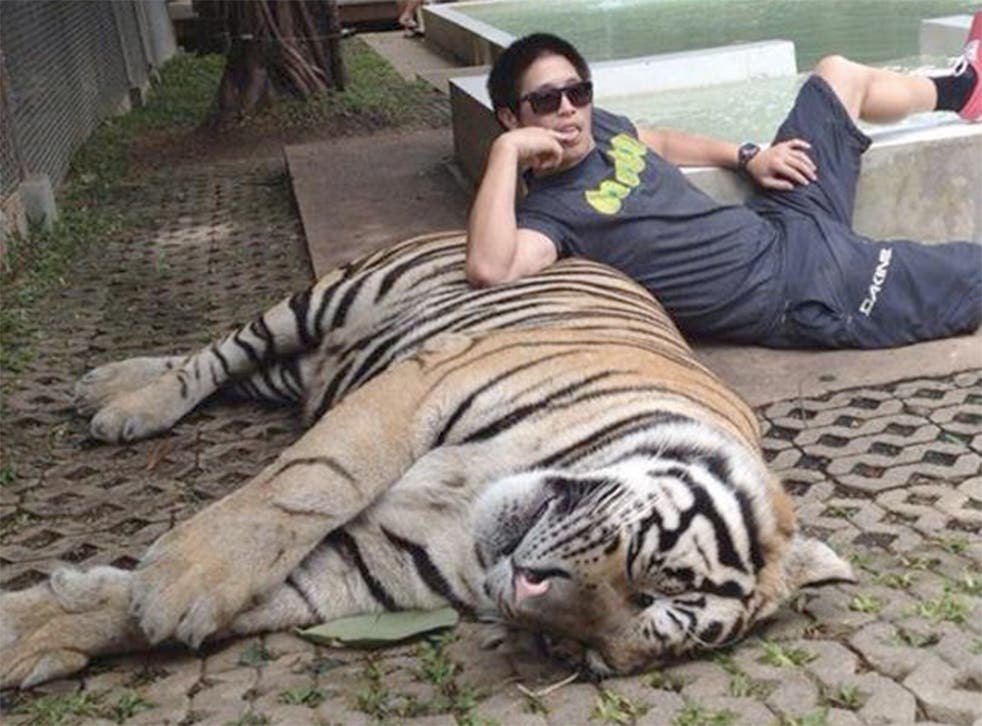 A wildlife charity is making a plea to tourists to stop taking "tiger selfies" and spreading them on social media, supporting animal abuse around the world.
Care for the Wild International started its "No photos, please!" campaign against the use of so-called photo prop animals last year.
Campaigners want to alert travellers to the sickening trade behind the pictures, which often sees animals kept in squalid conditions and funds illegal poaching and trafficking.
To mark International Tiger Day on Tuesday, it is focusing on animals kept at tourist attractions and "tiger temples" in Thailand.
Philip Mansbridge, chief executive of Care for the Wild, told The Independent: "The danger is really the damage that happens behind the scenes, particularly with animals from the wild.
"The back story is that people have gone into the wild, into the jungle, into the forests to snatch these animals."
While many tiger attractions and lion enclosures claim to be sanctuaries, the charity argues that any place intending to release animals into the wild would not allow them to be handled by the public.
But Instagram, Twitter and Facebook are strewn with pictures of people hugging tigers, lying on top of them and even holding cubs.
"Tiger selfies" have become so common on Tinder that an entire Tumblr has been devoted to men who post them on the dating app in the hope of upping their appeal.
Mr Mansbridge said that based on anecdotal evidence, pictures with tigers seem to be shared more among the "Facebook" generation.
"A picture of yourself doing something normal isn't good enough anymore," he said.
"People want something to say 'I'm interesting, I'm cool' and posing with a powerful animal like a tiger does that."
The World Wildlife Fund (WWF) said a 2010 commitment from countries with wild tigers to double their numbers by 2022 looks far from being reached.
The number then was believed to be 3,200 but the figure was just an estimate due to gaps in national surveys.
Statistics from Traffic, which monitors the wildlife trade, show that a minimum of 1,590 have been poached since 2,000 – averaging two a week – and the number could be higher.
In Pictures: Save the Tiger

Show all 9
The phenomenon of "photo prop" animals, including elephants, snakes, bears and lizards, is common in parts of Asia, Africa and South America.
Some handlers charge for photos, while others use them for begging or sell food to feed the animals.
"People sometimes think they're doing the animal a favour," Mr Mansbridge said.
"Because they think at least if they give the person some money it will be fed or treated better but that's not the case – often they are linked to all sorts of other crimes."
Lion and tiger cubs can be found in Cancun, Mexico, while slow lorises are the latest trend in Thailand.
When Rihanna posted a picture with one online last year, it sparked police raids in Phuket and the arrest of two suspected poachers.
Police said a 16-year-old boy and man aged 20 had illegally bought two protected lorises to charge tourists money for photos.
According to Care for the Wild, it is estimated that for every wild animal caught and sold for the photo prop or pet trade, 50 die in the process.
Teeth and claws are often ripped out to prevent the animals attacking their captors and they can be sedated with drugs.
A spokesman for the charity said: "Don't be fooled into thinking that one quick photo won't hurt – it will. Each and every photo taken is keeping the industry alive."
Abta is among the travel associations urging agents to assess attractions' compliance with animal welfare laws and sustainable tourism before offering them to customers.
Join our new commenting forum
Join thought-provoking conversations, follow other Independent readers and see their replies