'Stubborn' elephant seal weighing 1,000lbs crosses California highway and causes chaos
The seal is pregnant and lost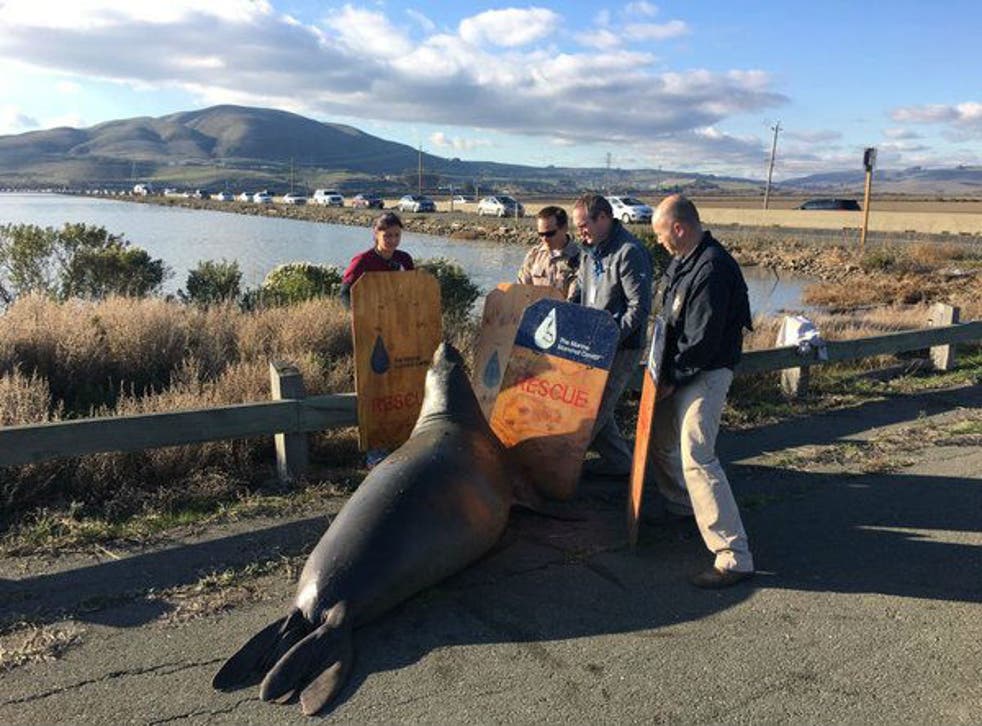 There are many, legitimate questions that can be asked about why the seal wanted to cross the road.
But for now it is enough to know that its actions have caused no small amount of problems.
On Monday, officials in northern California reported there were traffic jams one mile in each direction after the large, tenacious elephant seal tried to cross the Highway 37 in Sonoma County.
Wildlife officers and members of the public sought to assist the seal and persuade it to return to the water. The seal, however, had other ideas.
On Tuesday, it was reported that the seal, an adult female and weighing up to 1,000 pounds, was still trying to cross the road and was still causing problems.
"What we've seen is she's obviously still trying to get out of the water," California Highway Patrol officer Andrew Barclay told KGO.
"She's very adamant she's going to cross this stretch of roadway."
"Our determined elephant seal from yesterday is still determined," Marine Mammal Centre the at Sausalito said on Twitter.
Workers from the centre used kayak and bullhorns to yell at the seal in an attempt to scare it back into open water. That too failed, and in the evening the centre said they had sedated the animal and had loaded it into a vehicle for relocation. They said they had confirmed the seal was pregnant.
The centre added: "The seal will be transported to Chimney Rock at Point Reyes National Seashore for release. The location is an established colony for elephant seals."
Join our new commenting forum
Join thought-provoking conversations, follow other Independent readers and see their replies