Critically endangered Sumatran orangutan found alive after being shot 24 times
Just a few thousand individuals remain in northern Sumatra, as palm oil plantations have decimated habitat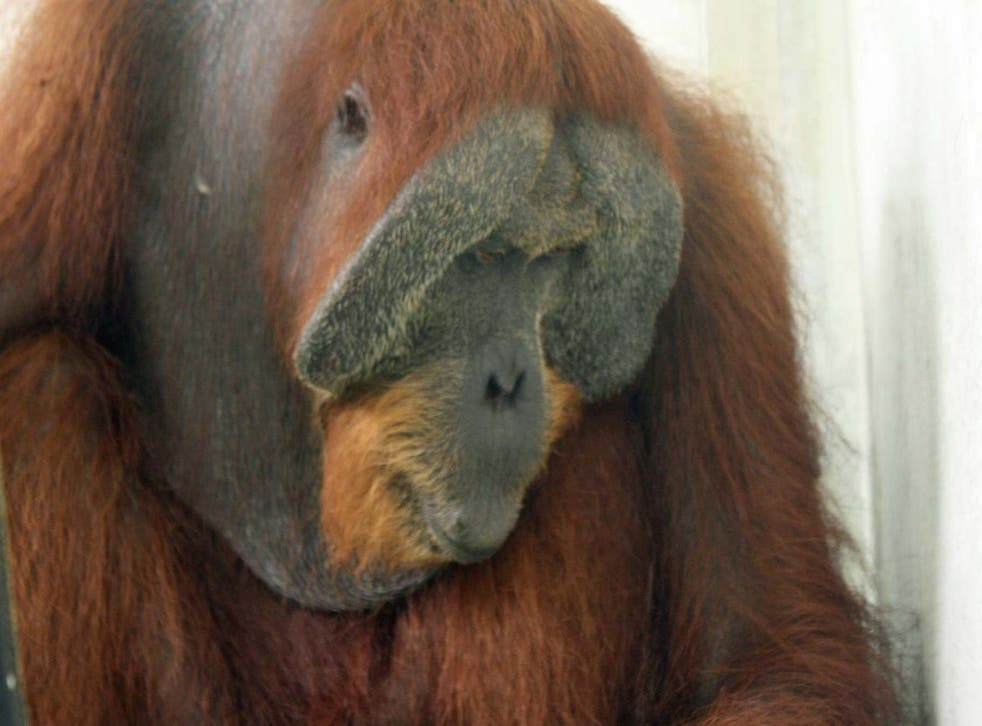 A Sumatran orangutan has been found severely injured with 24 air-rifle pellets in its body, including 16 in its head, on the Indonesian island of Sumatra.
The species is critically endangered as rainforests are rapidly being destroyed to make way for palm oil plantations.
The large male is being treated for its wounds, which have left him blinded, but vets are optimistic the animal could survive.
The 25-year-old ape, who has been named Paguh, was found on Thursday in Gampong Teungoh Village, Trumon, South Aceh, in Sumatra's north west.
There were 16 pellets in his head, four in the hands and feet, three in its hip, and one in the belly, according to Indonesian magazine Tempo.
Wildlife Photographer of the Year 2019: The Winners

Show all 15
The vet at the Sumatran Orangutan Conservation Programme, Meuthya Sr, told the magazine: "We'll be giving Paguh intensified treatment until he gets better.
"At first we hoped that Paguh's eyes were not completely damaged or that at least one eye was still functioning, but unfortunately, we found that Paguh was blind in both eyes," she said, according to The Jakarta Post.
The Natural Resources Conservation Agency said the animal was found by staff working for the agency who were conducting a patrol.
"The officer, during the patrol, found a wounded orangutan and immediately coordinated with the Orangutan Information Centre for a check," the organisation said.
It is not the first incident of its kind. In March, a female orangutan named Hope was found with 74 air rifle pellets in her body.
In the past 10 years, wildlife agencies have treated around 20 orangutans shot with air rifles, several of which have died from their injuries.
Just a few thousand individual Sumatran orangutans survive in fragmented pockets in the north of the island, due to the wholesale razing of rainforests for agricultural land to satisfy insatiable demand for palm oil.
As humans have encroached further and further into what was once rainforest, incidences of conflict with orangutans, which can grow to be 5.6 feet tall and weigh up to 90kg (14 stone), have become increasingly common, while poaching also threatens the remaining populations.
Palm oil is found in around half of products on supermarket shelves, including cosmetics, toiletries and food.
It is significantly cheaper than other oils, but the environmental cost is monstrous.
Across Indonesia and Malaysia, Orangutans have lost 80 per cent of their habitat in just 20 years, with illegal logging and vast forest fires clearing millions of hectares of rainforest.
A Greenpeace report published this month linked major international companies including Nestlé, Unilever and Mondelez to thousands of fires across Indonesia since 2015.
These firms use palm oil in products including Kit Kats, Cadbury's chocolates and Dove shampoo.
Many brands have sought to reassure consumers about the impact the palm oil they are using has on the environment, by stating the product they are using is "sustainable". But campaigners have warned such labelling is "meaningless".
When the report was published, Richard George, head of forests at Greenpeace UK said: "Consumers are being conned by 'certified sustainable palm oil', a phrase that's bandied about by supermarkets and big brands attempting to distance themselves from deforestation.
"But the phrase is utterly meaningless because the body responsible for certifying palm oil is made up of some of the most destructive growers and producers in Indonesia. This is a henhouse insurance scheme run by foxes."
In Indonesia, anyone caught attacking an orangutan can be imprisoned for up to five years and fined up to 100m rupiah (£5,500).
Join our new commenting forum
Join thought-provoking conversations, follow other Independent readers and see their replies