Summer, the perfect time for snow-spotting...
As summer arrives and most of us are seeking out a place in the sun, dedicated snow-spotters begin looking for their kind of treasure: the patches that never melt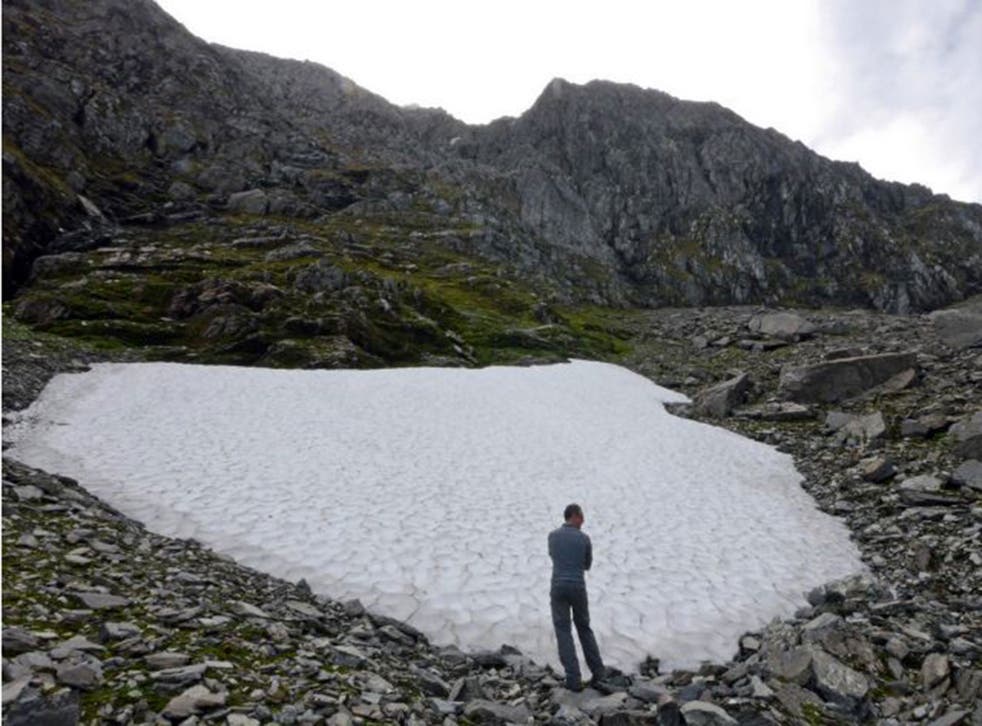 For people whose feeling for snow borders on the obsessive, this is an exciting yet poignant time of year. In those elevated places where it still clings to rock and grass, snow is melting fast. England can expect to lose its last patches of white this week or next. Welsh reserves might last a little longer. But it is in Scotland where things get interesting.
Iain Cameron is fascinated by long-lying snow and leads a growing community of obsessives dedicated to celebrating and recording the vestiges of winter. Some snow patches routinely survive through the summer, only to be buried under fresh falls the following winter. The best known among them have evocative names such as "the laird's tablecloth".
Cameron is particularly excited about snow patches this year. A mild winter deprived most of Britain of any snow at all, but the rain storms that swept in from the Atlantic deposited vast quantities of it at high altitudes.
"The last time I saw snow in the hills to this extent was 1994," says Cameron, who is 40. "Some of the depths we're talking about are mind-boggling. We're getting on for a once-in-a-generation event."
As the rest of us shorten our sleeves, Cameron and his crew are preparing to head out with tape measures and notepads to record snow as it melts. Patches range from vanishing spots to large, sugary drifts. "You get to know what they look like at certain times of year," he says. "When you go back to check on them, it's like seeing an old friend." He likens their anthropomorphic appeal to that of the sorry, receding stumps of snowmen in parks: "I admire the tenacity of these things to hold on where all around has vanished."
Wind is the snow-spotter's greatest ally. It blows falling and fallen snow over ridges, where it swirls and then settles wherever it finds shelter – in hollows or at the feet of cliffs.
On north-eastern aspects, it escapes the sun's rays, diminishing but, in some cases, ultimately surviving even as temperatures climb well above freezing. In some spots on Ben Nevis, snow will have collected during winter to depths of 75ft.
The data that Cameron helps to collect has become useful to those monitoring climate trends. He works in construction, but is also now the lead author of an annual paper about snow patches published by the Royal Meteorological Society. In the past two centuries or more, he says there have been only five summers during which no snow has survived in Britain. The most recent of these were in 2003 and 2006. "But we've seen a reversal of that trend since then," he says. "The climate is doing funny things."
Last summer, Cameron recorded six patches that survived summer: one on Ben Nevis; one at nearby Aonach Beag; and four on Braeriach, Britain's third highest mountain and site of the best long-lying snow. Such longevity is unheard of on open ground in England. In an extremely rare case, in October 2010, a mountaineer in the Peak District reported finding snow buried inside a cave called Eldon Hole.
Cameron, who lives in Stirling, developed what he admits is a niche interest as a young child, when his family moved to Port Glasgow, which has views across the River Clyde to Ben Lomond.
"It used to hold patches of snow longer than anywhere else," he recalls. "I looked at them and would ask my parents why they were still there, but they couldn't tell me."
He assumed that he was alone in his pursuit, but later came across the work of Adam Watson, a renowned Scottish scientist and mountaineer known as "Mr Cairngorms" for his deep love of the range. It turned out that Watson, who is now 84, had developed the same fascination when he was a curious nine-year-old.
"I couldn't understand why these enormous drops of cream on the hillside could survive," he says, from his home in Aberdeenshire, echoing Cameron's own childhood discovery.
Cameron wrote to Watson and they now work together as good friends. The older man passes on his expertise to his protégé, who is using the internet to engage a new generation of like-minded souls.
Walkers and climbers log their own observations online (see winterhighland.info) while photos of patches are shared on Twitter. "He's got people interested who hadn't been interested before," Watson says, proudly.
The older snow-spotter's hill-walking days are sadly now behind him, but to explain his passion, Watson recalls an annual pilgrimage to a vantage point in the Cairngorms from which he could observe a favourite snow patch two miles away. "It would frequently be out of sight in the mist, but one second was all I needed to know it was still there and how big it was," he says. "I remember one year waiting for hours and feeling cold as the mist rose and fell. And then I saw it – and I felt triumphant."
Register for free to continue reading
Registration is a free and easy way to support our truly independent journalism
By registering, you will also enjoy limited access to Premium articles, exclusive newsletters, commenting, and virtual events with our leading journalists
Already have an account? sign in
Register for free to continue reading
Registration is a free and easy way to support our truly independent journalism
By registering, you will also enjoy limited access to Premium articles, exclusive newsletters, commenting, and virtual events with our leading journalists
Already have an account? sign in
Join our new commenting forum
Join thought-provoking conversations, follow other Independent readers and see their replies