Sunlight can degrade polystyrene in just decades, rather than thousands of years, study finds
'We're not saying plastic pollution isn't bad, just that persistence of polystyrene in the environment may be shorter'
Phoebe Weston
Science Correspondent
Thursday 10 October 2019 14:50 Comments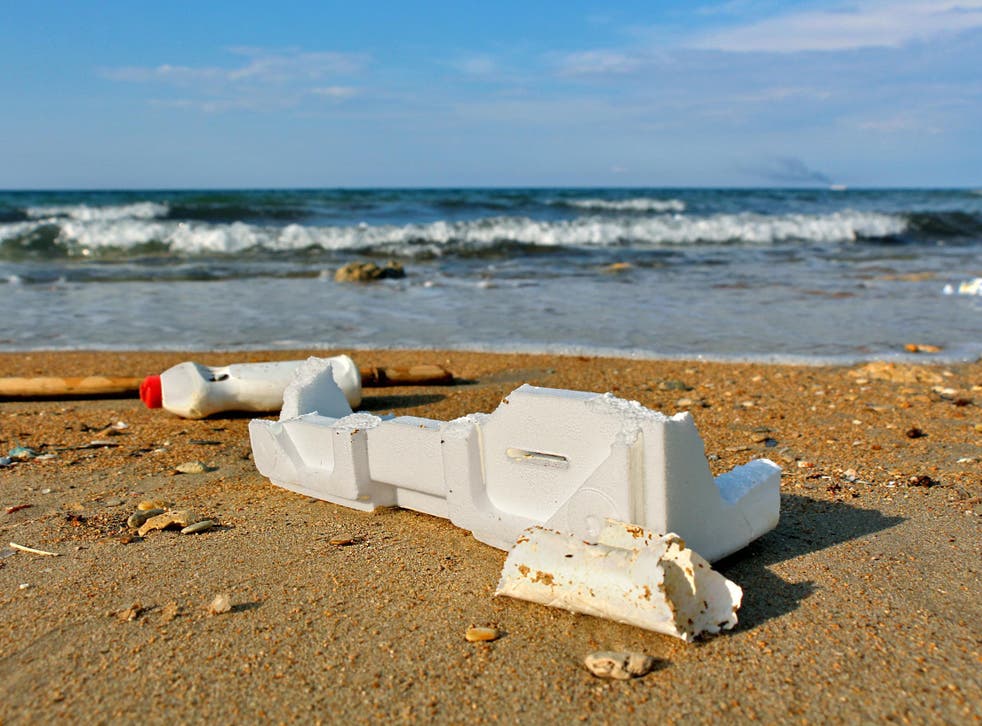 Polystyrene degrades much faster than previously thought – breaking down in decades or centuries when exposed to sunlight, a study has found.
Scientists had believed that the polluting material, widely used for food packaging due to its lightness and low cost, would last for thousands of years in the natural environment.
However, researchers using simulated sunlight have now shown that polystyrene could chemically degrade into carbon and carbon dioxide much faster.
"We're not saying that plastic pollution isn't bad, just that the persistence of polystyrene in the environment may be shorter and likely more complicated than we previously understood," said lead researcher Dr Collin Ward, a marine chemist at Woods Hole Oceanographic Institution (WHOI).
"Policymakers generally assume that polystyrene lasts for ever in the environment. That's part of the justification for writing policy that bans it.
Sea creatures seen tangled in plastic

Show all 8
"One of our motivations for this study was to understand if polystyrene actually does last for ever."
The crumbly material often breaks down into damaging microplastics that easily enter waterways, where they are consumed by marine creatures.
Previous estimates of degradation time focused on the role of microbes without looking at the effects of sunlight. But this latest research shows polystyrene is the perfect shape and size to catch certain frequencies of sunlight.
Sunlight doesn't cause the plastic to just physically break down, it also causes it to degrade chemically into dissolved organic carbon and traces of carbon dioxide, according to the paper published in the journal Environmental Science and Technology Letters.
Scientists placed five commercially available polystyrene samples in water and exposed them to simulated sunlight three times brighter than that at the equator.
The study found all the samples partially oxidised into dissolved organic carbon. This means its original form disappears from the environment and turns into by-products that are invisible to the naked eye.
"We used multiple methods to do this, and they all pointed to the same outcome: sunlight can transform the polystyrene into carbon dioxide," said Dr Ward. "But we need more research to understand what happens to the other products that dissolve into water."
Scientists believe for latitudes 0° to 50° N (from the equator to the southern border of Canada), this process would take decades. For complete oxidation to carbon dioxide, it would take centuries, they say.
Additives that determine polystyrene's colour, flexibility, and other physical features change the speed of degradation.
Earlier this year, the president of Costa Rica announced a total ban on polystyrene due to its environmental impact. This will come into effect in 2021.
Carlos Alvarado Quesada said it was necessary to make a change "in our minds, but also in our actions" to protect nature and human health.
Register for free to continue reading
Registration is a free and easy way to support our truly independent journalism
By registering, you will also enjoy limited access to Premium articles, exclusive newsletters, commenting, and virtual events with our leading journalists
Already have an account? sign in
Join our new commenting forum
Join thought-provoking conversations, follow other Independent readers and see their replies