UK supermarkets sold 900,000 tonnes of plastic packaging in 2019
Existing efforts to fight enormous wave of waste are 'drop in the ocean', campaigners say
Harry Cockburn
Tuesday 26 January 2021 10:46 Comments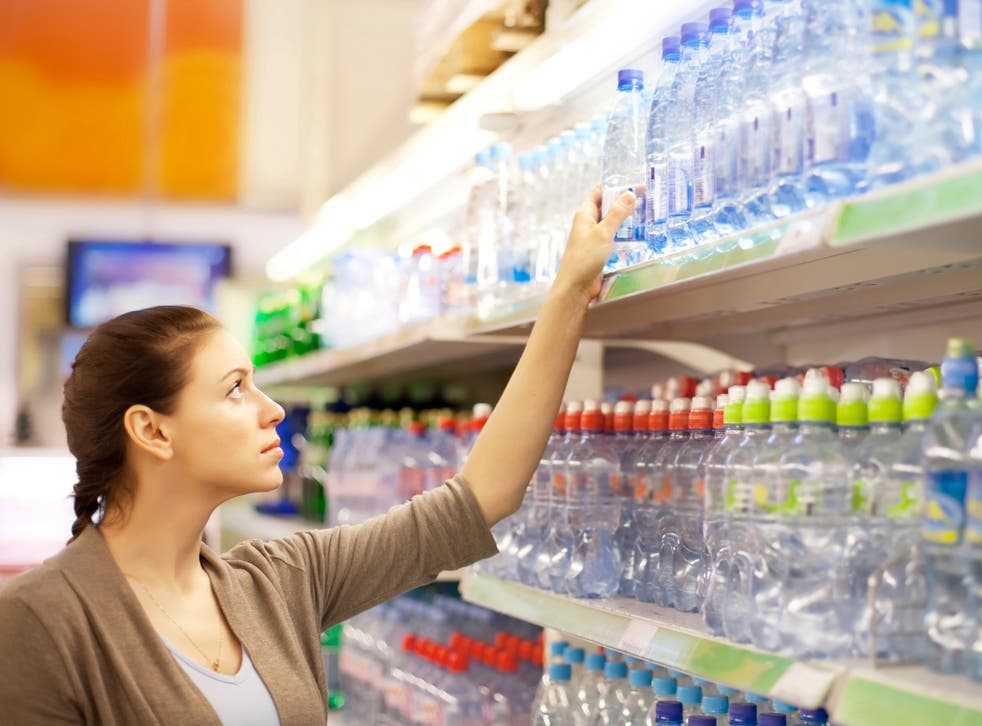 The UK's 10 leading supermarket chains collectively sold 900,000 tonnes of plastic packaging in 2019, a figure which has gone up by 1.2 per cent since 2017, despite having plastic reduction targets in place.
The third annual plastics survey conducted by the London-based Environmental Investigation Agency (EIA) and Greenpeace UK described the supermarket chains as "treading water" in the fight against mounting plastic pollution.
The total weight of plastics sold in 2019 was equivalent to 90 Eiffel Towers, the report said.
The survey also ranked the top 10 supermarkets on the efforts they were making to reduce plastic pollution.
Waitrose was at the top, for the second consecutive year, with the best reduction efforts in place, and Iceland came in last in 10th place.
Of the five largest UK supermarkets by market share, Aldi ranked first, followed by Sainsbury's, Tesco, Asda and Morrisons.
According to the International Union for Conservation of Nature, more than 300 million tonnes of plastic are produced every year, and at least 8 million tonnes end up in the oceans.
Christina Dixon, of EIA, said: "In our third year of looking at plastic packaging in UK supermarkets, we had hoped to see a much sharper downwards trajectory as strategies and targets bear fruit.
"Instead, we are looking at a relatively static picture which represents a drop in the ocean of tackling plastic pollution. The sector urgently needs to pick up the pace of plastic reduction."
The survey also revealed the ban on free plastic bags still meant significant amounts of heavy duty plastic bags were being sold by supermarkets. More than 1.5 billion plastic "bags for life" were issued in 2019, a 4.5 per cent increase over 2018.
This represents almost 57 bags per UK household during the year.
But the number of single-use plastic carrier bags issued fell by 33 per cent and several supermarkets have stopped selling them entirely.
Water bottles are a considerable problem, the research found, with 2.5 billion plastic water bottles sold or given away in UK supermarkets in 2019.
Ms Dixon said: "Supermarket targets and reduction efforts are primarily focused on own-brand plastic packaging, which makes sense as they have more direct control over the supply chain.
"However, this means that the amount of packaging used for popular branded goods is not reducing and we'd like to see supermarkets increasingly taking the fight to the big manufacturers and compelling them in turn to drive down their own plastic footprints.
"This can be achieved through sourcing policies that reflect packaging reduction requirements and the phasing out of problematic plastics, working with brands to test alternatives and, ultimately, pledges to de-list suppliers which will not comply."
A key recommendation of the report was for supermarkets to come up with plans for increasing reusable and refillable packaging and delivery systems, both in-store and online, as a way to reduce unnecessary plastic packaging.
UK news in pictures

Show all 50
Nina Schrank, senior plastics campaigner at Greenpeace UK, said: "Supermarkets have assured their customers that they share their concerns on plastic waste, but we need to see far more ambition than this from the sector if we're going to even start to turn the tide on plastic pollution.
"All supermarkets should follow Sainsbury's, and now Aldi, in committing to reduce plastic packaging by 50 per cent by 2025, at the very least.
"How these commitments are met is also crucial. Half of that reduction should come from reuse and refill systems, so we can ensure that packaging stays in those systems and out of the environment."
The report warned that the growth in online shopping due to the coronavirus pandemic should be seen as a major opportunity to ramp up reuse systems, such as doorstep deliveries of reusable containers which can be picked up, washed and refilled before being sent out again – an innovation put into practice by Tesco and its partnership with Loop.
The report's authors urged the government to introduce legally binding targets as well as compulsory reporting of companies' plastic use, in order to reduce the use of single-use plastic overall and incentivise retailers to introduce reuse and refill systems.
Meanwhile, businesses, MPs, faith leaders, academics and campaigning organisations are also calling on Boris Johnson to introduce legally binding targets to stem the growing tide of plastic pollution.
An amendment set to be debated for inclusion in the Environment Bill is calling for legally binding plastics reduction targets to be included.
In a letter to the prime minister, the group says that while government initiatives – such as the ban on plastic straws, stirrers and cotton buds – have had positive impacts, a more overarching approach is needed to deal with the problem.
Friends of the Earth plastic campaigner Camilla Zerr said: "Despite the introduction of a few welcome measures, the government must go much further to stem the rising tide of plastic pollution pouring into our environment.
"Boris Johnson has a golden opportunity to get to grips with the crisis by ensuring that the Environment Bill contains legally binding targets for reducing the amount of plastic waste polluting our planet every year
"The government has promised to be a world leader on the environment and set a gold standard for cutting down on plastic waste. Now it's time to deliver."
Richard Walker, managing director of Iceland, said: "In order to tackle the sheer scale of plastic making its way into the environment we need to see businesses and policy makers working together. That's why we are calling on the government to set ambitious and overarching legally binding plastic pollution reduction targets to drive forward ambition and create a level playing field for all businesses."
Iceland disputed the findings of the EIA/Greenpeace UK report, and noted it has made significant efforts to eliminate plastics in all its own-brand products.
A Defra spokesperson told The Independent: "The UK is a global leader in tackling plastic pollution. We have taken action to ban microbeads in rinse-off personal care products, we have banned the supply of plastic straws, stirrers and cotton buds, and our charge on plastic bags has already cut sales by 95 per cent in the main supermarkets. This charge will be increased, and extended to all retailers from April.
"We are going to go further though, and our landmark Environment Bill will give us a raft of new powers to create deposit return schemes for drinks containers, to encourage more recyclable packaging through extended producer responsibility, to ban the export of plastic waste to non-OECD countries, and to make it easier for ministers to place charges on other single-use plastic items."
Register for free to continue reading
Registration is a free and easy way to support our truly independent journalism
By registering, you will also enjoy limited access to Premium articles, exclusive newsletters, commenting, and virtual events with our leading journalists
Already have an account? sign in
Join our new commenting forum
Join thought-provoking conversations, follow other Independent readers and see their replies