Surge of supertrawlers off UK before Brexit killing dolphins and destroying fish stocks, say ocean activists
Ten industrial-scale fishing vessels home in on Channel – and may still legally go in Marine Protected Areas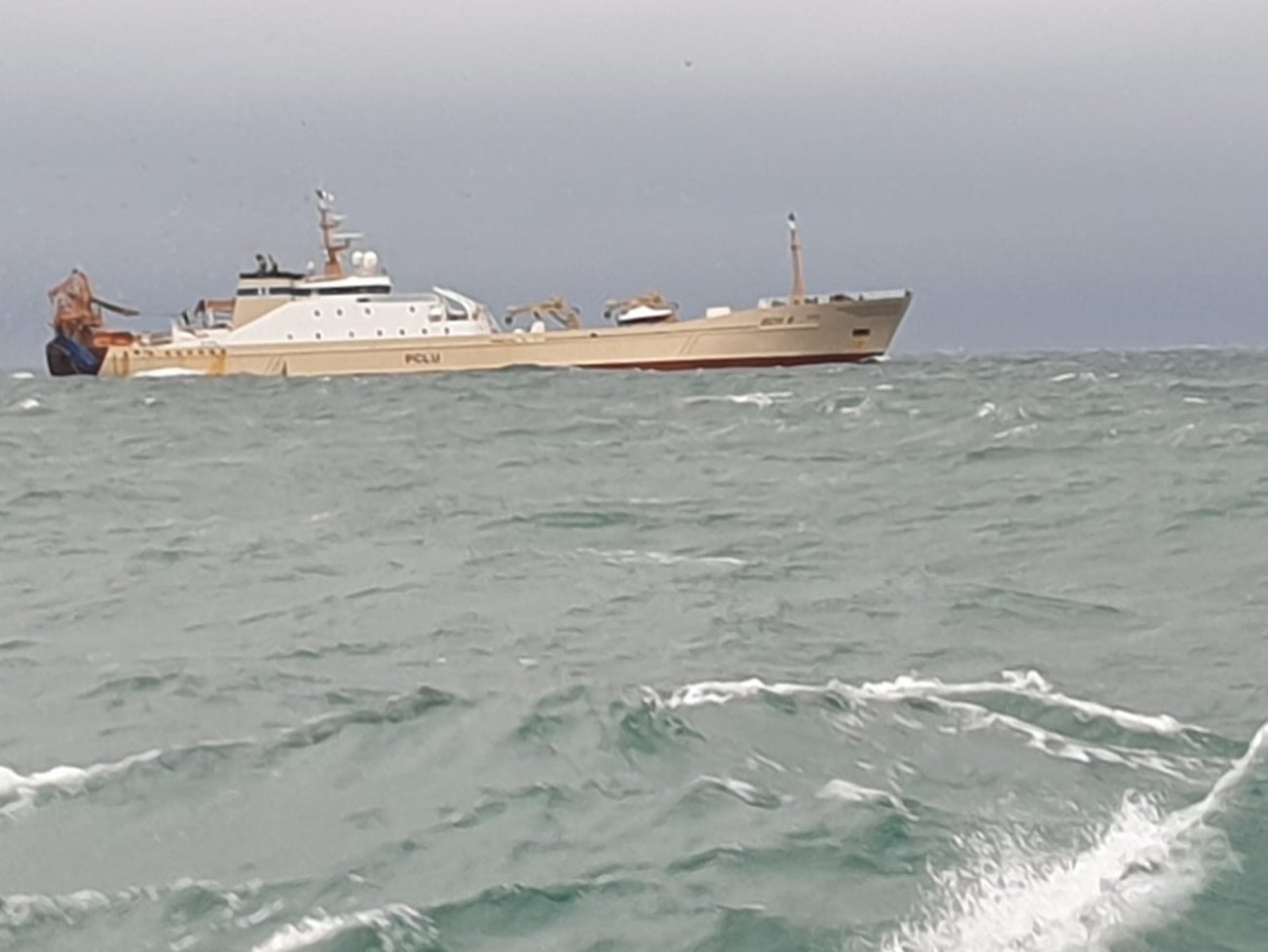 A sudden influx of supertrawlers off the English coast is killing dolphins and causing an unprecedented level of unsustainable fishing, say marine campaigners.
Ten factory ships have arrived in the English Channel in the past three weeks – a sharp increase that some suspect could be driven by Brexit.
Activists who have documented dolphins and porpoises washed up on beaches say deaths invariably rise when the giant fishing vessels appear.  
Of 18 cetaceans found dead in Sussex since September last year, 15 were recorded when supertrawlers were in the area. The mammals chase the same species of small fish as the supertrawlers catch so are drawn to their nets.
The fleet, mostly Dutch, started arriving last month, and their numbers gradually swelled to reach 10 on Friday. Two have been there for nearly three weeks – longer than supertrawlers usually stay.
Supertrawlers are industrial vessels more than 100-metres long with nets measuring up to a mile, which catch hundreds of tonnes of fish a day. Their bycatch includes dolphins, porpoises and seals.
Marine wildlife monitors say the vessels are destroying fish stocks, killing non-target species, harming sustainable fishing communities and destroying marine ecosystems.
Will McCallum, Greenpeace head of oceans, told The Independent it was possible that the industrial fleets were making a show of their historic fishing rights close to UK waters before Brexit.  
Some were legally going in Marine Protected Areas, he said. "What the government calls protected areas are protected in name only.
"Come 1 January, the government gets new powers in areas beyond 12 miles to ban supertrawlers from MPAs so we're calling on them to do that but so far they've only conceded five will be shut to supertrawlers."
On Friday, volunteers with the Brighton Dolphin Project found a porpoise washed up with its tail having been cut off.  
Animals such as porpoises that drown in the giant nets are cut out of them when hauled in so that they do not damage the nets. They are then thrown overboard.
Thea Taylor said: "Between them, these supertrawlers have not only caught masses of their target fish species but tonnes of fish and marine life that they do not want, including marine mammals. These are usually ground down for animal feed or thrown back dead as bycatch.  
"We see a surge in dead dolphins on Sussex beaches when supertrawlers are here or during the weeks after.  
"Although the UK government already recognises cetacean species to be protected by law, bycatch caused by factory trawlers continues."
Four dead dolphins that washed up in Devon last weekend had cut marks to their fins and beaks, thought to have been caused when the bodies were removed from nets.
Fishermen in Dorset have also blamed supertrawlers for "wiping out" fish stocks and killing dolphins, the Dorset Echo reported.
Lloyd Gofton, another Brighton volunteer, said 5,000 dolphin deaths had been recorded in the UK over seven years, up 15 per cent on the previous seven years – but the real death figure was significantly higher because only one in 10 bodies washes up, although not all are caused by factory fleets.
Supertrawlers not only increased the deaths of dolphins, seals and porpoises, but also reduced stocks of their prey fish, he warned.  
He said it was possible the vessels' appearance was linked to Brexit.
Shadow environment secretary Luke Pollard told The Independent: "We shouldn't have any supertrawlers in British waters at all. The government voted against a Labour amendment to ban them from protected areas, even though they're hugely environmentally damaging.
"They land all their catches abroad so there's not UK PLC interest in them so why is the government protecting them?"
A spokesman for the Department for Environment, Food and Rural Affairs said: "From 1 January 2021, we will be an independent coastal state and will be able to decide which vessels, including supertrawlers, can access and fish our waters.
"The new licensing framework within the Fisheries Act will allow us to apply conditions to the activities of all fishing vessels in our waters, regardless of their nationality, and will need to abide by UK rules around sustainability and access to our 'Blue Belt' of protected waters."
Join our commenting forum
Join thought-provoking conversations, follow other Independent readers and see their replies