Climate crisis: 'Ban ads for polluting SUVs' campaign urges, highlighting damaging trend for ever larger vehicles
'Promoting the biggest, worst-emitting SUVs is like upselling pollution, and we need to stop,' thinktank says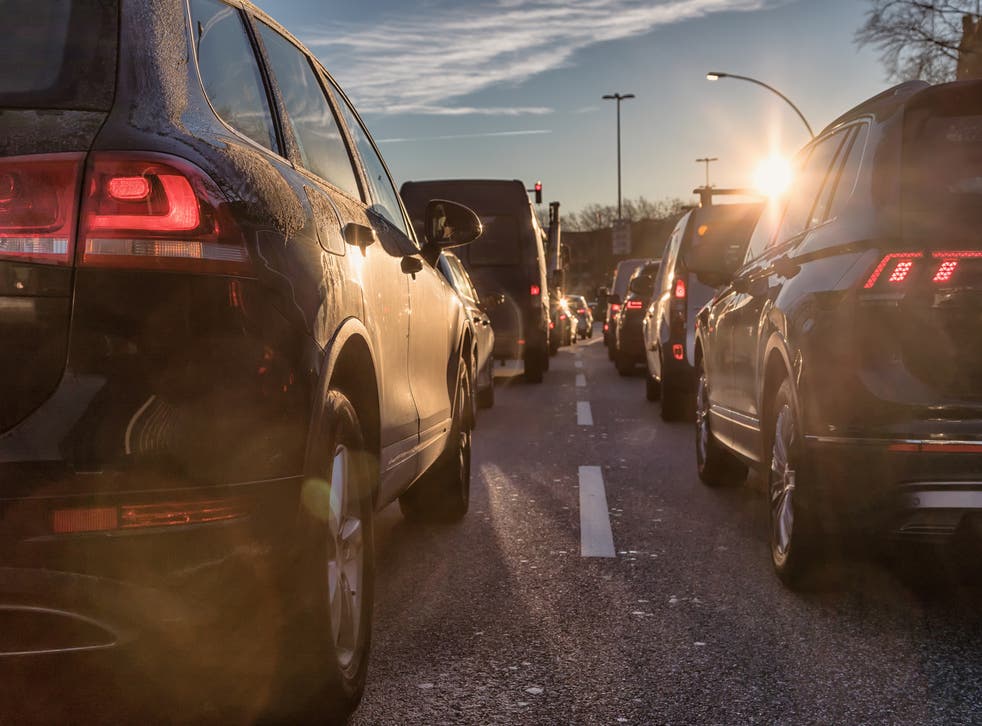 Advertising the most polluting cars on the roads – predominantly large Sports Utility Vehicles (SUVs) – should be immediately banned, according to a new campaign highlighting the growing damage done by the trend for ever larger private vehicles on British roads.
The rapidly increasing sales of bigger and more polluting SUVs around the world is jeopardising climate goals, a report by thinktank The New Weather Institute and climate charity Possible claims.
The authors say car brands appear to be "disproportionately promoting larger, more polluting SUVs due to higher profit margins on these vehicles".
SUVs now make up more than four in 10 new cars sold in the UK – while fully electric vehicles account for fewer than two in 100.
Furthermore, over 150,000 new cars sold in the UK last year are too big to fit in a standard parking space, the research found.
The analysis by the organisations was based on recently released European Environment Agency figures on the size and CO2 emissions of new cars.
The study revealed the average emissions of a new car sold in the UK increased again in 2019 for the fourth year in a row – with rising sales of SUVs primarily to blame.
Andrew Simms, co-director of the New Weather Institute, said: "We ended tobacco advertising when we understood the threat from smoking to public health. Now that we know the human health and climate damage done by car pollution, it's time to stop adverts making the problem worse.
"In a pandemic-prone world people need clean air and more space on town and city streets."
The report's authors note that the launch of their campaign comes as local authorities have implemented emergency efforts to create wider pavements and new pop-up cycle lanes to allow commuters to safely social distance whilst cycling and walking during the pandemic.
The researchers argue the promotion of over-sized vehicles in crowded towns and cities is undermining efforts to reallocate public space away from cars for pedestrians, as well as conflicting with widespread climate emergency declarations by local authorities.
The report draws parallels with the ban on tobacco advertising and promotion in the UK, which was written into law in 2002 in recognition of the serious harm cigarettes cause to public health.
The campaign calls on the secretary of state for Culture, Media and Sport, Oliver Dowden, to introduce new legislation to outlaw advertising for the 'dirtiest third' of new cars sold in the UK, as well as advertising for any cars which are too large for a standard UK parking space.
"There are adverts, and then there are 'badverts', said Mr Simms.
"Promoting the biggest, worst-emitting SUVs is like upselling pollution, and we need to stop. In a climate emergency when we need to make the places where we live more people friendly, SUVs are in the way of progress."
Robbie Gillett, campaigner at Possible, said: "Whilst millions of us are trying to reduce our carbon footprints to tackle the climate crisis, we have a multi-billion pound car and advertising industry aggressively marketing highly polluting vehicles – many of which are literally too big for UK streets.
"Their misleading ads promise us freedom and escape – but the reality of urban road conditions is grinding traffic jams, toxic air pollution and spiralling carbon emissions from road transport that will trash our climate goals. Let's create space to breathe and space to think – free from the advertising pressures of big polluters."
But Mike Hawes, chief executive of the Society for Motor Manufacturers and Traders (SMMT), said singling out SUVs ignored the advances in efficiency made by vehicle manufacturers.
He said: "SUVs are an increasingly popular choice, available in a range of sizes, and valued for their style, practicality, higher ride and commanding view of the road. To single out a particular body type is to ignore the huge advances in emissions and powertrain technology made with every new model.
"Ongoing investment means today's vehicles of all types are the cleanest in history, with average CO2 emissions from dual purpose cars being more than 43% lower than they were 20 years ago. Their body type is also well suited for alternative fuel usage, making up more than a quarter of the 80 different zero emission-capable models available to UK buyers."
Despite the organisations calling on the Department for Digital, Culture, Media and Sport to respond to the call for an advertising ban, enquiries by The Independent were responded to by the Department for Transport.
A spokesperson for the DfT said: "We are developing an ambitious transport decarbonisation plan in order to reach our goal of net zero by 2050.
"We have also provided consumers with widely-advertised incentives and information to help inform their choices when buying a vehicle and make an environmentally-friendly decision."
Register for free to continue reading
Registration is a free and easy way to support our truly independent journalism
By registering, you will also enjoy limited access to Premium articles, exclusive newsletters, commenting, and virtual events with our leading journalists
Already have an account? sign in
Register for free to continue reading
Registration is a free and easy way to support our truly independent journalism
By registering, you will also enjoy limited access to Premium articles, exclusive newsletters, commenting, and virtual events with our leading journalists
Already have an account? sign in
Join our new commenting forum
Join thought-provoking conversations, follow other Independent readers and see their replies